Did you know that you could cruise for nine days on the "Mighty Mississippi," and on a luxury paddlewheel steamboat?
In 2014, I saw an ad promoting a trip up and down the Mississippi River on The American Queen Steamboat, a recreated paddle wheeler that held about 400 people. The idea grabbed me immediately because the books I'd read as a kid, written by Mark Twain, were filled with stories about the Mississippi River and the towns that fronted the river as it made its way to New Orleans. I'm all about adventure, and remembered dreaming of such a trip, hanging over the rails looking for "Huck" and "Big Jim." So, I called the steamboat company immediately to find out how I might be able to get on one of their boats.
The American Queen Steamboat Company launched two paddlewheel steamboats in 2012 -- The American Queen (AQ) and The American Empress (AE). The AQ is the larger boat and cruises the Mississippi, Ohio and Tennessee Rivers. It's really grand! The American Empress (AE), sails on the Columbia and Snake Rivers in the Pacific Northwest -- fantastic scenery! Both boats are flat bottom and designed just for river travel like in the "old days." Filled with real and replicated antiques, the atmosphere of an era gone by in American history permeates everything -- décor to food.
Just having completed my trip of the lower Mississippi -- New Orleans, Oak Alley, St. Francisville, Natchez, Vicksburg, Baton Rouge and Nottoway Plantation -- and returning to New Orleans, I had to write immediately about my trip. The entire experience was wonderful and exceeded my expectations. It was steeped in antebellum and African American history, and with quiet nights on the boat as we cruised along the banks of the Mississippi. I enjoyed opening my door on the balcony and watching the sun come up over the river. This is such a unique adventure I recommend that anyone who wants to travel without stress, and on a truly American boat on a river steeped in American history should call American Steamboat Company now! And here are my top ten reasons for you to book this cruise:
1. The AQ is the only authentic overnight paddlewheel steamboat in America.
2. Famed American chef Regina Charboneau's menu -- I ate myself silly!
3. A staff that oozes Southern charm -- they greet you by name!
4. Off-boat excursions -- great guides and meaningful interactions with the locals, and daily "Riverlorian" seminars on the boat.
5. Complimentary bottled water, soft drinks and complimentary wines and beer at dinner.
6. Cabins with balconies, private baths, big fluffy robes, and coffee delivered to your room every morning.
7. Decor of the ship -- warm and inviting, with the ambiance of an antebellum mansion, with public rooms decorated with carefully selected antiques.
8. Front Porch Cafe -- has daily fresh baked pastries and food almost 24 hours; J.M. White Dining room beautifully decorated with some of the best-trained wait staff ever!
9. The boat is quiet!! You almost forget you are moving -- it's smooth.
10. The price and relaxing atmosphere -- cannot be beat.
Granny Regina missing American Queen Steamboat waiter William, and his best ever "Arnold Palmer" drinks!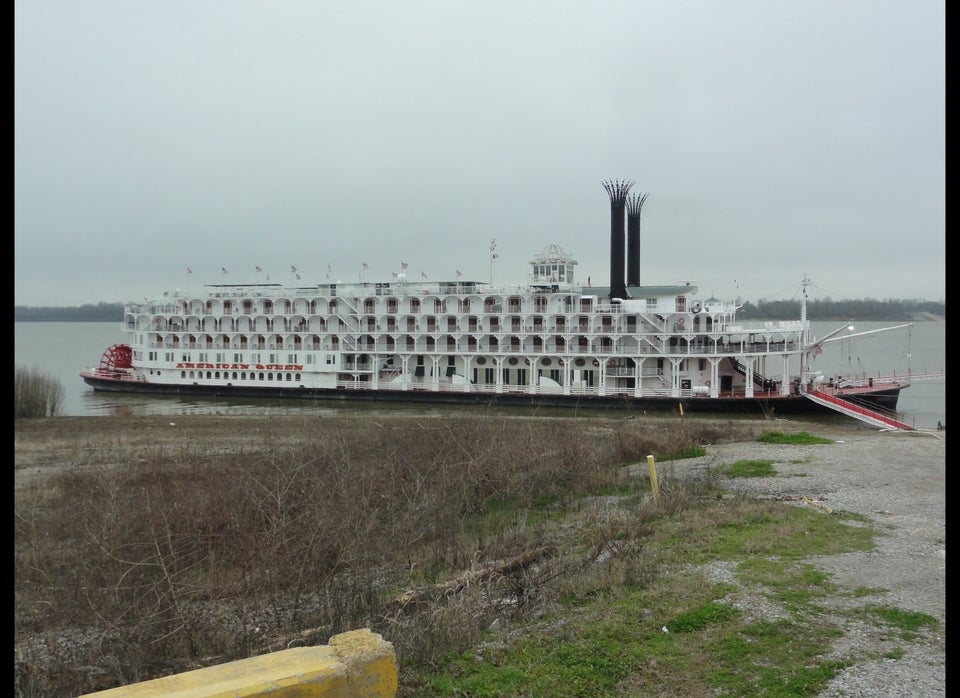 10 Reasons to Cruise the Mighty Mississippi River on American Queen Steamboat