Please allow me to preface this article by saying I love food. In fact, I'm sitting in Istanbul eating as I write this article.
Food is one of those things I believe a person should (read as "must") travel for. I don't care if it's fine dining or someone serving up a greasy sandwich in a dark alley; for me, all that matters is the taste, and more importantly the love the food is made with. This is why when I travel I actively seek out the new and noteworthy cuisine of any place I find myself in.
In this article I'll list out my 10 favorite restaurants in Iran's capital, Tehran; they appear in no particular order and, I promise, if you are ever lucky enough to tour Tehran you will not just like, but love at least one (if not all) of these places.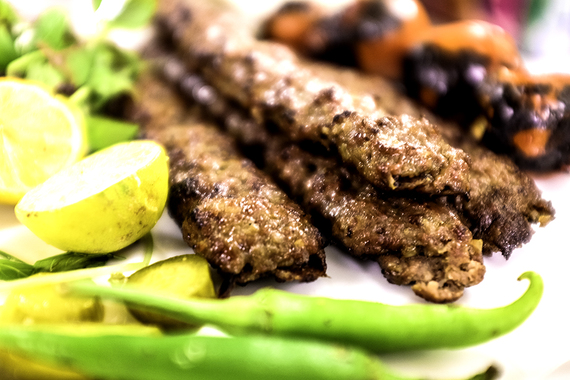 This name of this little jewel, "Reyhoun," translates to Basil in English. Why did they name the restaurant after basil you may ask? It's because the food, kebab, all taste exquisitely delicious with a sprig of basil. The kebab: chicken, beef filet, and beef koobideh (ground beef), is cooked over open flames on skewers and served piping hot. You will get some rice and everything I saw was served with Iran's national bread sangak -- a whole-wheat bread sprinkled with sesame seeds and cooked in a clay oven -- and, you guessed it, basil. The menu is simple and it is best to eat it that way: sandwiches you make and eat without the cumbersome interference of utensils, napkins, and eye contact with your dining partners.
Ambiance: Family-friendly in the basement of a building. It's loud, bright, and smells of the sweet fragrance of kebab cooking so... not romantic.
My personal favorite: Koobideh eaten with hot chili peppers, basil, and a generous smattering of Persian shallot yogurt (Mast'o'Mousir). Wash it all down with some of Iran's national beverage, Doogh, a yogurt drink that is salty and sometimes spiked with mint and black pepper.
Address: Amaniyeh, Tehran, Iran
Phone:+98-21-2205-9208
Website: None Found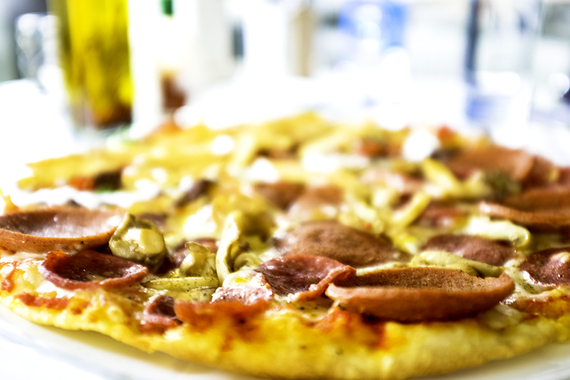 California cuisine in the heart of Tehran? Wha?? Contain your shock, it makes sense considering the largest chunk of the Iranian diaspora lives in California. The menu is something you would find in any restaurant in Los Angeles or San Francisco complete with "Mocktails" (alcohol-free cocktails) and tuna tartar. The chef studied in France and brought back some unique takes on food enjoyed by the world beyond the economic and political wall erected around Iran.
Ambiance: Quaint little café with outdoor and indoor seating. Perfect for lunch or casual dinners, or first dates.
My personal favorite: The Tortilla Pizza (yes, there is Tortilla Pizza in Iran and it's delicious).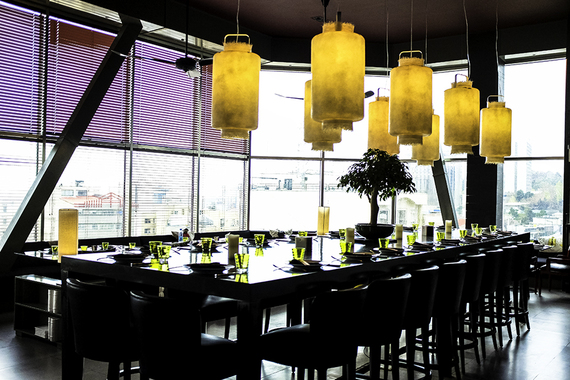 From California we continue west to China. In Park Place you'll find three things: delicious Chinese food, amazing mocktails, and some of the best views of Tehran anywhere. This place is new, so new that Tripadvisor has no reviews on it... suck it Tripadvisor! (Before you comment, please know I have a sense of humor and love Tripadvisor).
The food here is what you would expect to find anywhere else in the world serving Chinese food outside of China -- authentic Chinese food is hard to find outside of China (people who have traveled through China will understand). Dishes like Mongolian Beef, Orange Chicken, and Chow Mein all grace the pages of the menu.
Ambiance: Trendy, expensive, and romantic. You will see many of Tehran's affluent young couples here for a night out.
My personal favorite: fried rice and chow mein. I was not that crazy about the Mongolian Beef.
Address: Fayazi Blvd (Fereshteh), Sam Center | 8th floor, Tehran, Iran
Phone: +98-21-2265-3853
Website: None yet (again, suck it Tripadvisor!)
Monsoon Lounge (not to be confused with Monsoon Restaurant)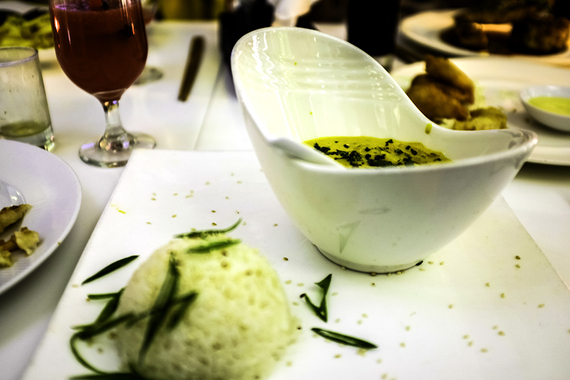 We've been to California and China so what's next you may ask? Asian Fusion! Yes, Tehran has one of the best Asian Fusion restaurants I've been to -- part of that reason is because Iranian's know how to cook rice really well. They have sushi here (it's not bad) and other dishes ranging from teriyaki to curry.
Ambiance: Super trendy, loud, dark, and perfectly suited to a night out with friends or a special occasion with your mate.
My personal favorite: Grilled Salmon on Ginger and Scallion Rice Cake.
Every city on planet Earth has three things, water, air, and an Italian restaurant. Apparently as Marco Polo traveled he founded eating establishments and even Tehran was not immune to the seductive siren song that calls out from Tuscany to Sicily (since visiting Milan I do not consider Northern Italy part of Italy; interpret this as you like). There are three Leon locations in Tehran, but the one I went to is situated next to Park Place (the Chinese restaurant above), and Divan (a contemporary Persian Restaurant I did not get a chance to visit). You will find what you would find in any other Italian restaurant in the World: Salad, Meat, Cheese, Pasta, and Risotto.
Ambiance: Romantic and upscale trendy. It looks like a contemporary Italian restaurant with impeccable design and food presentation.
My personal favorite: The Carbonara Pasta and Mushroom soup.
Address: 8th floor, Sam Center, Fereshteh Ave., Tehran - Iran
Phone: +98-21-2265-3841
Website: www.leon1960.com

Debashian (aka "Agha Reza")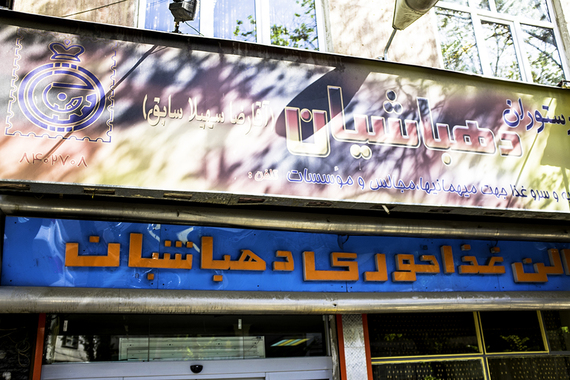 Debashian is authentic, which means it's heavy. The food here will keep you full for the foreseeable future so go hungry and leave your belt and aspirations for anything resembling a "healthy life" behind. They use oil, meat, and carbs like the world is about to end and the party is in their kitchen; a delicious apocalyptic party DJ'd by Steve Aoki! Expect a wait if you arrive late and expect their Gardan vah Baghali Polo (Lamb Neck and Lima Bean Rice) to be completely sold out.
My personal favorite: Gardan vah Baghali Polo (Lamb Neck and Lima Bean Rice) -- we made sure to get there early.
Ambiance: The owners have not invested in redecorating since it was founded in the '50s or possibly '60s (maybe '70s). The tables are linoleum, the chairs mismatched, and the plates well used. Go here with people you love or want to love you.
Address: Somewhere near the South Central part of Tehran... ask around and I promise you will find it.
Phone: +98-21-8840-2708
Website: www.areyouserious.com?
I went here on my first trip to Iran in 1999. The food is exceptional and the portions healthy. If you're looking for the most famous of all Iranian dishes: Chelo Kebab (rice and kebab) then this is probably the best place to taste it. It has been around and famous for decades. Don't fall into the temptation to get anything other than some kind of kebab.
My personal favorite: Soltani (filet and koobideh together) with Tahdig (crispy rice). I like to mix butter, black pepper, sumac, and grilled tomatoes into my rice and eat the kebab with little dollops of shallot yogurt (Mast'o'Mousir).
Ambiance: Family and friends in a packed restaurant with very happy people.
Somewhere near the Old Bazaar in Tehran (one of the best preserved classical Bazaars in the world) you will find a little café that has seen the reigns of kings, prime ministers, and clerics pass by its windows. The walls are covered in posters from bands like Queen and singers like Bob Marley -- yeah, it's that kind of place; amazing! Go there for coffee or tea, but don't expect food. It's been home to lively political discussions and friendly banter for nearly 60 years so bring your social skills and leave the fanny packs at home.
Ambiance: It feels like your favorite friends loft packed with an eclectic mix of artists, writers, musicians, and misfits. I love it!
Address: Ghavam saltane st., Tehran, Iran
Phone: They would not pick up even if the number was available.
Website: They don't need one

Master Burger
Looking for a burger to be delivered to your home in the northern part of the city? Then look no further friend, Master Burger will be there in a jiffy. The burgers are not the best you will ever have, but the best burger you will ever have will not be delivered to you (remember you have to travel for the best food, even if that means getting off the couch and walking across the street). Be forewarned that they use buns that are significantly larger than the meat and they soak the meat in sauce, which means the bun may get soggy and fall apart as you eat.
Ambiance: Wherever you are.
My personal favorite: We got burgers since they are apparently masters of burgers.
Address: Movahhed Danesh, Tehran, Iran
Phone:+98-21-2228-0498
Website: None
Like Master Burger, the good people of Sandwich Bazaar will deliver to your door. They have sandwiches like Kotlet (an Iranian ground beef, chicken, lamb, or turkey cutlet), KooKoo (a fried veggie patty), beef tongue, and much much more. In fact, they are one of Tehran's favorite quick bite places.
Ambiance: I got it delivered but I think their venues will feel like a fast food joint.
My personal favorite: We got beef tongue and french fries, but I think I would have preferred the Kotlet (I'm always partial to Kotlet with pickles).