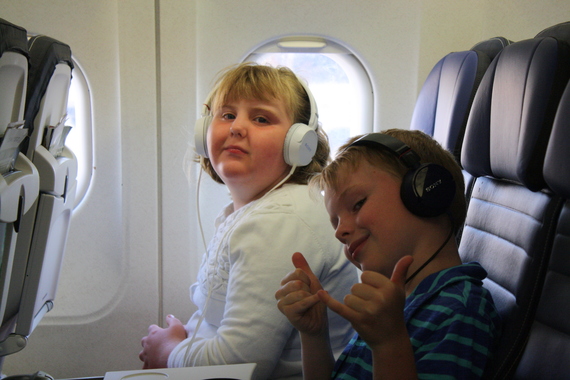 Top Ten Tips for Flying with Special Needs Children
1. Create a storyboard for them prior to flying. Make it fun with lots of visuals. There are also some great Apps out there which help educate your children about the experience that they will have. "Off We Go -- Flying on a Plane" is a great one and available on iTunes. It allows your child to interact with the story and also has great sound effects for them to hear and get accustomed to.
2. If it is their first flight, take them to the airport in the days before the flight to get them used to seeing the planes take off and land and hearing the noises. It gives you a nice time to talk to them about their upcoming experience.
3. If your child has Autism and you have a chance to experience "Wings for Autism," it is an incredible program to help children learn all about the experience of flying.
4. Have your child pack their own backpack to carry themselves. It gives them something to feel responsible for and allows them to have the same experience as their parents. They can fill it with a few of their favorite things and perhaps bring something new home in it from the travels.
5. Alert TSA to your child's disability. Children with disabilities can be screened without being separated from their parents or guardians. Be sure to communicate to the TSA agent suggestions on the best way to approach and screen their children. Also remember that children under 12 do not need to remove their shoes.
6. Take full advantage of the early board. This gives you and your children the time to get settled on board and get your things organized before the rush of the other passengers boarding happens.
7. In a time when you have to pay a premium price for seats close to the front of the plane, I try to book my seats near the back of the plane. This gets me closer to a bathroom and I take advantage of the early board and then will depart last.
8. Familiarize yourself with the TSA guidelines for travel with children here. Here you can get some great information about transfers and security and general information for those with both physical and cognitive disabilities.
9. Pack snacks! Let them add a nice bag of some of their favorite yummies in their backpack! Also, bring an empty water bottle for them. This way they can take it through security and then fill it up before they get on the plane.
10. Pack them a brand new toy, load a new movie on your iPad or a load a new video game for them and don't show it to them until absolutely necessary.This provides a fantastic distraction and they are also so excited for something new! Maybe think about two new things, so they also have something for the return flight home.
Related