Summer is just around the corner and with the Zika virus in full swing, it's one more reason people will be heading to Europe this summer. I personally prefer the train in Europe to any other form of transport. You don't have the same stress as air travel (you don't need to be there 2-plus hours earlier, wasting half of a very valuable vacation day) and you don't encounter the traffic of driving. Instead, I opt to enjoy panoramic views from the comfort of my seat on the train where I can watch the whizzing landscape speed by as I'm transported from one city center to the next.
Traveling by train can be overwhelming -- especially if you've never done it before. There are multiple train companies, different languages, different currencies-it can be pretty confusing. All the booking processes can seem pretty complicated too. In fact, it can be downright discouraging. You need to make sure that you choose a company that's easy to work with -- which may seem easier than it is.
I learned several things along the way that make taking the train a piece of cake. There are several things that you should know before you plan train travel in Europe that will help make your Europe trip drama free! Because taking the train can be a little confusing for first-timers, I've compiled some of my top tips to help you as you plan a jaunt through Europe.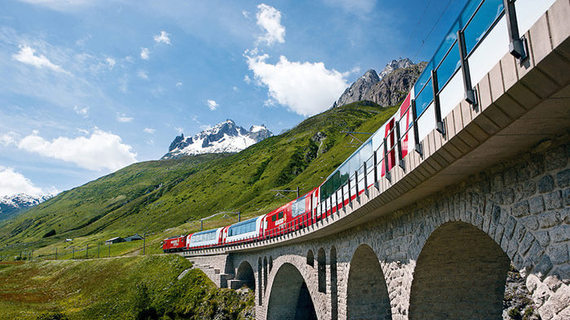 Book in Advance
Planning in advance offers several benefits. First, advance planning gives you the most flexibility because you have more options--seats, train times, destinations, etc. Plus, many trains in Europe still require that you have pre-printed tickets from the ticket office so you need ample time to ensure that you receive these documents before embarking on your journey--paper may seem like the stone age but it's a necessary evil.
And there are so many choices when choosing the right train that suits your travel style. Understanding what the ticket options are is the first thing to familiarize yourself with. I personally use Rail Europe -- its user-friendly website offers maps, schedules and they are based in North America so everything is in English and dollars, so no surprises or hidden foreign transaction fees. They make it easy to book your own travel-you can even talk to their travel consultants who can assist you with museum passes and tours of the cities you're visiting.
Understanding Ticket Options
First, there are different train classes -- Economy, Comfort Class and Premier Class. As you can imagine, Economy offers the most value, Premier Class is for the most discerning traveler and Comfort is train talk for First Class.
Premier Class offers more legroom and spacious seating. Also, depending on what train you're on you may receive complimentary meal service or enjoy privileged access to lounges in select train stations.
Comfort Class is a quieter and more spacious ride than Economy -- the seats are wider and there is more legroom. Your accommodations may be in 5-6 person compartments or in airplane style seating (three across, separated by an aisle). Usually the seats are leather and have country specific outlets. Then, different trains offer different amenities. Usually, First Class isn't significantly more expensive than economy so I always say it's worth it. However, it is worth noting that Comfort Class tickets aren't quite the same as First Class on most airlines
When it comes to Premier Class and First Class while the upgrade may not set you too far back, the level of service may not be the same over-the-top luxury you may have come to expect in the skies -- especially on smaller, regional trains. However, there is quite a range of services across train companies: some offer small niceties like free magazines while others offer full-blown concierge services. When booking your ticket, simply click the "details" button below the fare to see a description of what deluxe services you can expect. Also, be sure to find out what perks you're qualified for like access to train station lounges before you arrive.
Finally, don't let the words "Economy" or "Second Class" scare you off. This seating option is similar to Coach on airline tickets and seats are still very comfortable and offer the same stunning views and relaxing ride as First and Premier. Economy cars are always heated and air-conditioned and offer storage space for your luggage. Second class certainly doesn't mean you'll be seated with livestock, it is still a perfectly acceptable way to travel.
You should also realize that no matter what class you choose, there are still people wander about the cars and you should keep an eye on your belongings. When you go to the restroom, be sure to take your valuables and never leave purses, wallets or passports unattended.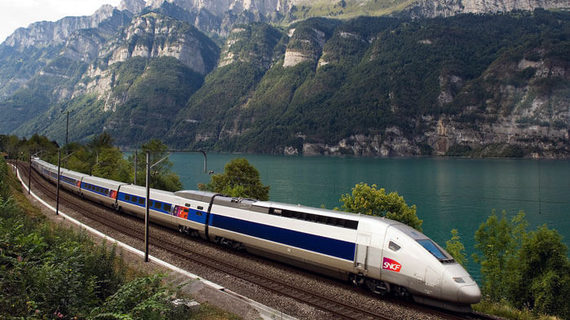 Plan Ahead
Unless you have a mobile data plan abroad, you'll want to remember to find out all the information about your train that you need before you get to the train station because many don't have free wi-fi. Also don't assume you'll be able to ask a station employee what to do. I always find it difficult to find station employees anywhere near the tracks (and I suspect that's no accident). And ticket collectors don't always have the accurate information, if any at all.
I suggest knowing not only the name of your destination station (some cities have three different train stations all slightly different), but also the train schedule of stops (they don't make announcements all the time and if they do they are often not in English). Knowing the order of the stops let's you know when you need to prepare to disembark. On many trains, the aisles are quite narrow and you may have to weave in between some people and their baggage to exit (not always an easy feat). Knowing precisely when you need to exit is key because the trains don't stop for long. If you wait too long, you may miss your stop.
I recommend downloading an app if your train carrier offers one. Rail Europe, which I used my last trip has a Rail Planner app. Though, remember that this app requires wi-fi or a data plan, so download it in advance.
Bring All the Necessary Documents
It goes without saying that you need to bring a valid passport for train travel in Europe, but you also need to remember your train tickets. Unlike airline travel, not all train tickets can be issued electronically or printed at home. Therefore, it is very important that before you leave that you understand what tickets you need.
There are three options of tickets offered: paper tickets, print at home e-tickets or print at the station e-tickets. Paper tickets are printed at the train office and shipped to you before your departure. Do not forget these because you won't be able to take the train without them. If tickets must be printed at home they may be issued as a PDF, which you must print before the train, or you may be given an e-ticket code, which you can actually just show on the train along with a photo i.d. (this is the case on the Italo train I was on). Not sure why they say print at home and there is nothing to print, but that's how it is. Finally, you may get an e-ticket to print at the station. In this case all you do is go to the self-service kiosk (like at an airport) and print your pass prior to your train's departure.
Make Friends
There were more than a few occasions when we were given incorrect information by station employees on our last trip to Europe. So even if you think you know where you're going, it never hurts to double-check with other travelers around you. It's a good icebreaker. We met so many lovely people on our travels when we were rushing to avoid missed connections together.
Booking Connecting Tickets
And speaking of connecting trains, it's quite common (especially if you're visiting smaller towns) for your itinerary to involve connecting trains. And that may sound annoying, but I assure you, connecting trains are really quite easy. You just want to be sure to give yourself enough time in between trains to make your connections. One of the reasons I liked Rail Europe is because when browsing for fare schedules, it only matches itineraries with feasible connections (which is crucial). That said, it isn't uncommon in Europe to have connections departing from different train stations that are reachable by a short walk or public transportation so be sure to carefully read your tickets.
If you Do Miss Your Train...
Let's face it, $#!* happens! It's hardly unheard of to miss a connection or miss a train altogether. First, it's important to know that each train ticket has its own exchange and refund rules so you have to pay attention to those when booking.
Generally, there are three types of fares. Non-Flexible (you can't change or get a refund -- these will be the cheapest fares usually), Semi-Flexible (you can change these for a certain amount of days before departure or for a small penalty) or Flexible Fares (these are usually the most expensive but allow you the most flexibility without penalty). Be sure you check what type of ticket you have before you leave.
Do note though that if you miss a train due to a delayed connection, that this is a different situation. If this happens, have the conductor endorse the ticket to say there was a delay. This is usually sufficient proof at the next station to approve a free transfer to the next available train. However, if you missed your connection because you left the station or had one too many cocktails, don't expect them to be quite as lenient.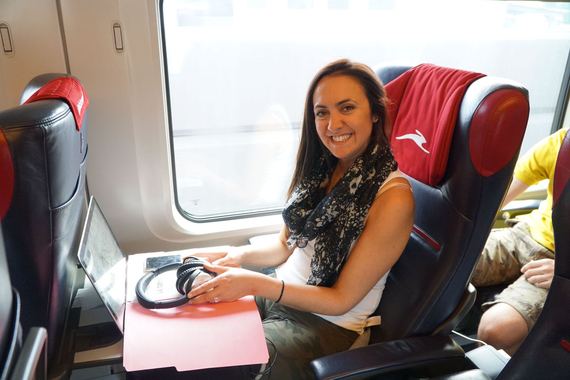 Stay Vigilant
Nothing ruins a vacation like losing your belongings. So do yourself a favor and don't become a victim. Even in Premier Class, watch your stuff. Be alert on the train, while you can certainly enjoy the views and relax, keep your wits about you.
Be aware of when your stop is coming up. Remember you may not be the last one. Trains stop very quickly and in some smaller stations, doors may not open on every car. If you have stored your baggage in overhead compartments you'll want to make sure you retrieve them before the train stops and get to the exits in advance.
Arrive Early
Most train companies recommend arriving at least 30 minutes before your train departure. Since I'm a nerd, I usually got there about 45 minutes early. If you have a rail pass, you'll need to activate it at the ticket window before boarding. If you have a print-at-station ticket, you'll need to find a self-service kiosk to print it. If you have a print-at-home e-ticket, you'll need to either print your ticket confirmation at home or be sure that you have the booking code. You also need to validate your tickets for certain trains so arriving early will give you time to do this as well. Arriving early also gives you time to find the right track and get your baggage up all the stairs...which brings me to my next point.
Pack Light
From one over-packer to another, I can't stress this enough. Train stations in Europe are all about the stairs. If you overload your suitcase, you'll be dreaming of escalators and elevators (as I was) and I promise you, you won't find 'em. Not only will you have to drag your bag up and down stairs to get between platforms but once your train arrives you'll need to be able to lift it quite high onto the train. And there aren't employees around to help you usually so don't count on their help. But then comes the hard part! Many trains require you to store your baggage above the seats in overhead compartments -- and this is where things get ugly if you've got a bag that weighs the same as you do!
Follow Directions
It may sound simple enough but be sure to read all the paperwork that you are provided. If you get a Eurail Pass, be careful filling it out. If you fill out an incorrect date, you'll lose that day that you already paid for. You can't change it or it will be considered fraudulent. Similarly, be sure to fill out your Eurail pass before you get on the train. Fill out the date and also the station you'll be coming from and going to. You otherwise may be fined if someone comes on to check tickets.
Be Prepared
While many of the trains these days either have cars with food available for purchase (or First Class may even bring you snacks and drinks to your seats) we ran into a couple of occasions where we thought we would have more time in between connections and due to delayed trains we didn't have as much time as we thought. We were very happy to have had a few snacks in our bags.
For more excellent travel advice, be sure to check out Travelingpanties.com -- a luxury travel blog.