It's wedding season again and with it come all the decisions a bride-to-be faces to ensure her day is perfect. It can sometimes feel a little overwhelming especially when it comes to choosing a wedding cake.
The cake can set the theme for the entire wedding (and often does) and when you think about it, it's the only guest to have its own table! So it's really important to find the right designer to help you create whatever is perfect for you.
Over the past few years we've seen the rise in personalised cake flavours from tropical and citrus-inspired to the downright quirky such as Earl Grey, Matcha, Wasabi and White Chocolate and Lavender and Honey.
Some couples have shunned the cake altogether for alternatives like cheeses, doughnuts and macaroons but the traditional wedding cake is still holding firm.
"I have worked with brides who have created their whole wedding theme around their cake," says Elizabeth Solaru, award winning cake designer and owner of Elizabeth's Cake Emporium. "Often couples spend a lot of their budget on the cake. It's important to them."
Elizabeth has even sent her wedding cakes to the venue via private jet and says that transporting larger cakes can prove quite stressful.
'My job is done once the cake is assembled and standing safely on its table at the wedding venue!" says Elizabeth, who is known in the business for her stunning sugarcraft beading.
Sometimes brides can feel overwhelmed with all the decisions they have to make on what will be one of the most important days of their lives so we asked Elizabeth to share her top ten wedding cake trends.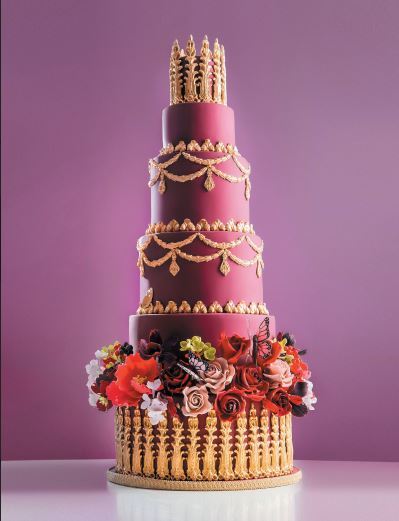 Rococo (Baroque) Cakes
These cakes represent everything opulent, rich and detailed. The lavish use of gold swags, scrolls and rich embellishments seen on the catwalk in the collections of Alberta Ferretti and Dolce and Gabbana translate wonderfully into wedding cakes that are fit for a modern princess.
Tall Cakes
Tall cakes create such a dramatic impact as they seemingly reach for the skies without toppling over. Ideal for reception venues with high ceilings, they are just right for brides who want to leave a lasting impression. Ever since the wedding of the Duke and Duchess of Cambridge, there has been a growing trend in the UK for such wedding cakes.
Rustic Cakes
The rustic vibe of naked cakes and cakes decorated with just the merest hint of buttercream are still popular in 2016 and we will see even more creativity with flavour combinations, filings and decorations.
Lace Cakes
Many bridal designers such as Jenny Packham, Monique Lhullier and Oscar de la Renta featured lace embellished bodices and hems on their catwalk shows. Wedding cakes adorned with lace have always been a firm favourite with brides and this trend is sure to continue. One of our iconic cakes is the Grace Kelly inspired cake - a real labour of love to create.
Painted Cakes
Painted cakes have been gaining popularity in recent years and it's a perfect way for any couple to personalise their cake. From florals, love birds or even hobbies, gorgeous hand-painted cakes are set to be even more popular as the year goes on.
Cultural Cakes
2016 has witnessed a rise in demand for cakes, buns and even breads that reflect a couple's cultural background. Designs may be inspired by particular traditions, special wedding outfits, symbolic gifts or lucky colours.
Sleek, Streamlined Cakes
A city wedding is the preference of many couples, as it can mean stunning architecture, iconic landmarks, picturesque parks and mesmerising cityscapes. A stylish and sophisticated cake that showcases the chosen city is a winner.
Black Cakes
Bold and striking, a black cake is a dramatic alternative to the traditional white wedding cake. This year more brides are willing to embrace dark colours and incorporate them into their wedding colours. A chic black wedding cake with gold trim detail, large sugar peonies and gold butterflies and berries is elegant and striking.
Colourful Cakes
A couple's choice of wedding colours can be said to a reflection of their personalities and taste. Personal preference, cultural background and trends can also influence wedding colour schemes. 2016 is seeing braver colour choices, with analogous and complimentary schemes dominating. Our Marie Antoinette baroque cake in serenity and rose quartz is a good example of this.
Textured Cakes
From gorgeous ruffles to thrilling frills, floral appliques or sequins, textures have been huge on the 2016 bridal catwalk. These translate very well into cake design and many brides will opt to match elements of their wedding dress to the cake. Our 7-tiered pillow/cushion cake perfectly demonstrates the use of different textures to create a beautiful luxury wedding cake with a difference.
To be inspired by images and recipes for Elizabeth's Cakes check out her new book:
'Opulencia"
https://www.amazon.co.uk/Opulencia-Artisan-Sugarcraft-Elizabeth-Solaru/dp/0993585701