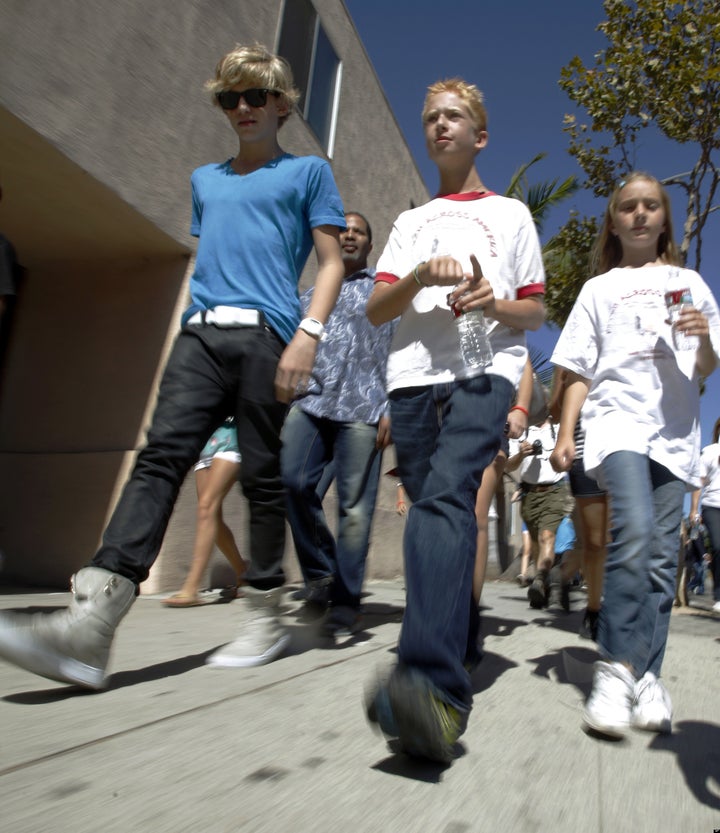 I don't know why the number 10 is so magical, but during this time of the year we are bombarded with 10-best listings.
Top 10 rankings rate the best looking people, greatest songs, richest individuals. David Letterman is certainly not the creator of the Top Ten list -- he just made it cool.
I wish I could make ending homelessness cool. Of course, the latest episode of the popular TV show "Glee" mentioned McKinney-Vento, a ground-breaking federal program that helps thousands of homeless people in this country. That's cool.
We definitely should highlight those people who have significantly influenced how America addresses homelessness. In years past, noteworthy people helped reshape this country's approach toward homelessness.
Los Angeles Times columnist, Steve Lopez, published a series of columns on a musically talented homeless man that became a popular movie, "The Soloist," and in the process made helping homeless people popular again.
Former President Bush hired homelessness czar Philip Mangano, who scoured the country transforming how cities address homelessness through "Ten Year Plans to End Homelessness."
New Yorker magazine writer, Malcolm Gladwell, published an essay, "Million Dollar Murray," that documented how permanently housing homeless people saves this country money.
So what about this year? Has anyone or anything influenced the way this country addresses homelessness?
I'm no David Letterman, but here is my Top Ten list of trendsetters of homelessness in 2010:

No. 10 - A New Generation. While most 12-year-old boys are shooting electronic video enemies, Zachary Bonner was walking 2,500 miles from Florida to California to raise money for homeless youth. His journey was not simply a trek to garner dollars, it was a challenge for the next generation of Americans to finish the job of ending homelessness.
No. 9 - A New Voice. Mark Horvath was like most of us, with his successful marketing career and a nice home -- until he ended up homeless on the harsh streets of Hollywood. Although some people would give up, Mark did not. He turned his marketing skills into a social media mega-house, creating invisiblepeople.tv that focuses the camera on homeless people. On August 22, 2010, YouTube highlighted Mark's work on its home page.
No. 8 - New Hope. With the dubious distinction of being the "Homeless Capital" of America, Los Angeles started numerous homelessness initiatives with little success. Until the business community stepped up to the plate to create "Home For Good," a realistic plan to end homelessness. Why is L.A. so important? Many national leaders believe if L.A. can stop its plight of homelessness, so can the rest of the country.
No. 5 - A New Approach. Preventing homelessness by providing rental assistance was implemented in full force this year. Over $1.5 billion of federal resources was distributed through the Homeless Prevention and Rapid Re-Housing Program.

No. 4 - A New Decree. President Obama signed a first-ever comprehensive national plan to prevent and end homelessness, called "Opening Doors." For the next five years, this plan will dictate how billions of federal dollars will be distributed.
No. 3 - A New Kind of Shelter. Throughout the country, local communities have been battling how to address a new type of homelessness -- people living in cars and RV's, a sign that this country has insufficient housing and shelters.
No. 2 - A New Economy. Former President Clinton's election team succeeded with their message of: "It's the economy, stupid." This year the stupid economy continued to wreak havoc on America, causing more people to be homeless. The spiraling economy has increased the number of people who are homeless and decreased the resources needed by the charities who help them.
And finally, the No. 1 game-changer in the quest to end homelessness in America in 2010:

No. 1 - A New Strategy. Initiatives, programs, and campaigns to address homelessness in this country have come and gone. Dreams shatter when the lack of political or community will drowns the ideals of leaders. So why is a campaign to house 100,000 of this country's most vulnerable homeless the real deal?
The 100,000 Homes campaign, created by Common Ground, is more than just another homeless plan. Over five dozen cities across the country have adopted this inspirational campaign to permanently house those homeless people who could literally die on the streets within years. They have jump started this effort by housing more than 7,000 people.
Communities across the country are flocking to this effort because it combines community mobilization, homeless planning, emotional impact, marketing, and real on-the-ground work.
Of all the efforts in the past year, let alone the past decade, this is the closest effort to actually succeed in ending homelessness on the streets of America.
I can't wait to see what happens next year.
Related
Popular in the Community