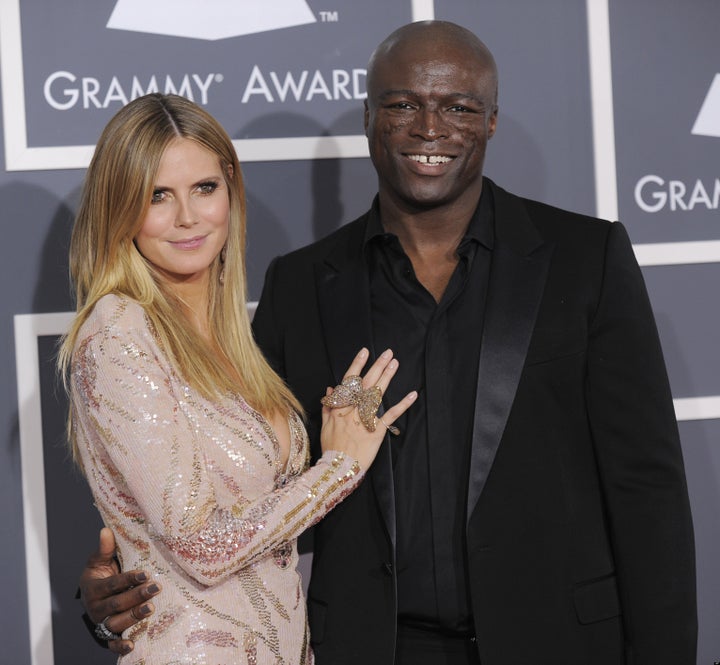 1. Prince William and Kate Middleton
Why it works: they know each other well, and that is a plus.
These two have been an on-again/off-again couple for the last seven years. The truth is that any good relationship has to weather arguments, tears and the ultimate supporting of each other through bad times. A case in point was when the lovely Kate was there to help William through some trying academic times at school. Another plus is the fact that they live together. No surprises here; you really know who you're getting.
Why it works: unity, love and family.
Having been married for more than three years, Klum and Seal renew their vows to one another each year on their anniversary. While they may be two very sexy people and you see a genuine healthy lust in their eyes, it is family that is of the utmost importance to them. They are raising their three biological children and Heidi's daughter from a previous relationship in a warm and loving environment.
3. Ellen DeGeneres and Portia de Rossi
Why it works: they really like each other.
After being together for four years, Ellen and Portia were married in August 2008. These two truly seem to enjoy each other's company and that is an important component of any relationship. It's like being on a perpetual first date! Love is a wonderful thing, but actually liking the person with whom you choose to spend your life is a gift.
4. Jada Pinkett Smith and Will Smith
Why it works: R-E-S-P-E-C-T.
Eleven years of marriage is a milestone in their business, but this power couple makes it look easy. One of the reasons they will last is that they have respect for each other's career needs. Letting your partner know that what their goals are is important to you and that you are supportive is a perfect power play in love. Jada and Will have it down pat.
5. Sarah Michelle Gellar and Freddie Prinze, Jr.
Why it works: out of the limelight... for now.
A low-key couple who prizes their privacy, these two know what it is like to live in the glaring light of show business; they grew up in it. With beautiful baby Charlotte, they want to make their family time their only primetime for awhile, and rightly so. Relationships that seriously consider making a commitment to a private life thrive. Their youthful energy, coupled with a maturity beyond their years, makes them a positive relationship role model.
6. Goldie Hawn and Kurt Russell
Why it works: personal independence.
Hollywood partnerships are renowned for having a short shelf life. But after more than 25 years together, romance still clearly blooms for stars Goldie Hawn and Kurt Russell. They may be a couple, but individual independence seems to be what makes their relationship work. Both have independent finances, and both are financially well-off in their respective careers.
As for marriage, the still-gorgeous and hot 64-year-old Goldie says of her relationship with the 59-year-old Kurt, "We have done just perfectly without marrying and have never seen a reason to tie the knot. We're devoted, loving and independent."
7. Nicole Kidman and Keith Urban
Why it works: tough love.
Nicole is no enabler for drug addiction. While it is true that many addicts never intend to make the changes necessary to break their habits, in this case Nicole Kidman and Keith Urban seem to have beaten the odds. The Oscar-winning Nicole believes in meeting problems head-on, and she is the one who staged an intervention after only four months of marriage. Urban believes that that act of courage on her part helped foster the bond of their marriage and made it that much stronger.
8. Penelope Cruz and Javier Bardem
Why it works: common ground.
Both popular stars in both Spain and Hollywood, these two share a rich, strong Spanish heritage. Though some may say that opposites attract, having similar backgrounds, traditions and culture are important factors in for many people in their relationships. They are happily bound by common ties.
9. Chelsea Clinton and Marc Mezvinsky
Why it works: they're friends.
Marrying a good friend doesn't mean your relationship will lack passion. On the contrary, a good friend, your best friend, will always look out for your best interests. Call it a friendship marriage with passion and money. That's what Chelsea and Marc have, and the forecast for their relationship looks good.
10. Michelle and Barack Obama
Why it works: it's a family business.
The First Lady and the President know one very basic truth: no one gets to the top without the help of his or her partner. This couple worked hand-in-hand to achieve a dream and a goal. It was a joint partnership, and it worked. They ran their marriage and his campaign with all the finesse of a working business. The payoff for them was enormous.
As with all top-10 lists, there always seems to be one more item that begs to be listed. Added to this list of couples for 2010 is the:
Bonus couple: Nadia Bjorlin and Brandon Beemer
Why it works: a perfect example of yin and yang.
Known as the "Brangelina" of daytime soaps (Nadia is on "Days of Our Lives" and Brandon is in the cast of "The Bold and The Beautiful") and together for four years, their distinct personalities nicely complement their relationship. Brandon is organized, likes to plan and is good with money, while Nadia is a socialite, loyal, funny and has impeccable manners. They perfectly balance each other in life, and this makes for a healthy, happy, long-term partnership.
Relationship Trends for 2011
2011 will bring a new type of relationship to the forefront. It will be more about friendship and what each partner is bringing to the relationship table. Education will factor into the dynamics, as will financial stability and independence. Bank accounts will include one joint savings/checking account as well as individual separate checking accounts.
A good sex life and passion will be of the utmost importance to the health of the relationship, although a definitely more sophisticated version of love will still be a prime component.
More couples will seek counseling before any problems occur. There will be a return to common shared interests, even while each partner still strives for individual goals. In other words, I'm seeing more maturity in the attitudes of the couples in 2011. Finally.
Copyright 2010 Kristen Houghton
Popular in the Community