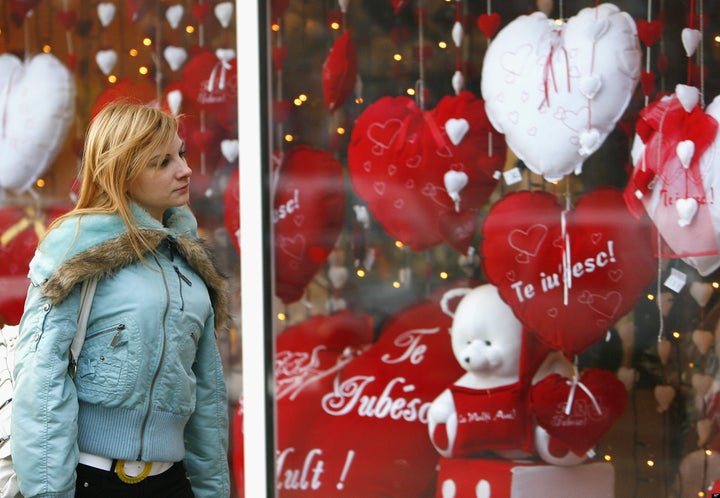 February 14 is just around the corner and you know what that means - love is in the air. There are lots of ways to declare your love this Valentine's Day, but the reality is few gifts have a lasting impact. This year, why not make your display of affection a gift that not only shows how much you care, but also a gift that gives back. Whether you want to buy an extravagant present or you've only got a few bucks to spare, whether you're shopping for your romantic interest or your grandmother, you can find a gift that gives back for everyone in your life and make the world just that much brighter while you're at it.
Here's our countdown of the top ten Valentine's Day gifts for a cause:
10. charity:water E-card.
Sending an e-card is an easy way to reach out to loved ones across the country and even around the world. When you send a
charity:water Valentine's Day e-card
, you not only get to send a message to your sweetheart, but also provide 20 years worth of water for someone who desperately needs it. Each card accompanies a $20 donation and the recipient will be notified you made a donation in their name.
9. Save the Children k2k Valentines Day Cards.
If a tangible greeting card is more your style, check out Save the Children's 2010 Valentine's Day cards. These cards were
designed by children
to help benefit Save the Children's efforts to provide education and nutrition for children around the globe. For every $20 you give, you'll receive
25 really cute V-day cards
. With 25 greetings cards, you can spread the love to your family and friends.
8. Something Pink.
Valentine's Day is typically drenched in red and pink. Coincidentally, pink is also the color that represents breast cancer awareness. The Susan G. Koman Foundation has
an entire gift shop of pink
with something for everyone. All purchases help fund the continuing fight for a cure and support for survivors. You can show your love this Valentine's Day by helping save lives.
7. Fair Trade Chocolate.
No Valentine's Day is complete without a box of chocolates. This Valentine's Day, buy your candies guilt free by purchasing fair trade chocolate.
Divine Chocolate USA
is owned by cocoa farmers from Ghana - the second largest cocoa exporter in the world. Fair trade guarantees that farmers earn a fair, livable wage for their work and aren't exploited in the process. You can find Divine Chocolates online or at your local
Whole Foods Market
.
6. Flowers with a Purpose.
Who doesn't love getting flowers, especially for Valentine's Day. A
Teleflora bouquet
purchase includes a donation made to the
ASPCA
. This year's Valentine's Day bouquet is not just a symbol of your love, but hope for rescued animals.
5. Oxfam Unwrapped Gifts.
If the traditional flowers and chocolate gifts aren't really your thing, go with one of Oxfam's less traditional
unwrapped gifts
. In the name of love, you can plant 100 trees, provide a fisherman with a boat, or even build an entire primary school. Your gift will provide someone in need with food, employment, education and ultimately help them get out of the oppressive cycle of poverty.
4. (RED) iPod.
If the significant person in your life is tech-savvy and cause conscious, go for Apple's
(RED) iPod nano
. This nano is the triple threat - it's festive Valentine's colors, looks techno-chic and a portion of the proceeds go to help fight HIV/AIDS in Africa. If you want to make it really personal, you can
have your Valentine's name engraved on the back
. Trust me, you can never go wrong with an iPod.
3. Hope For Haiti Now.
If the iPod is a little outside your budget, you can still give the gift of music by purchasing the
Hope For Haiti Now
album. The artists, record labels, and Apple will donate proceeds from the album purchases to help support
relief efforts in Haiti
. You can find the Hope For Haiti Now album on
iTunes
or
Amazon
.
2. Conflict Free Diamonds.
Diamonds are forever. So if you're going to make that kind of commitment, you definitely want to make sure that your diamond investment isn't going to haunt you.
Brilliant Earth
allows you to design your own diamond jewelry and ensures that you only purchase conflict-free diamonds, which means the diamonds were mined legally and no person or resource was exploited during the process. Plus,
Brilliant Earth donates
5 percent of their profits to help sustain African communities.
1. Give "The Goods."
Okay, I might be a little biased, but that doesn't change the fact the best Valentine's Day gifts for good are found in
The Goods
, the online store created by the Causecast and Huffington Post Impact team. This February, the store is offering special Valentine's Day gifts, including
toys for children in the hospital
,
care packages for soldiers
,
meals for people with serious illnesses
and more. Celebrate Valentine's Day the Causecast Way. Give a gift that means something, show your love for your family, significant other and the world.
Popular in the Community