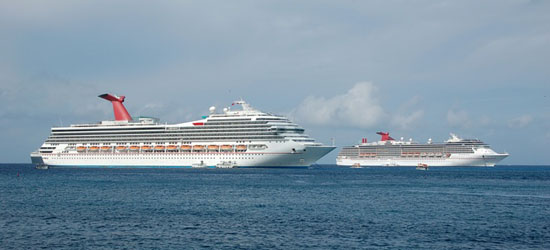 Photo Courtesy of Dreamstime. Article by Robert Firpo-Cappiello of Budget Travel.
Not long ago, cruising was synonymous with partying, romance or exploring farflung destinations, often post-retirement. These days, there's a completely different way of looking at cruise ships -- not just as playgrounds for overgrown children but for, well, your children. But traveling with kids is never as simple as tossing some clothes and a smartphone into a backpack, is it? Here, we share expert advice on everything from how to pack smart, keep the little ones safe, find reliable onboard child care, and which cruise lines are rolling out the red carpet for families.
If you're traveling with a baby or toddler, get used to the idea of schlepping your own formula, jars of baby food and diapers, which are not among the myriad products a typical cruise ship can sell you. And don't squirrel away all those must-haves in your suitcase -- on embarkation days you may be separated from your luggage for hours and you'll be able to keep your little one happier if you have a tote bag stocked with food, wipes, change of clothes, etc. The good news is you may be able to leave your baby's portable crib at home -- ask your cruise line (early!) if you can reserve one in advance. "To lighten your packing load, consider planning a laundry day at sea," advises David Molyneaux, editor of TheTravelMavens.com. "Most family-friendly ships will have washers and driers in the cabin areas -- check the line's website."
Yeah, we all had a collective gasp when a toddler fell off a cruise ship balcony over the holidays in Florida. Of course you should brief all kids, from toddlers to teens, about keeping off railings, but Molyneaux suggests, "Even if it's only for your peace of mind, avoid balconies until your kids are old enough to know better." You can book an interior room for the whole family, or give older older kids an interior room and take an exterior balcony room across the hall for yourselves. Many cruise lines will offer family cabins, which can sleep up to four, and deeply discount the cost of the kids' berths -- but Molyneaux notes that sometimes booking two adjoining cabins on a lower deck instead of a suite can save you money and get you more elbow room. (Disney even throws in an extra "half bathroom," with a toilet and sink, in most cabins. The ship will also have its own rules about how and when kids are allowed to participate in organized activities. Some lines allow elementary school-age kids to sign themselves up for activities and walk the ship's corridors unsupervised -- but that kind of choice is really only yours to make.
Although some lines offer so many organized activities for kids during the day that some parents actually complain that they didn't see enough of their kids on their cruise, most couples will value some alone time, especially when the sun goes down. Some cruise lines offer private in-cabin babysitting at a premium -- it can run you nearly $20 per hour. But if your kid wrinkles his nose at the idea of being "left with a sitter," you're in luck: Many cruise lines disguise evening babysitting as "late night parties," allowing parents to drop off their kids for $5 to $10 per hour per child. (On Disney cruises, the party goes till midnight and it's free of charge).
BOOK A FAMILY-FRIENDLY CRUISE
When it comes to going the extra mile to put smiles on your kids' faces, these cruise lines are tops:
If your kids can imagine summer camp at sea, that's Camp Carnival -- complete with counselors to supervise daily activities and meals. The line divides children into three age groups from two- to 12-years old and employs counselors who have education or childcare experience; play spaces resemble nothing less than the playroom of your dreams.
No surprises here -- Disney knows how to keep kids happy. The line is famous for its roaming characters like Mickey and Minnie, of course, but it also offers Broadway-style musicals, first-run films in 3D, and port-of-call activities tailored for kids like glass-bottom boats and up-close-and-personal dolphin encounters.
Splash Academy sets the bar high -- to entertain and educate children from six months to 12 years old (divided, of course, into age-appropriate groups, with parents required for the littlest ones). Whether your kid is into low-key arts and crafts projects or adrenaline-charged circus activities (including juggling and tumbling) taught by real circus performers, Norwegian's foray into family fun goes big.
When you're reaching out to families, it helps to have some trusted names in your Rolodex, and Royal Caribbean has partnered with Crayola, Fisher Price, and DreamWorks to offer a blend of educational and entertainment options to its littlest passengers. From quiet play groups to full-on surf simulators, climbing walls, and the first carousel-at sea, there's something for every taste. Oh, and you may want to warn your little ones that they may bump into Shrek or Kung Fu Panda onboard.
Related