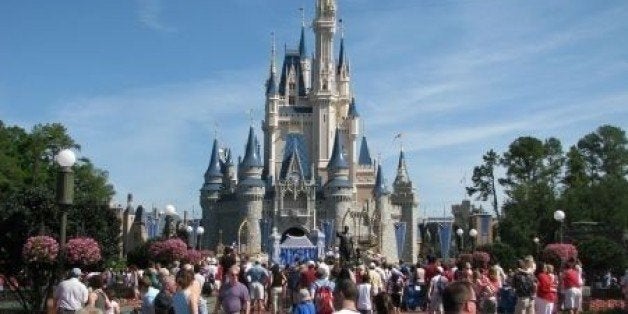 Planning a trip to Walt Disney World can be overwhelming, especially if you're visiting for the first time. You have to set a budget, decide the best time to go, where to stay and navigate four theme parks, two water parks and a multitude of dining and recreation options.
So, where should you begin? Here is what you need to know before you travel to the happiest place on earth, plus tips for maximizing your time once you arrive.
Consult the experts
If you're in the early planning stages of a Disney World vacation, you'll find plenty of great resources at your fingertips. The Disney Parks Moms Panel, a forum where online "moms" (and dads) offer advice and answer user questions, is especially valuable for those who have specific questions about hotels or age-appropriate rides and attractions. This forum, which is free to use, enables trip planners to post questions about how to maximize the Disney experience and receive responses from a select group of expert advisers. If you want to cast a larger net, read user-generated reviews on sites like TripAdvisor, or ask for feedback from friends on social media.
Pay close attention to the school calendar
The Disney high season tends to follow school vacation schedules. So, summertime and long holiday weekends are naturally a bit more crowded than other times of the year. You'll also find that hotel and airfare rates are inflated around this time, too. When kids return to school, park attendance goes down and the rates follow suit.
Disney travel experts at Fodor's suggest visiting in September or early December. September, with the exception of Labor Day, is one of the least crowded months. Early December is another great time to visit. During this month, families can take advantage of lower hotel rates, shorter wait times at rides and get a chance to take in all the holiday-themed decor before the crowds descend for Christmas and winter school breaks.
Diligently track promotions
Disney World promotions can be tricky to predict, but they're worth taking advantage of: some can cut your vacation costs by 30 percent or more. That's why signing up for an email list that tracks the promotions for you is the easiest way to snag a good deal. If you need help keeping on top of all the deals, the travel blog MouseSavers.com keeps a log of past discounts for Disney World vacations to help you estimate when future deals will be released. Plus, it offers a step-by-step guide for planning your Disney vacation. The Orlando tourism bureau also offers deals on multi-day park tickets, so it's worth consulting its website for the latest discounts.
Make your dinner reservations as soon as possible
If you want to dine at any of the resort's 300-some restaurants, you'll need to make your dinner reservations pretty far in advance. Melissa Caldarone brings her kids to the parks every year, and her family always make dinner reservations ahead of time.
"Booking dinner reservations months in advance is the best way to secure a table at your favorite restaurant," Caldarone said. "The 50's Prime Time Café is our family's favorite. To get a table, we book a reservation online about 180 days before departure. We also have better luck booking a table at less popular times, like 5:45 p.m. instead of 6 p.m."
Caldarone also waits to book her vacation until Disney offers free dining promotions. Some of these promotions can include one quick-service meal, one table-service meal and one snack per person, per night of your stay. "If you can travel when this promotion is available, you will save a ton of money," Caldarone said.
Be strategic about where you stay
When deciding whether to stay at a Disney resort or a non-Disney property, you'll have to weigh several factors. Disney hotels are likely more expensive, but they also enable quicker access to the parks. Plus, staying at a Disney resort grants you other perks like extended park hours (known as "Extra Magic Hours"), the ability to book early dining reservations and free transportation to the parks.
Jacqui Gifford, senior editor of Travel + Leisure, said travelers should choose a hotel based on its proximity to preferred parks. "One thing first-timers should always consider is the age of their children. Little ones gravitate toward the water parks and Magic Kingdom, where they can ride the teacups and see Cinderella's Castle," Gifford said. "Teens and tweens will want to focus on the more 'adult' places: the Boardwalk, Epcot's World Showcase or Disney's Hollywood Studios."
Vacation home rentals are another alternative that can be more affordable than a Disney resort, especially for larger groups who require more than one hotel room. Check sites like HomeAway to see what's available during your trip.
Maximize your park time with FastPass+
The free FastPass+ service enables guests to reserve a spot in line at favorite rides and avoid long wait times. Here's how the service works: confirmed park guests can log into My Disney Experience on the Disney app or website, where the site guides visitors through the process of making an itinerary and choosing preferred rides and attractions. This feature is a big benefit for families who already know which rides they want to go on. If you're not sure which rides will be of interest to your family, get to the parks as soon as they open -- lines tend to be much shorter in the morning.
Prep your smartphone, too
Another way to make the most of your time at Disney World: Download the My Disney Experience app onto a smartphone. This app will enable you and your family to coordinate dining reservations, your FastPass+ itinerary and figure out where Disney characters are hiding out. Plus, all your family members can use the same account and follow the same itinerary.
About the author: Julie Loffredi is an award-winning journalist and correspondent. She writes about travel tips for a variety of publications and is a contributor at travel insurance comparison site InsureMyTrip. You can follow her on Twitter @julieloffredi or connect with her on LinkedIn.