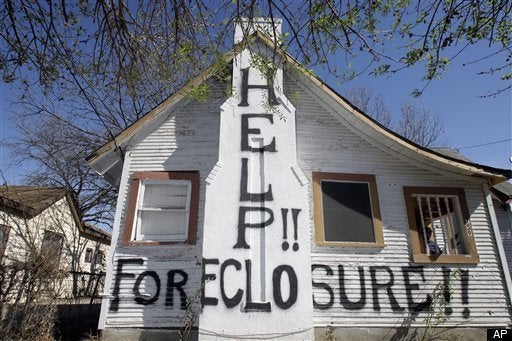 A top Treasury Department official indicated Thursday that the Obama administration's signature foreclosure-prevention initiative may not deliver on its promise to help three to four million troubled homeowners permanently reduce their monthly payments.
Under questioning by a Congressional panel, Phyllis Caldwell, chief of Treasury's Homeownership Preservation Office, would not repeat previous assurances about the Home Affordable Modification Program.
Through January, only about 116,000 homeowners have received permanent modifications, resulting in average monthly savings of more than $500. The program was launched last year. Wall Street analysts, mortgage experts and homeowner advocates have criticized the program for its slow progress. Treasury and White House officials have, in the past, repeatedly stressed that the plan would eventually meet its goal of helping three to four million borrowers by 2012.
Caldwell put that to rest Thursday, declining to answer a direct question about whether the administration would meet that goal.
Separately, Republicans on the House Oversight and Government Reform Committee put out a report stating that:
"HAMP may actually hurt more homeowners than it helps";
And "Treasury is trying to hide the failure of HAMP."
READ the exchange between Rep. Jim Jordan (R-Ohio) and Caldwell and the House committee's report BELOW:
Jordan: In your testimony, you say in one year HAMP has made 'significant progress.' The numbers we have, as of the end of last month, Jan. 31, 2010, HAMP had achieved just over 116,000 permanent mortgage modifications. Again, the stated goal being three to four million. So I guess my question is, is that really significant progress?

Caldwell: Ranking Member Jordan, I think it's important as we step back and look at the program goals, the program was set out to provide an opportunity for three to four million homeowners to have a chance at a mortgage modification from program inception, which was a year ago, through the end of 2012. In its first year we had one million homeowners in trial modifications, and in those trial modifications they're realizing close to 40 percent reduction in their monthly payment.

Jordan: Let me ask you this: Do you expect by 2012 to have three to four million homeowners in a permanent status? A trial's one thing, but that's your term -- 'trial modification' -- so a 'trial' is not there. It's 'trial'. So, do you expect it to get to the goal, the stated goal right from the outset, three to four million, do you expect to get to that number in two years, based on the fact that only 116,000 are there today, after one year?

Caldwell: Well, again, just to re-clarify the goal, first let me just say we have never seen a mortgage crisis of this proportion, so it's too soon one year into the program to talk about what will happen two years out. But the program is designed to offer three to four million homeowners...

Jordan: Ms. Caldwell...

Caldwell: ...an opportunity for a mortgage modification -- not a permanent modification -- an opportunity. And one year in we have one million homeowners saving $500 a month in the modification.

Jordan: I'm sure you're working hard. I just question this whole idea that the big federal government can do these kind of things. They come out with a promise: 'We're gonna do a stimulus plan -- it's gonna keep unemployment at eight percent. We're gonna do a home modification program -- we're gonna help three or four million people and we've done 116,000 in one year. But we're gonna get to four million -- we promise, promise, promise -- by 2012. I mean, do you, yes or no, do you think by 2012, two years from today, you will have three to four million people in a permanent modification plan?

Caldwell: Of the sake we're one year into a mortgage modification program that is at a scale that has never been done in history, it's really too soon to predict what will happen in 2012.
It should be noted that if the goal is to offer three to four million trial modifications, the Obama administration is at least 25 percent of the way towards reaching its goal. If the original goal was three to four million permanent modifications, the administration is less than five percent there.
Popular in the Community