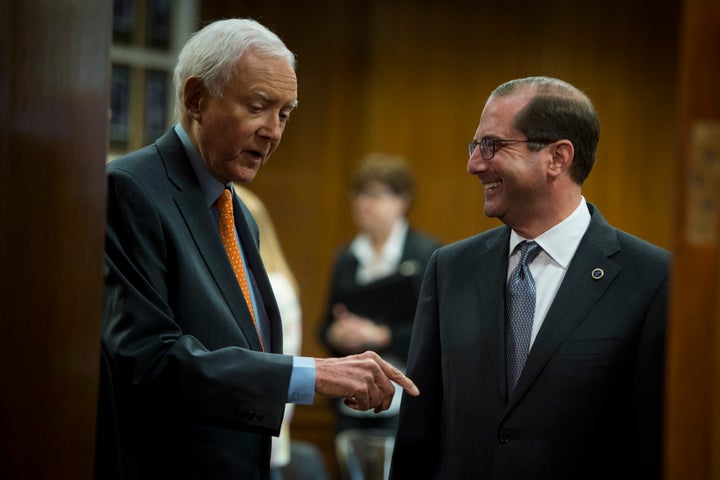 WASHINGTON ― Democratic senators grilled Health and Human Services Secretary Alex M. Azar II about the immigrant children still separated from their families during a hearing Tuesday on prescription drug prices.
"The American people are owed an answer about what is going to be done to protect the thousands of children the Trump administration separated from their mothers and fathers and put in the custody of today's witness," said Sen. Ron Wyden (D-Ore.), referring to Azar, who was testifying before the Senate Finance Committee.  
HHS and other agencies "seem to be doing more to add to the bedlam and deflect blame than they're doing to tell parents where their kids are," he added.
Sen. Orrin Hatch (R-Utah), chairman of the Senate Finance Committee, urged his colleagues to stay focused on the issues they came to discuss related to prescription drugs. But he noted in his opening remarks that, "we also need to ensure that children who have been separated from their parents are reunited." He added, "I know the secretary is working aggressively to do so."
In recent months, immigrant children have been separated from their parents and guardians at the U.S.-Mexico border under the Trump administration's zero tolerance policy on immigration. President Donald Trump reluctantly agreed to halt these family separations last week, but he is now pushing for Congress and the courts to give him the ability to detain families indefinitely. As of June 20, HHS-funded facilities were holding 2,053 separated minors, according to the Trump administration.
That number had dropped to 2,047 as of Monday night, Azar said.
Every day, these children are growing and changing and experiencing trauma and pain. This is on your watch, and we will hold you accountable.

Sen. Debbie Stabenow (D-Mich.)
Democrats pressed Azar on what was being done to connect parents and their children and how long the reunification process was going to take.
"There is no reason why any parent would not know where their child is located," Azar said, claiming that he could find any parent's child that is in the department's care with "basic keystrokes" within "seconds." 
Kathryn Kuennen, associate director of children's services at the United States Conference of Catholic Bishops, told HuffPost about a case in May where it took about 30 days to locate a 5-year-old's mother and connect them by phone.
The girl "was very confused, she had no idea where her mother was," she said.
Children are scattered in shelters, group homes and transitional foster care around the United States. Since April, for example, around 50 separated children have gone through transitional foster care service with Lutheran Immigration and Refugee Service in Michigan, Maryland, California and North Carolina, according to an agency spokeswoman. Bethany Christian Services has placed around 100 separated children in foster care homes in Michigan and Maryland since April, a spokeswoman confirmed.
"Every day, these children are growing and changing and experiencing trauma and pain," Sen. Debbie Stabenow (D-Mich.) said on Tuesday. "This is on your watch, and we will hold you accountable," she added. 
Azar did not say exactly how long it would take to reunify families separated at the border. He said he could not reunite children with their parents while they were still in custody, claiming he was prevented by a legal requirement that doesn't allow kids to be detained with their parents for more than 20 days.
"We do not want any children separated from their parents any longer than absolutely necessary under the law," he said.
Sen. Michael Bennet (D-Colo.) asked the age of the youngest child in HHS care.
"We have infants," Azar said, adding that, "as shocking as it sounds, we have always had infants" as unaccompanied children are left on the border.
Sen. Wyden wrapped up without much apparent optimism for HHS leadership on high prescription drug bills or reunifying immigrant families.
"It's going to take you months and months and months to bring these kids back to their parents and back to safety," he said.
"You're a smart guy, there's no question about that. I sure hope we're going to see action rather than this continued effort to offer us rosy projections and happy thoughts."
REAL LIFE. REAL NEWS. REAL VOICES.
Help us tell more of the stories that matter from voices that too often remain unheard.