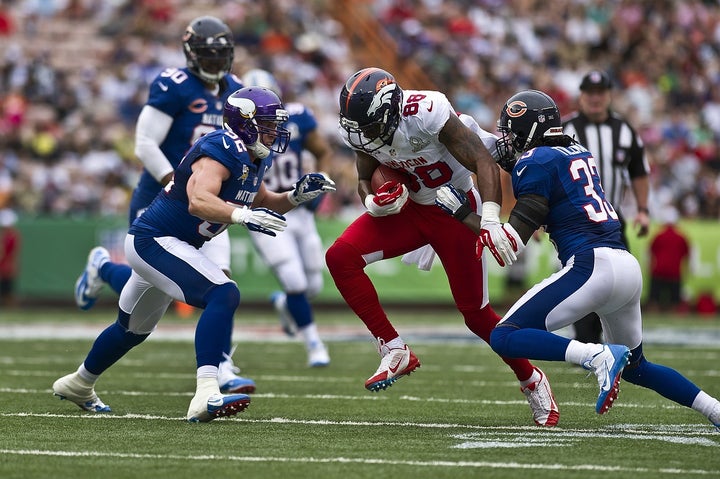 Now that WE'RE BACK, it feels like it might be too good to be true. Draft dates are locked in, mock drafts are taking more meaning, and the Twitterverse is chirping away with every pre-season touchdown, practice injury (especially the non-contact kind), and boom or bust pick. The most wonderful time of the year is here and fantasy football fans are Making Twitter Great Again by relying on the platform for real-time analysis and injury reports.
While the Adam Shefters and Matthew Berrys of the world still reign supreme – and my 2016 picks for the Top Twitter Accounts to Follow for fantasy football are still just as relevant – I've broken down some more must-follows to ensure you've prepared yourself and your franchise as best you can for a chance at that ship.
It's eye-opening to me how @LateRoundQB, Editor-in-Chief for numberFire, finds time to answer incessant fantasy football questions while consistently dropping strategy and knowledge through in-depth podcasts before you even get out of bed. If you're in a bind, he's your best bet for a quick second-opinion (spoiler – he's big on the late round QB strategy). You've probably heard @BrandonHerFFB's POV on SiriusXMFantasy, but if you want to know whom you should draft over whom, and where to draft them, she'll deliver quickly through Twitter with well-justified rationale.
Writer and speaker for NFL.com, @MattHarmon_BYB retweets every update you need to be aware of and also offers some awesome perspective, with a focus on (and the creator of) #ReceptionPerception. If you're a lover of spreadsheets, @FantasyADHD has you covered. As a draft consultant and writer across multiple fantasy sites, he creates ADP evolutions on a per player basis and might be one of the most valuable followers pre-draft day.
For in-depth analysis and strategy
Footballguys.com staff writer @MattWaldman is a useful resource for in-depth analysis and differing perspective. In the offseason, he was breaking down specific plays through analyzing 2016 film. He's also known to do some Reddit AMA's to answer questions in real-time. A senior fantasy football analyst for ProFootballFocus Fantasy, @ScottBarretDFB analyzes everything from play-caller tendencies to "actual opportunity" and weighted opportunity percentage. If I've lost you, you're not ready.
One of the most crucial updates a fantasy owner needs to watch out for is player injury. And the first person to look to in your time of need is the same one who laid the foundation for what we now call "injury analysis" – ESPN's @Stephania_ESPN. As back up, @JTsportsguy and @ProFootballDoc can offer second opinions on who's out and who's poised to return in the crucial minutes leading up to kickoff.
For the perfect blend of statistical insight with a side of humor, these three men will have you covered. Lead NFL Writer for FantasyPros @MikeTagliereNFL has been a top six ranker twice for FantasyPros accuracy contest and makes analysis both digestible and entertaining. @Pat_Thorman's feed is equal parts latest articles and retweets, with appreciated wit, while @beerswater makes you find comedy in charts, with a focus on daily fantasy sports (DFS).
Host of RotoGrinders Daily Fantasy Fix podcast and Director of Media, @Dan_Back evaluates teams and interviews DFS players and organizations. His expertise also extends outside of solely speaking fantasy football, and you can expect insight into other sports as well. @AdamLevitan is a DraftKings analyst who co-hosts a daily podcast and shares essential articles and stats while @DFS_mathlete genuinely uses Twitter to supplement his NFL DFS algorithm to narrow the player pool. Be forewarned, he is also a Pats fan.
A niche world that's gaining some momentum (and rightfully so), if you participate in two quarterback or superflex leagues, @TwoQBs is a must – and I don't just say that because I write for them. There are few areas online where you can get valuable insight and strategy specific to the two quarterbacks format, and you will find it all at @TwoQBs. For more, @LakeTwoQBs is maniacal on Twitter. Although he no longer writes for TwoQBs.com or about fantasy football in general, he continues to provide unmatched insight and knowledge on fantasy quarterbacks and is open to answering all your questions – at any time of day (or night). And if you want to get super data driven on the two-quarterback and superflex formats, @Slavin22 is your guy. He is unstoppable when it comes to narrowly dissecting different data points and ways of thinking. If you'd like to see a certain comparison or curve, give him a shout and he'll have something put together seemingly instantaneously.
For mock drafts and start/sits
For both pre-draft prep and weighing your options throughout the season, @numberFire does the math so you don't have to. A FanDuel company, numberFire is starting to creep on Rotoworld for leading the industry in analysis and player updates. For draft software, live mock drafts, and analysis on who you should start on a week-by-week basis, @FFCalculator has you covered.
Of course, the list doesn't stop there. But if I kept going, what would I be able to provide next year? Putting them in no particular category, my list wouldn't be complete without providing some special shout-outs to fellow Cowboy fan @FFdeJENerate, who has her hands in every category of fantasy football fandom from MFL10 input to analytical podcasts, and @2QBFFB and @gregsauce, the two leading men behind TwoQBs who's quick wit and insight, will keep you in the fantasy football spirit all year round.
That's all for now folks. If you're still perplexed on the Spencer Ware/Kareem Hunt situation or are curious to know if there's a draftable asset on the Jacksonville Jaguars, give one of these fellow fantasy fans a shout. It's truly a team effort all around, and there are few (if any) fantasy football colleagues that would turn down an opportunity to share their opinion and analysis with an interested franchise. Otherwise, we're all just waiting all day for Sunday Night.
Related
Popular in the Community