A topless activist of the FEMEN movement was arrested inside Notre Dame Cathedral Wednesday, one day after far-right essayist and historian Dominique Vesser committed suicide in the Paris landmark.
The bare-chested woman was photographed in front of the altar, pointing a fake gun at her mouth. The slogan "May Fascists Rest In Hell" was written across her torso.
FEMEN leader Inna Schevchenko commented to Le HuffPost that the protest was a message to "anyone who supports fascism and who honored the memory of the extreme-right militant who committed suicide at Notre Dame."
On its Facebook page, FEMEN France called the topless activist "FEMEN's angel of Death." The group called upon "all European Nazism, in the face of all their underhitlers and halfmussolini, to follow the example of the ultra-right man Dominique Venner and immediately commit a suicide of their believes excluding theirselves from the political arena in Europe."
"Hurry up, there is not so much place left on the sacrificial altar of Notre-Dame de Paris," the statement added.
FEMEN was founded in Ukraine in 2008 to protest discrimination against women in the Eastern European country. The group has steadily branched out in recent years, establishing a European headquarters in Paris and targeting women's rights issues worldwide.
This is not the first time that the group has staged a protest at Notre Dame.
A group of FEMEN protesters disrobed inside the Cathedral in February 2013 to celebrate the resignation of Pope Benedict XVI. The women shouted slogans such as "Bye Bye Benedict" and "No More Homophobe," according to AFP.
Before You Go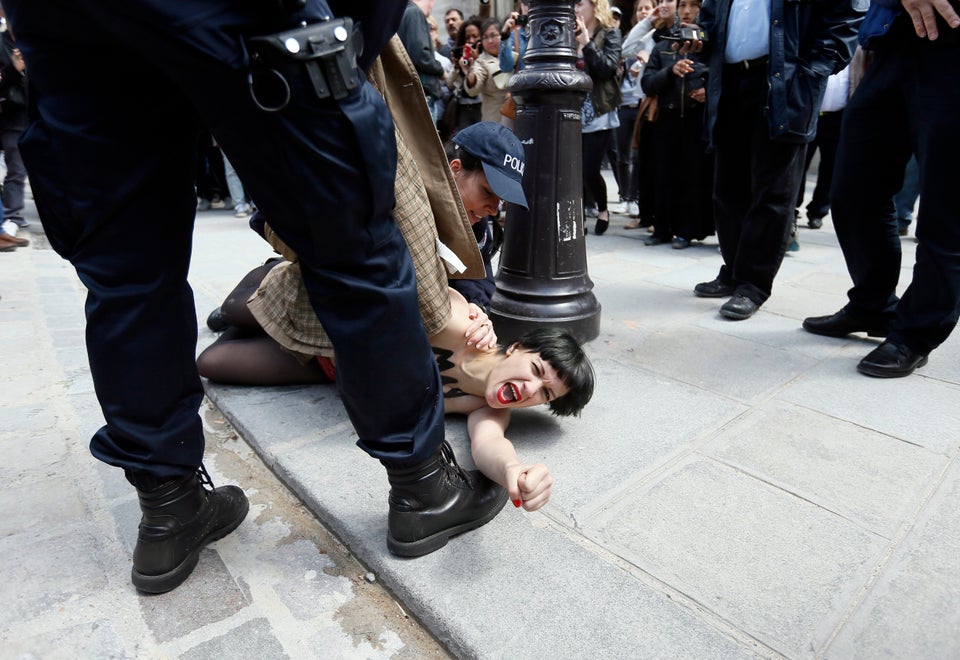 FEMEN Protest Inside Notre Dame (NSFW)
Popular in the Community