A group of topless activists scandalized visitors at Paris' Notre Dame Cathedral on Tuesday by disrobing in public to celebrate Pope Benedict XVI's resignation.
The small group of women, all affiliated with radical feminist group FEMEN, flashed their breasts and banged on bells in the cathedral, shouting slogans such as, "Bye Bye Benedict" and "No more homophobe," according to the Agence France-Presse.
FEMEN France noted the final hour of the homophobic Pope. FEMEN is congratulating the whole progressive world with the resignation of fascist Benedict XVI from the place of the head of the Catholic mafia. It's symbolic that today is the day of the voting of law of same-sex marriage in France. The ex-Pope was a fierce opponent of gay marriages. FEMEN applaud the complete capitulation of the middle age homophobia! Pope go to the devil! Viva common sense! Viva freedom!
After the women jumped velvet ropes in order to bang on a set of bronze bells cast for Notre Dame's 850th anniversary, staff turned off the lights, and security dragged the women outside, the Associated Press reports.
Most recently, women protested at the exclusive World Economic Forum in Davos, the news outlet notes. The activists claimed to be protesting to raise awareness of poverty among women around the world, as well as male domination in the world's most powerful corporations.
In January, a group of four FEMEN activists also held a topless protest in support of same-sex marriage as Benedict was delivering a prayer overlooking St. Peter's Square. The women were quickly carried away by police, Radio Free Europe and the Associated Press reported.
Related
Before You Go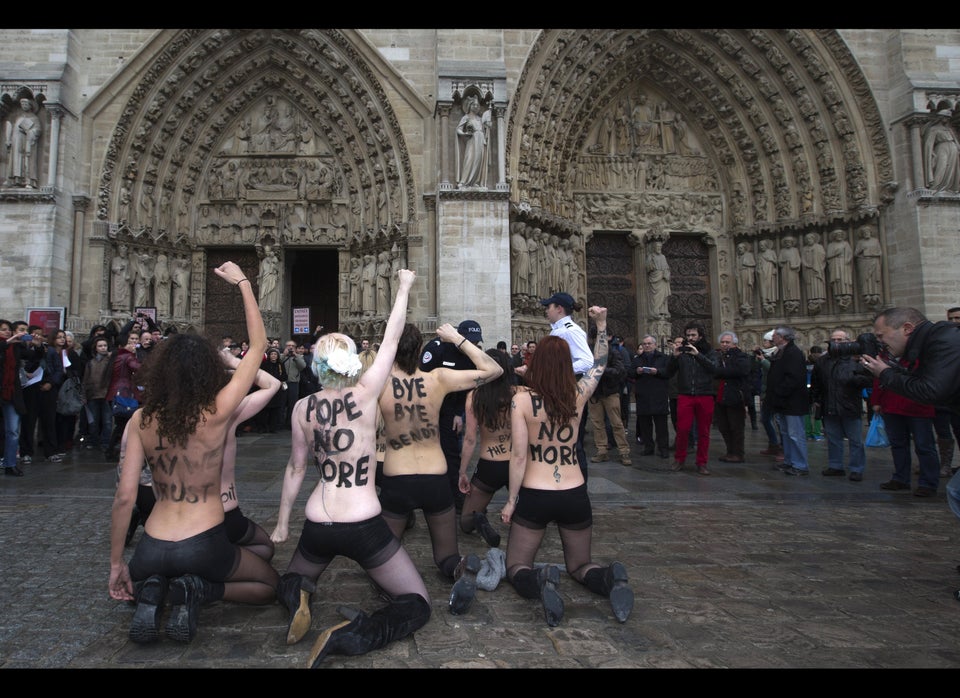 Topless Activists Celebrate Pope's Resignation (NSFW)
Popular in the Community