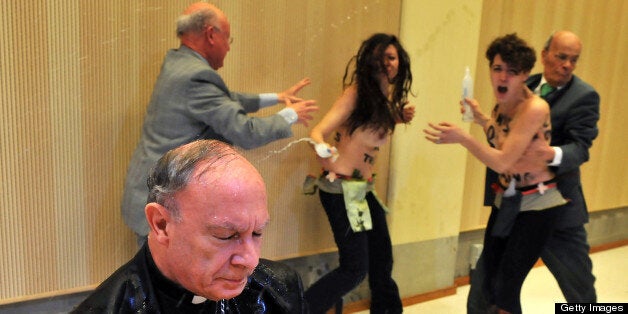 Topless activists of the protest movement FEMEN took aim at the Catholic Church on Tuesday, drenching Belgian archbishop André-Jozef Léonard during a debate in Brussels, Belgium
Four FEMEN members entered an auditorium at the ULB university in the Belgian capital, holding signs that said "Stop Homophobia" and "Anus Dei Is Coming." Flemish newspaper De Standaard reports that Léonard was participating in a debate on blasphemy and freedom of speech when the bare-chested protesters poured water over his head.
In an interview with Le Soir at the end of March, Léonard had said that gays should spend their lives celibate. The archbishop defined homosexuality as "a given that people find in themselves and whose origins remain somewhat mysterious."
On its French Facebook page, FEMEN said "if André Léonard has decided to inflict the punishment of abstinence and celibacy upon himself, Femen does not tolerate that he wants to impose that chastity on the gay community as the only remedy to what he defines as a disease."
The Belgian confederation of bishops strongly condemned FEMEN's actions, but said it will not press charges against the group.
FEMEN, a movement founded in Ukraine and famous for its topless protests, made worldwide headlines earlier this month by organizing "International Topless Jihad Day." The scheduled protest was meant to address what the feminist group describes as discrimination against women in Islam and to raise awareness for the plight of Amina Tyler, a young Tunisian woman who sparked a massive controversy in her home country by posting two topless photos of herself on the Internet, with the slogans "Fuck your morals," and "My body belongs to me, and is not the source of anyone's honor," written across her bare chest.
CLARIFICATION: The language in this article has been updated to reflect that Msgr. Léonard was participating in a debate, rather than giving a lecture.
Related
Before You Go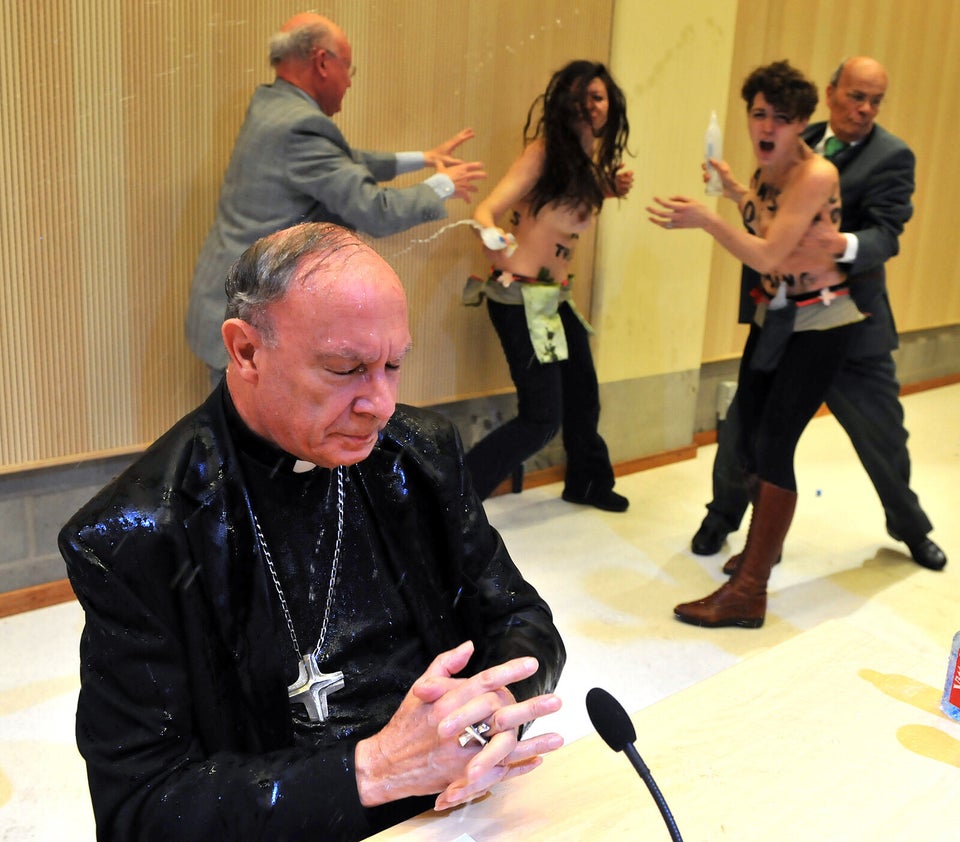 Femen In Brussels (NSFW)
Popular in the Community