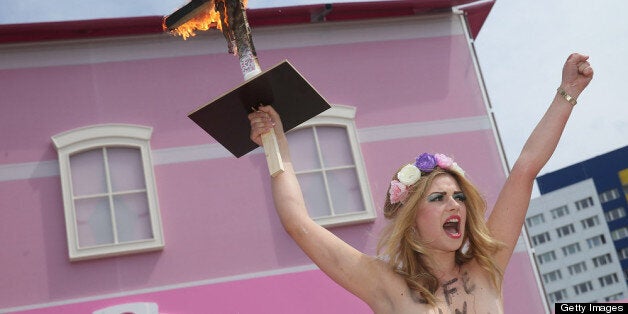 BERLIN, May 16 (Reuters) - Women's rights protesters disrupted the opening of a giant pink doll's house in Berlin on Thursday, saying the Barbie "Dreamhouse Experience" objectified women.
Promoting the doll made by Mattel Inc, the house allows paying visitors to try on Barbie's clothes, play in her kitchen and have a go on her pink piano. The exhibition will be open until Aug. 25.
A handful of protesters gathered outside the shocking pink house that has been erected in one of central Berlin's greyest areas.
A topless woman, a member of the Femen protest group, who had the slogan "Life in plastic is not fantastic" scrawled across her chest, set fire to a Barbie doll tied to a mini crucifix.
"There's too much emphasis on becoming more beautiful and on being pretty and that puts an awful lot of pressure on girls as well as wasting capacities which they could use to simply be happy or for school," said Stevie Meriel Schmiedel, a founding member of the "Pink Stinks" protest group.
"We're protesting because Barbie would not be able to survive with her figure and yet she is an idol for many girls and that's not healthy," she said.
One placard read: "Dear Barbie - don't just bake cupcakes, eat them too!"
A male protester in a wig, pink shirt and shimmering skirt held a poster reading: "Do you like me now?"
Christoph Rahofer, chief executive of Event Marketing Services, which organised the exhibition, similar to one that recently opened in Sunrise, Florida, said the Dreamhouse Experience was a positive thing.
"It's basically about playing, being amazed and discovering - there's lots of hidden things to be found and it's an interactive exhibition."
The Barbie doll made its debut in 1959, and is named after the daughter, Barbara, of its inventor Ruth Handler, according to Mattel's website.

Related
Before You Go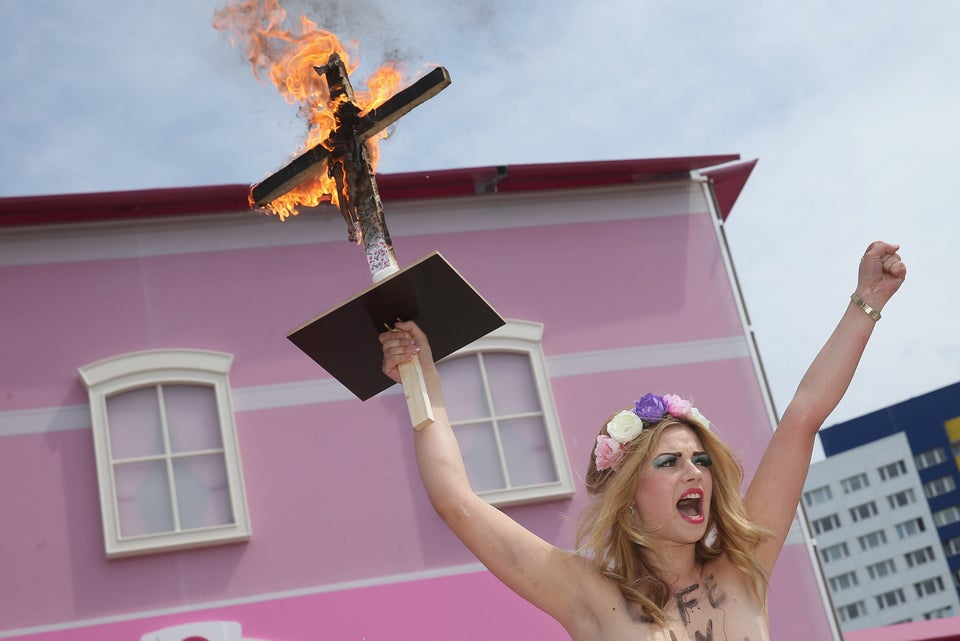 FEMEN Protest Barbie House (NSFW)
Popular in the Community