A half-naked protester chanting "women's lives matter" reportedly jumped in front of Bill Cosby as he made his way to a Montgomery County, Pennsylvania, courthouse Monday morning for his sexual assault retrial.
The woman, later identified as Nicolle Rochelle, jumped a barrier and charged at the 80-year-old comedian, according to reports from people at the scene. Rochelle was quickly stopped by police before she could reach Cosby and taken into custody. 
The words "women's lives matter" were written in red on Rochelle's unclothed chest and the names of Cosby's accusers were written in black all over her body. NBC Philadelphia reports that she was accompanied by another half-dozen protesters.
According to IMDb, Rochelle (also known as Nicole Leach) is a former actress from Little Falls, New Jersey, who appeared in four episodes of "The Cosby Show" between 1990 and 1992. She's also appeared on such shows as "Clarissa Explains It All" and "Law & Order: Special Victims Unit." The 39-year-old was charged with disorderly conduct, which can result in a fine. 
Warning: Some images below contain nudity.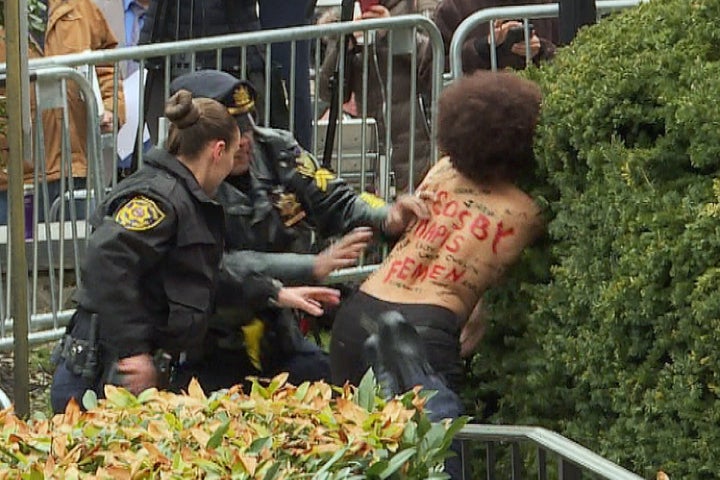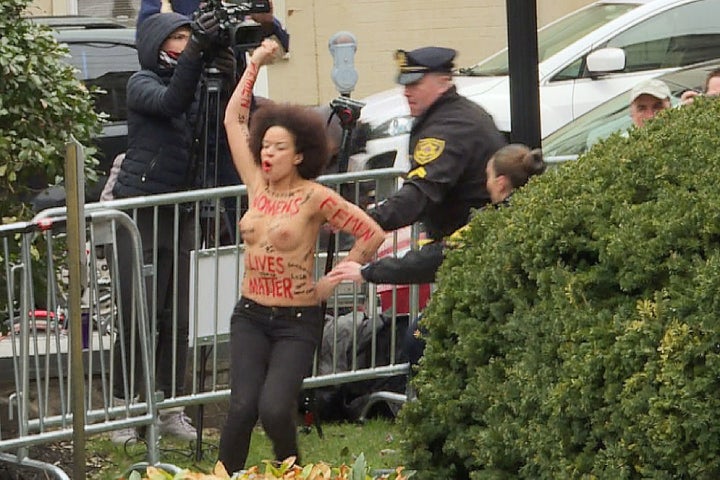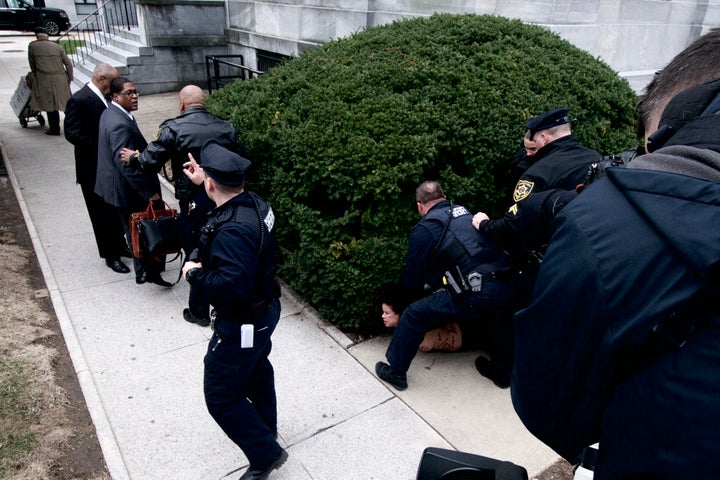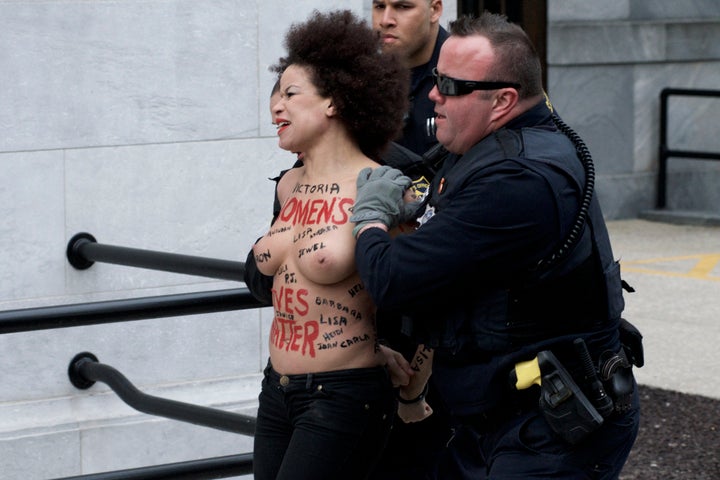 Cosby is charged with three counts of aggravated indecent assault. He's accused of drugging and sexually assaulting Andrea Constand, a former women's basketball coach at Temple University, in 2004. In June last year, a jury failed to reach a unanimous decision on the charges and the judge declared a mistrial.
Opening statements for the retrial began Monday morning. 
More than 50 women have accused the veteran entertainer of sexual assault, with many saying he drugged and raped them. Cosby has denied all the allegations and is sticking with his not-guilty plea from last year. 
Scroll below to see more from journalists on the scene. 
Cosby's retrial is the first high-profile sexual assault prosecution in the Me Too era. The case has garnered a lot of media coverage and many activists have vowed to protest outside the courthouse throughout the trial, which is expected to run at least a month.
Some demonstrators are also protesting in support of Cosby, claiming the entertainer is innocent. One protester passed out fliers at the courthouse Monday morning that warned of "mass demonstrations" if he is convicted. 
Other women's groups are demonstrating in front of the courthouse to ensure that sexual assault survivors' voices are heard. 
"Women simply are not getting justice and our entire system is failing women and in turn failing our entire society," Sonia Ossorio, the president of the National Organization for Women New York City, told reporters outside the courthouse Monday morning. 
Calling all HuffPost superfans!
Sign up for membership to become a founding member and help shape HuffPost's next chapter