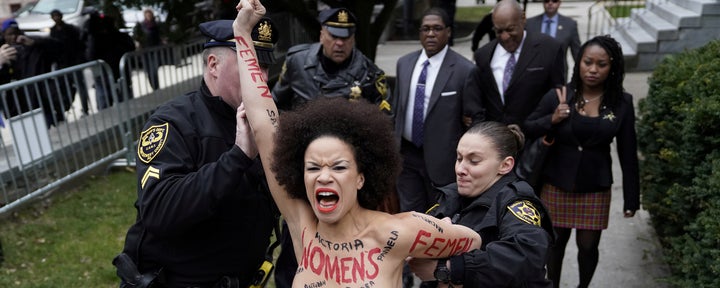 Nicolle Rochelle, an actress and activist from Little Falls, New Jersey, told People that she wanted Cosby to feel "uncomfortable" on his first day in court.
"He's a man who's disempowered women's bodies for decades. It doesn't seem to be recognized," Rochelle said. "The case is being publicized with this narrative of race. He's being painted as the victim. I wanted to emphasize that this is about rape. I wanted to make him uncomfortable and to make people think about women's bodies."
Authorities quickly apprehended Rochelle, who identified herself as part of the international women's organization Femen, and charged her with disorderly conduct, which can result in a fine. The 39-year-old had "women's lives matter" written on her chest in red and the names of Cosby's alleged victims written in black all over her body, as shown in uncensored photos taken during her arrest (below).
According to IMDb, Rochelle appeared in four episodes of "The Cosby Show" between 1990 and 1992, and has also acted on shows including "Law & Order: Special Victims Unit" and "Clarissa Explains It All."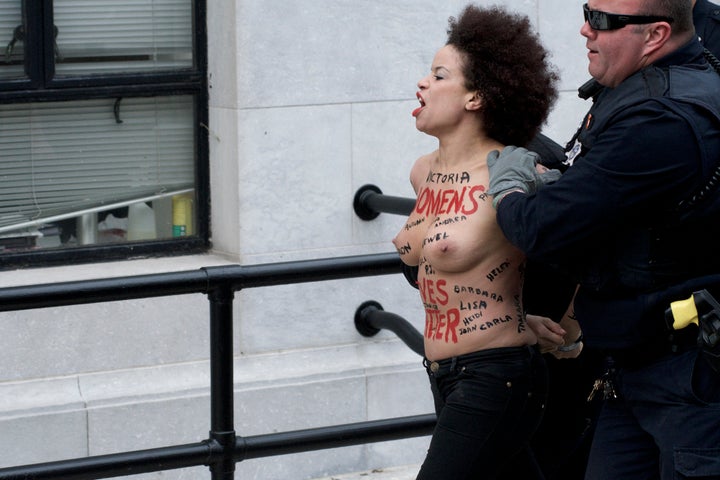 Rochelle told People that the protest had nothing to do with her time working on "The Cosby Show." Instead, it's about the 50-plus women who have alleged the comedian drugged and sexually assaulted them.
"At the moment, 61 women aren't allowed to testify against him. That's pretty appalling. The very least I could do is lend my body to this cause," she said.
She added: "There's a part of me that feels betrayed because I can understand what the victims were feeling. Like, that could have been me, I could've undergone the abuse as well."
Cosby, 80, is charged with three counts of aggravated indecent assault for allegedly drugging and sexually assaulting Andrea Constand, a former women's basketball coach at Temple University, in 2004. In June, a jury failed to reach a unanimous decision on the charges and the judge declared a mistrial.
"In being naked today," Rochelle explained, "I was symbolically taking back the ownership of all the victims' bodies and redefining it as a political tool as opposed to a sexual object."
Popular in the Community