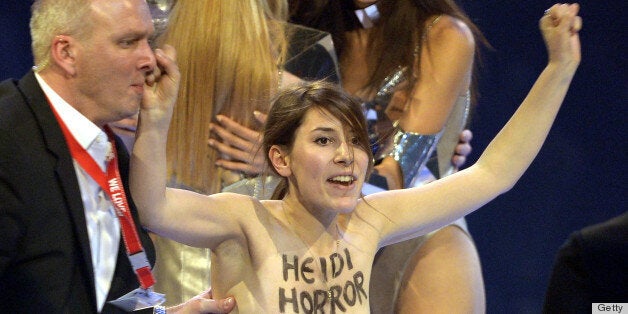 Two women in jeans and bare chests stormed the stage, interrupting the four "Top Model" finalists on the "runway." They were quickly removed by a security team, but not before the crowd got a glimpse of the slogans on their chests, including "Heidi's Horror Picture Show."
WARNING: The photos below contain nudity and may not be safe for viewing at work.
FEMEN, founded in 2008 to protest discrimination against women in the Ukraine, is known for addressing issues of women's rights with topless protests. This morning, the group took to Facebook to explain the motivation behind their latest show of activism:
FEMEN disrupted the live broadcast of Germany's most popular casting-show Germany's Next Top Model. The program format is pimp-show where world-famous supermodel Heidi Klum plays the role of "mom" and forms a bevy of underage girls to fashion-fools. The unauthorized appearance of FEMEN sekstremists at the epicenter of the show broadcasted live made the organizers and participants in the state of torpor. FEMEN sekstremists managed to make their accusations in the face of fashion-fascist ideologist of the show Heidi Klum in front of 15000th stadium and the millions of TV viewers audience. FEMEN regards the fashion industry as an element of pimp business and has consistently opposed the commercialization of the female body. Every year the fashion business millstones grind hundreds of thousands of girls, promoting the brilliance and richness of modeling career, forcing women to false ideals, provoking a real disease. Fooled by fashion propoganda, failed by fashion models, women regularly join the ranks of sex workers, and psychiatric patients. Stop the fashion business! Stop Prostitution! The true mission of a woman is a revolution!
Perhaps the group's most famous show of activism was after Tunisian student Amina Tyler posted FEMEN-inspired photos on her Facebook, wearing the slogans "Fuck Your Morals" and "My Body Belongs To Me, And Is Not The Source Of Anyone's Honor" across her bare chest. In response, FEMEN's Tunisian Facebook page was infiltrated by Islamist hackers, and Tyler became the target of death threats. In support of Tyler, FEMEN launched "International Topless Jihad Day" and staging topless protests around Europe.
Check out the NSFW photos below.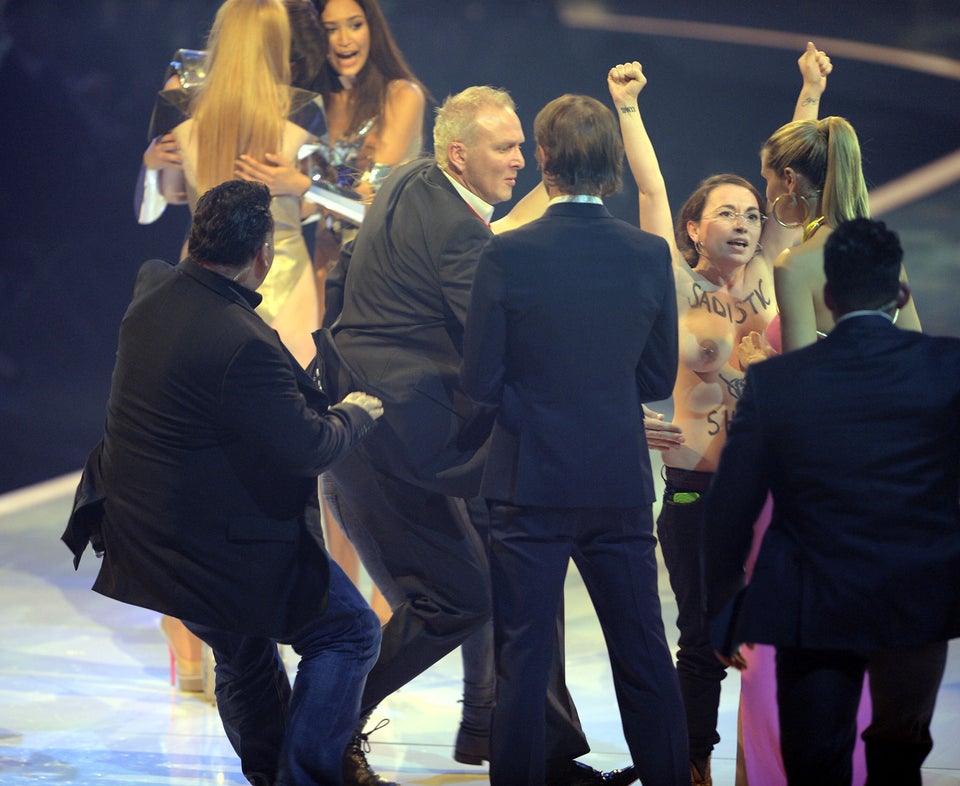 FEMEN Protestors Crash "Germany's Next Top Model" Finale (NSFW)
Popular in the Community