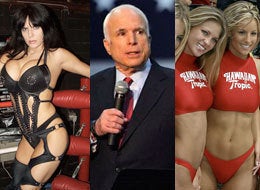 The town of Sturgis, South Dakota will witness, on Monday, the rare fusion of drunken debauchery, public stripteasing, motorcycle rallying, a live performance by Kid Rock, and - last but not least - a veterans-themed speech by presidential candidate John McCain. Seriously.
On Sunday, the McCain campaign announced that the Senator will participate in the Sturgis Rally 2008 at Buffalo Chip in South Dakota, an annual tribute to American veterans. The event is up the Arizona Republican's wheelhouse, attracting thousands of active duty and former servicemen, many who have a natural affinity towards the Senator.
But it is hard not to notice the evocative, non-political sideshows that will literally surround McCain's speech. As the presumptive nominee takes the stage, the "Ringin' Wet & Wild" women's wrestling event will be taking place on the main amphitheater. Two hours before then, the "Miss Buffalo Chip Beauty Pageant - Bikinis on the Beach" will be staged at a different venue. That affair is described by ESPN's Jim Caple as "essentially a topless beauty pageant. And occasionally bottomless, too."
"During a drenching rain Wednesday night, the contest broke up into smaller groups and one woman wound up dancing naked on a bar top. Her boyfriend/husband saw her and angrily dragged her away as she struggled to put her pants back on and muttered something about how, "It's only this one week a year.""
How sweet. Sadly, the pageant also sees its share of domestic abuse, which even the event's organizers admit to Caple is a major problem.
Following McCain's speech, country stars Kellie Pickler and Kid Rock will be taking the very same stage for their own live performances. Then at 12:30 a.m., there will be the semi-finals of the "Miss Buffalo Chip Beauty Pageant," this time featuring Hawaiian Tropic Models.
The cultural crossroads that is the Sturgis Rally could actually be fertile political ground for the Republican presidential nominee. Hosted in a town of 5,500, the event sees upward of half a million bikers over the course of a week. Many of them, the founder of the campground is quoted as saying, have expressed interest in seeing the Senator, whose POW background makes him a fan favorite. How the religious right will react is a whole other bag.

Popular in the Community