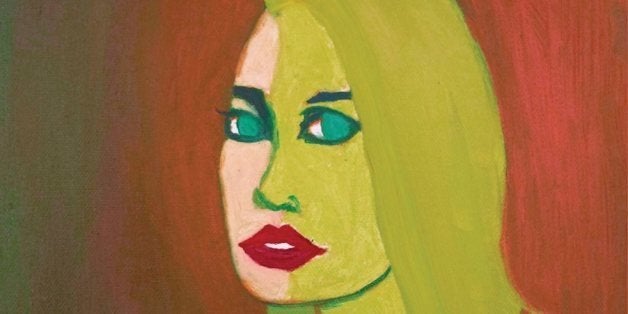 Jane Penny was trying to sleep on a back porch in Savannah, Georgia, when she thought she heard something scary clawing through the floorboards. Her band, TOPS, had come to this house to crash for the night while on tour and they'd ended up arriving very late in the night. Considering her allergic reaction to cats, Penny chose to spend the night on the porch. "Oh, just so you know, there's snakes in the backyard," the owner of the home had told her.
As if snakes were not enough, Penny thought she could also see large boars in the shadows. "It's scary right," she said, later retelling the story to HuffPost Entertainment. "But then I woke and was looking around, and there's these tiny, little black piglets ... They were so cute and like not large at all." The scary clawing was just the sound of those children falling asleep.
There was nothing to be afraid of at all.
TOPS just released their spectacular sophomore album, "Picture You Staring." The band hails from Montreal, though three of the members grew up in Edmonton: Penny attended elementary school with bass player Madeline Glowicki and middle school with guitarist David Carriere; Glowicki and Carriere skateboarded together in high school. The lone American, Riley Fleck, was raised in San Diego.
Recently, TOPS released a music video for "Way To Be Loved" that got noticed for a moment in which Mac DeMarco, who played bass live with an earlier version of the band, flashes the camera. Penny assured that it was not a pre-planned thing; DeMarco just showed up to the gathering of friends to help shoot the video and asked, "Can I show my balls?" Penny told DeMarco, "Be yourself," but predicting the music media frenzy that would ensue was far from her mind.
"I never really thought anything of it ... That's how he wanted to be portrayed," she said. "I think it's kind of funny, life is pretty funny and stupid. It's silly to edit out all those parts, you know?"
Fellow Canadian musician Claire Boucher, aka Grimes, once described Penny's laugh: "[It's] so loud that I can hear her even if I'm in a different building." Speaking with Penny, this infectious laughter is apparent, although she does admit that she laughs "often, even if things aren't that funny." Whether this interview made Penny laugh for real is unclear, but at the very least she was polite. When it's more of a sure thing that the laugh is genuine, she pulls away from the phone, laughing with the band mate she's hanging with -- the guitarist, Carriere.
It's with Carriere that she confirmed the many hours the band took to record each of the songs on this record -- "60 to 100." It's with him she laughed for a long while before saying there are no stories from their shared time in middle school that she's at liberty to speak about. Later on, Carriere joined the conversation to describe his writing process, which started when he was in sixth or seventh grade. He seemed to perfectly encapsulate the band's larger ethos:
"Not being too precious with things ... like yeah this is just what it is. Not wishing what you had was something else," Carriere said.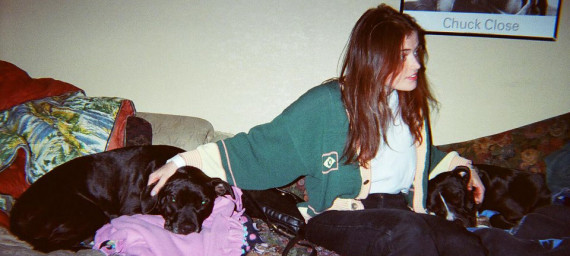 "I think I've become more confident as a person, just in general," Penny said, while talking about overcoming shyness over the years. When talking about if she feels there's been a change in her, she answered carefully:
You can only change yourself so much and you have a certain personality and l always have that a little bit. I actually really like performing, I feel like I feel pretty comfortable on stage. It's one of those things ... I think maybe some of the aspects of my personality affect the tone of the recording ... It's not so aggressive or like in your face. Maybe that's like a shy person's answer.
At one point, Penny spoke about karaoke and the ability for people who are shy to just become someone else in the moment. The stage makes sense for her: "I really like playing shows, I think that's when i feel the most comfortable," she said.
Off the stage, a certain anxiety exists, but one that's relatable. In another interview with GroundSounds, Penny said, "We're living in a pretty fucked up time, and life can be hard, but ultimately I hope it's a record people can enjoy." Asked about this, Penny responded about deep fears of global warming, fears that society's constant drive to futurism may end up leading to human kind's obsolescence and general concern that people are becoming increasingly stuck in this existence:
I think it can be hard to see a future. I know that a lot of people my age don't really know what we're going to be doing. There doesn't seem to be a ton of opportunities. I don't know.
For those doomed, a category maybe everyone falls in these days, this record may just be worth spinning as the world stops doing the same.

"Picture You Staring" was recorded in a spare room of the offices of their label, Arbutus Records, which also lent the band equipment. Unlike their debut album, "Tender Opposites" -- hurriedly caught in a rented practice space and finished in their apartments -- the band took "a really long time" with this album. Where the first album had a slightly rough quality to it, "Picture You Staring" sounds more beautiful throughout, maintaining all the fun. In short, it's a triumph.
As with any band, particularly one just getting a foothold, it's unclear what's next. But that's okay. For now, this sophomore effort certainly deserves accolades. Every second maintains a certain perfection. Despite the hours of recording that make it a pretty album, it never gets "too precious" and it sounds perfect in a way that can only be achieved from a group of longtime friends still just hanging out. It's structured beauty. It's messing around with someone who loves you for you.
The right things are never edited out.

Before The Beat Drops is an artist introduction series dedicated to bringing you the rising acts before they make their break. Our unlimited access to music of all kinds is both amazing and overwhelming. Keeping your playlists fresh, we'll be doing the leg work to help you discover your next favorite artist.
All images from the TOPS Facebook unless otherwise stated.

REAL LIFE. REAL NEWS. REAL VOICES.
Help us tell more of the stories that matter from voices that too often remain unheard.
BEFORE YOU GO
PHOTO GALLERY
Celebrity Tour Riders: They Ask for WHAAA?!