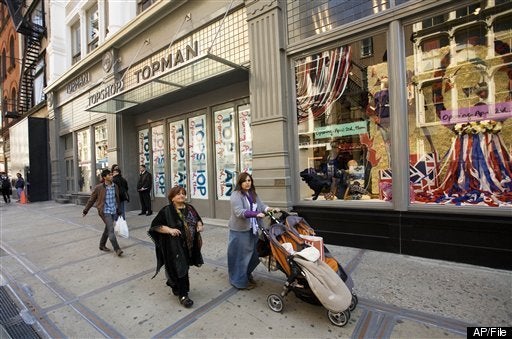 The popular British retailer Topshop is looking to expand its brand in the United States--and Chicago will host the chain's second location in the country.
In an interview with WWD, British businessman and store owner Sir Philip Green said that Topshop will open its flagship Chicago location on Michigan Avenue next to Filene's Basement in late spring. Less than two years ago, Topshop opened its first U.S. location in New York City.
"We like big cities, big corners, big billboard shop frontage -- and we like to be on the high street," Green told WWD. "The location really appeals to us."
While considered a trendy and fairly inexpensive store in the UK, (think H&M) the current exchange rate nearly doubles the cost of Topshop goods in the U.S. Still, Green told WWD the store plans to carry merchandise that appeals to the local population:
In Chicago, he said, the store would be "an evolution, rather than a revolution" of Topshop's retail concept, and the merchandise mix "will not be materially different" from that of SoHo or London's Oxford Circus flagship.
"Clothes from Topshop are expensive, considering the quality," she writes. ". . . In New York, Topshop relies on tourists. While Chicago's got plenty of those, nothing compares to lower Broadway in Manhattan."
"Now please, please don't take this as a 'Chicagoans aren't chic enough for Topshop' argument," she writes. "We just think that they're too smart for Topshop."
Acknowledging the economy, Green told WWD he is still confident about Topshop's future.
". . .Today your products have to be better than ever," he said. "There's no hiding. The key is to have great merchandise."
The West Coast could also see a few Topshops in the not-so-distant future. Sites in Las Vegas, San Francisco and Los Angeles are also being considered.
Popular in the Community