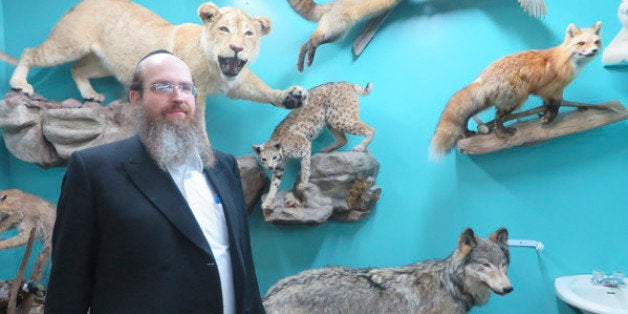 BROOKLYN, N.Y. (RNS) The Torah Animal World exhibit can seem a bit like the zombie version of Noah's Ark — 350 animals crowded into a row house museum in an Orthodox Jewish neighborhood, at least one of every species mentioned in the first five books of the Bible, and then some.
But they're all stuffed, and now the museum isn't looking too good either: Its director, Rabbi Shaul Shimon Deutsch, says he needs $1 million to keep the place open or he'll have to relocate the odd but fascinating — and instructive — menagerie to the Catskills. This is no joke.
"I want to change the way people learn about the Bible," an animated Deutsch said as he handed out ancient artifacts to a pair of women touring the various displays.
"I believe that if you touch history, history touches you," he explained as he walked through a series of rooms, their walls painted various shades of bright blue to better show off the biblical bestiary. "Why are museums boring? Because everything is behind glass!"
For Deutsch, 47, it's all about making the old and beloved stories of the Scriptures come alive for contemporary audiences, especially children.
The bearded rabbi, wearing the distinctive black garments and white shirt favored by strictly Orthodox Jews, has three attached homes in Brooklyn's Borough Park neighborhood; one is his home and another houses the Living Torah Museum and a remarkable collection of artifacts from pre-modern Israel that illustrate the history recounted in the Bible.
For years, Deutsch's fellow rabbis kept telling him how their students grew excited by the citations of so many different animals in the Torah (the first five books of the Hebrew Bible) and in the Talmud, the ancient compendium of Jewish teaching and wisdom.
And Deutsch himself was "sick and tired" of watching kids sit in class trying to learn only by listening or reading. So he started collecting the Torah taxidermy and opened Torah Animal World in 2008 in the third venue. All of the specimens died of natural causes, he swears, and were not hunted in the wild: "Instead of turning them into a fur coat I use them for education."
Many of the animals are quickly recognizable from the Bible: serpents and rams, of course, and an ox and a lamb, a lion and an antelope.
But he also has species that may not immediately leap to the mind of even the more attentive Sunday school student — such as the wolf, because of the verse in Genesis that compares Benjamin to "a ravenous wolf." Or the Arabian oryx, whose long straight horns — and a later mistranslation in the King James Version of the Bible — may have been the source of a scriptural reference to a unicorn.
There are bears (the book of Kings and Samuel) and deer (Psalm 42 or many other places) and crocodiles and all manner of birds of the air. Plus a penguin.
"The penguin we only use to show that it has the signs of a kosher bird" — that is, one permissible for an observant Jew to eat — "but there is not a tradition of eating it, so it's not kosher," Deutsch explained.
Obviously the rabbi is not shy about pushing the boundaries of his collection beyond a strict reading of the Torah. He includes references to creatures in other books of the Hebrew Bible, especially passages from elaborate prophetic visions that often use animal imagery.
And the Talmud is fair game, as well as instances — like the penguin — of animals not in the Bible because they can teach something about animals that are. (Or were back then: Some of the animals mentioned, and on display, are extinct from the Holy Land today, though a surprising number of them still roam the region.)
There is a giraffe, which may be a stretch, scripturally speaking. But it sure is fun, or maybe creepy, to see up close. And it's kosher, in case anyone's wondering. The peacocks, too, are kosher, as are 29 other stuffed birds on display. (There are no pigs — perhaps no surprise. And no dinosaurs — they're "not a problem for me" but Deutsch doesn't want to get into that whole debate.)
"I could spend 12 hours with you on biblical and Talmudic references to animals," he says with delight.
The problem: As with pretty much everyone else who expanded when times were good, the 2008 recession took a big bite out Deutsch's donor base. Purchases such as a $40,000 elephant head also hurt, and he soon found himself overextended and running annual deficits. Also, the space is small and can only accommodate 75 to 100 visitors on a good day.
So with no savior in sight, Deutsch has been forced to put the house on the market, "the funkiest listing in recent memory," as one real estate blog put it, for nearly $1 million. If he sells he will move as much of the collection as possible to another location upstate.
But that's far from the growing number of Orthodox Jews and their children in Brooklyn. (The rabbi also stresses that he happily tailors his tours for Christians; the Amish are apparently big fans of the place.)
In fact, Deutsch's real dream is not to be in the row house on 41st Street but to have "a massive complex," as he puts it, complete with an auditorium where he could host hundreds of people every day while displaying all of the animals and artifacts together.
And he has his eye on a warehouse nearby that "I could buy tomorrow" to convert into his ideal venue — for $15 million. But for now he'd settle for keeping the Torah Animal World afloat with a cool million, if he can find a donor.
"You know what," he says. "I'm a big believer in miracles."
Before You Go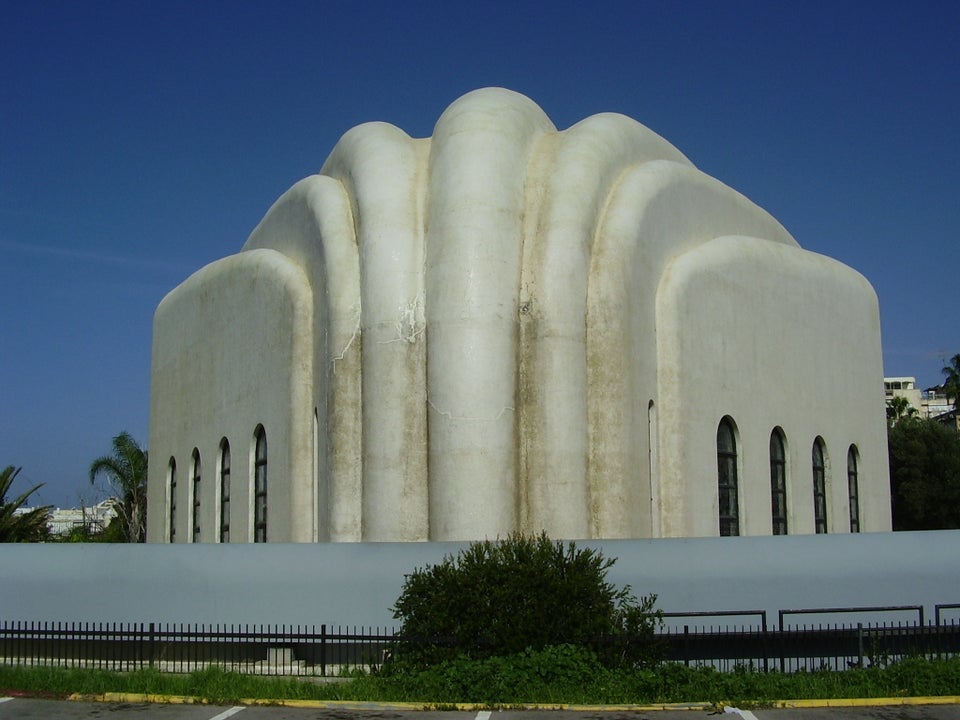 50 Stunning Synagogues
Popular in the Community