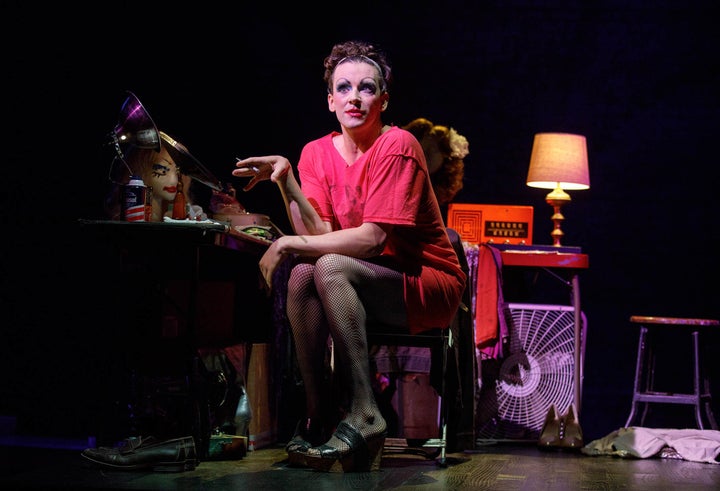 35 years ago Harvey Fierstein starred in his own work The Torch Song Trilogy, won the Tony award for Best Actor and for Best Play, and changed theater forever. Torch Song Trilogy gave a voice to gay men (especially drag queens) and told them that their stories were worthy of the Broadway stage. At the time, Torch Song Trilogy was of the moment, both written and performed in the late 70s and early 80s, in that mystical moment between Stonewall and the AIDS Crisis.
Now, in 2017 the context could not be more different. Yet somehow this play still works, as a beautiful relic of a specific time in gay history, in theater history, in our collective memory. It may be a period piece now, but it still is superbly relevant, and somehow still even seems revolutionary. Everything is different, yet nothing has changed. Yes we now have cell phones, hookup apps, caller ID, and same-sex marriage, but the heart-wrenching exploration of love, loss, and loneliness in the play has proven to be timeless and enduring.
For those who don't know, the play tells the story of Arnold, a gay Jewish drag queen who struggles with love, dates a bisexual man, has a boyfriend bashed to death, tries to adopt a gay teenager, and fights with a homophobic mother. The play is, quite simply, iconic. Many would even argue that it is required reading and viewing for any gay men. Yet somehow it has slipped through the cracks, and the current generation knows about as little about Harvey Fierstein, Terrence McNally, Larry Kramer, and Tony Kushner as they do about VHS and cassette tapes.
Although it is easy for me to chastise those who praise the popularity of RuPaul's Drag Race or plays like "Significant Other" without knowing the people and plays that made them possible, I have to admit that I am of that generation. I was not alive when Torch Song Trilogy premiered. So unlike everyone else in the audience (the demographic of which was much much older than me) I cannot compare this initial revival to the original performance.
It may be hard with revivals (especially first revivals), but it is important to let the production stand on its own. This production, mounted at Second Stage Theater and directed by Moises Kaufman, was re-branded as Torch Song, a single play that ran about three hours, meaning that almost a fourth of the total piece was cut. Sadly, lovers of the original will be sad about the deletions; most noticeably this adaptation has almost no actual drag in it, an obvious weakness in a play whose title implies we will get to see a torch song.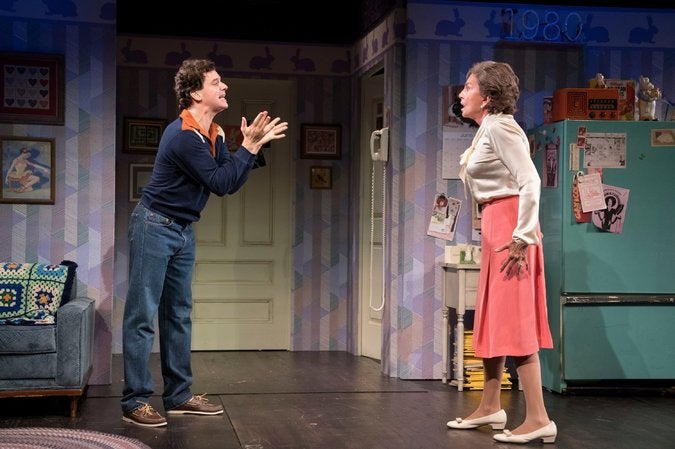 This revival stars Michael Urie ("Buyer & Cellar," "How to Succeed in Business...") who is utterly captivating, moving, marvelous, and hilarious. He certainly camps it up, with limp wrists galore, never-ending eye rolls, and a body in almost constant state of fidgeting. His one flaw may be his almost ridiculously heavy Harvey-esque accent; you can't be Harvey Fierstein, so why try?
But Urie is forgiven, for his interpretation of Arnold is magical and still manages to resonate with the queer condition in 2017. Praise must also be given to Ward Horton who plays Ed, a man struggling with his bisexuality throughout the play, conflicted over being with Arnold, or with his eventual wife, Laurel (Roxanna Hope Radja). Although the "perfect wife" it set up as the enemy to Arnold, Radja makes her vulnerable and loveable, leaving us as conflicted over who Ed should be with as he is. But it is Mercedes Ruehl (as Ma) who gives one of the strongest performances. As Arnold and Ma fight over who is in the right, Urie and Ruehl have their own parallel acting duel. But there is no winner or loser, instead both strengthen the incredibly emotional third act, as Ma refuses to fully accept her son, and Arnold in return says that if she can't respect him and his sexuality then she cannot be in his life.
Accolades must be given to Kaufman, whose staging is inventive and brilliant, as the show travels from fractured platforms, to a massive bed that spans the whole stage, to an adorably campy apartment (sets by David Zinn). The direction of this piece did not necessarily "breath a new life" into the play, as the cliche goes, but proved that Torch Song is just as powerful and political now. It doesn't need new life, its flame is as strong as ever. 2017 could not be more different from 1982, and yet, what has changed? Queer people are still misunderstood, and lonely, and faced with homophobia from friends and coworkers and family members.
A play that begins with a gay man putting on makeup and getting into drag while soliloquizing about how lonely it is to be queer and how hard it is to find someone who loves you "enough" is still radical. It has been 35 years and Torch Song is still changing the face of theater for the better, challenging the norm, and giving a voice to queer people who are usually silenced.