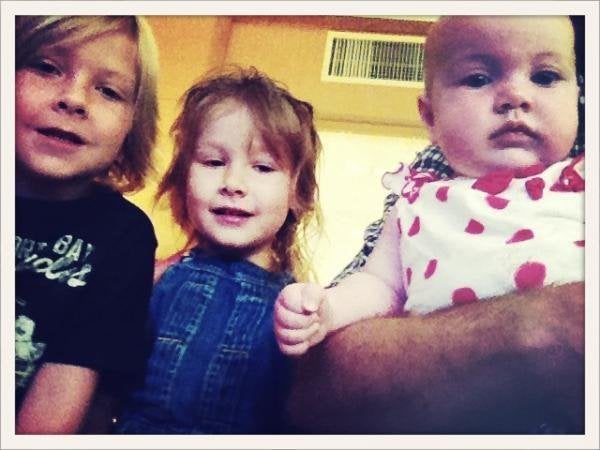 Actress Tori Spelling is loving life as a mom of three -- when she announced she was pregnant again, she wrote that she feels blessed to add "another angel" to her family. But Spelling was recently disappointed by one memorable moment in her baby's life.
Last week, Spelling blogged that her 7-month-old daughter, Hattie spoke her first word: "Dada." She admits that the milestone was "bittersweet" because though she's happy and grateful for the first word's arrival, she was also disappointed that that word wasn't "mama."
"I'm sure that mamas everywhere can agree that I wouldn't be human if somewhere inside, beneath the beaming pride I felt about her accomplishment, there wasn't a little sadness that her first word wasn't 'MAMA,'" Spelling wrote.
She explains that her oldest son, now 5, Liam's first word was "dada," as well -- but that wasn't surprising because "he was Daddy's dude from the jump." Spelling's second child, Stella, now 3, said "mama" first to which Spelling exclaimed, "Yes, I won one!"
So, number three was a "tie-breaker" of sorts. Spelling speculates that husband, actor Dean McDermott had been secretly plotting this all along.
A 2008 study explained why both "mama" and "dada" are common first words -- not only because mom and dad are always around, but because it's easiest for babies to say words that feature patterns of repeating sounds. And while both words match that criteria, a 2011 survey of 11,000 parents found that a majority of babies say "dada" first rather than "mama" -- 52 percent vs 35 (the remaining percent spoke words such as "hi" and "buba").
Spelling concluded her blog post by asking, "Am I alone in this whole nonsense of winning the first spoken word in a household?" Some commenters admitted to feeling similar disappointment, but not all agree. Babble's Shanaa Born wrote, "Just be grateful your child is developing on schedule."
In the comments below, tell us what your child's first word was and how you felt when you heard it. Or, tweet #babysfirstwords to @HuffPostParents to be included in a slideshow below.