Ah, Tormund. Is there anything not to love about you? 
Well, yes, apparently, considering Brienne of Tarth (Gwendoline Christie) seemingly has no interest in pursuing a relationship with your crazy wildling ass. But after Sunday night's episode of "Game of Thrones" Season 7, "Beyond the Wall," we think she might reconsider her stance.
Tormund (Kristofer Hivju) has always been a fan favorite on the HBO series (that's suffered leak after leak this season), but Episode 6 truly allowed viewers to see the humanity in the redheaded warrior ― through his perfect confession of undying love for Brienne. 
"I have a beauty waiting for me back at Winterfell, if I ever get back there," Tormund tells The Hound (Rory McCann) in a funny exchange before their battle with the dead. "Yellow hair, blue eyes, tallest woman you've ever seen. Almost as tall as you." 
Tormund: Well, not with her yet. But I see the way she looks at me.

Hound: How does she look at you? Like she wants to carve you up and eat your liver?

Tormund: You do know her.

Hound: We've met.

Tormund: I want to make babies with her. Think of them. Great big monsters, they'd conquer the world.

Hound: How did a mad fucker like you live this long?

Tormund: I'm good at killing people.
Later in the episode, Tormund loses that knack for killing people, nearly getting dragged into the abyss of wights as he ― along with Jon Snow (Kit Harington), Jorah (Iain Glen), Beric Dondarrion (Richard Dormer) and The Hound ― attempt to survive until Daenerys (Emilia Clarke) ultimately comes to the rescue. 
But just when we thought it was time to say farewell to our beloved wildling-turned-sidekick, The Hound pulls him up and saves him from becoming White Walker meat.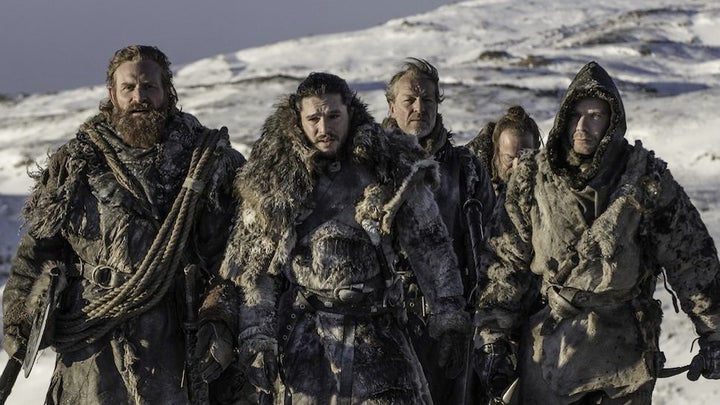 Now, Tormund has the chance to reunite with Brienne and, somehow, convince her that he is her perfect match. Thing is, she's leaving Winterfell for King's Landing. So, if Tormund doesn't go with the others to bring that undead hostage to Cersei (Lena Headey) and co., Jaime (Nikolaj Coster-Waldau) just might swoop in and woo his tall, yellow-haired, blue-eyed love. 
All we can say is: Long live Tormund, and long live this 'ship! (Oh, Brienne, you know you want to.)
The "Game of Thrones" Season 7 finale airs Sunday at 9 p.m. ET on HBO. 
REAL LIFE. REAL NEWS. REAL VOICES.
Help us tell more of the stories that matter from voices that too often remain unheard.
BEFORE YOU GO
PHOTO GALLERY
'Game of Thrones' Season 7 Images