Charlesletta Williams' head is still spinning from an experience she had Saturday night: Being lifted into the air by a tornado while inside a bathtub where she had sought safety.
Williams, 75, said she had been watching TV with her son, Rickey, in their home in Marion County, Texas, when they heard the roar of the approaching storm.
"I didn't know what it is, but it started, 'Woo, woo, woo,'" Williams told local station KSLA-TV.
Her son suggested they seek refuge in the tub ― advice that meteorologists recommend to people without an underground storm shelter, according to The Washington Post. Bathtubs are heavy and tend to be firmly anchored to pipes.
While Williams and her son were crouching inside the tub, it lifted straight up and began spinning around and around, Rickey Williams told KSLA.
"I can't tell you how high we were. It just felt like someone placed us on the ground," he said.
A second or two later, they were outside on the ground, sprawled 20 feet away from each other. Rickey Williams said he crawled to his mother, lay across her body to protect her from swirling debris, and asked if she was alive.
"Yes, but I can't breathe because you're suffocating me," he said she told him.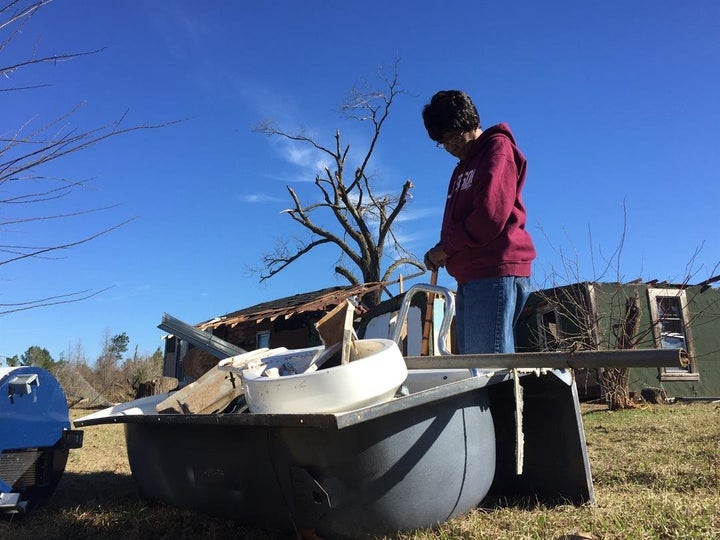 Charlesletta Williams said she's grateful to be alive, but wouldn't want to repeat the experience.
"I'm blessed," she told KYTX. "I couldn't live through another one. I'd have a heart attack."
Marion County residents are holding a fundraiser on Feb. 11 to help the Williamses rebuild, KSLA reports.
Before You Go
Midwest Tornadoes
Popular in the Community