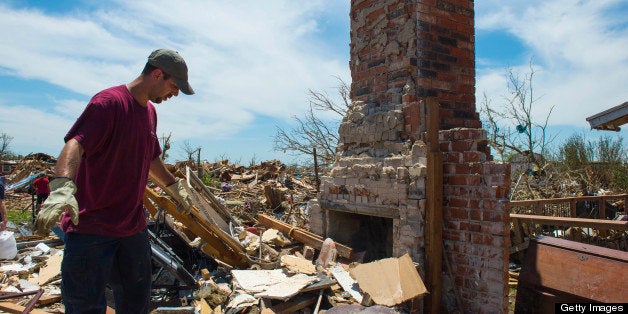 Lately, does it feel like we are on a treadmill running from disaster to tragedy, while reacting to situations unimaginable? The news of the devastating EF5 tornado that ripped through Moore, Okla., came via Facebook in a Monday evening panic. A blogger I work with, Lisa Sharp, provided a blow-by-blow heartbreaking account of friends missing, lost relatives, worry about pets and charged cell phones... all as she moved from a watchful perch on her porch to packing a bag and heading underground. Her last post for a while just stated, "Yes hug everyone... When Okies freak out about tornadoes, it's bad... "
As the night dragged on, the death toll rose... but in days to come, stories of helpfulness, heroism and hope emerged. In the wake of such tragedy, there were two stories that reminded me just how powerful humanity is.
The New York Times reported about a parent's worst nightmare. Just as the storm raged, Sarah Johnson rushed from her home in Moore to the hospital because her 4-year-old daughter, Shellbie, was having an asthma attack. Johnson told the Times that she put a hard hat on her daughter and raced to the emergency room, while hail poured down. By the time they got to the hospital, all of the nurses were down to the ground. Johnson shoved her daughter next to a wall and threw a mattress on top of her. The two survived the storm.
Just moments after the tornado swirled through Moore, leveling houses, schools, and leaving behind death and debris, a brilliant rainbow spread across the Oklahoma sky.
While we can't definitively pin our latest severe and devastating weather event on climate change, we know that every thunderstorm, every hurricane, every tornado, now takes place in a warmer, wetter climate due to the increasing concentration of greenhouse gases in the atmosphere.
Nature's prismatic and colorful moment illustrated that there's a climate spectrum ahead of us that will be decisively noxious and deceptively hopeful.
Calling all HuffPost superfans!
Sign up for membership to become a founding member and help shape HuffPost's next chapter