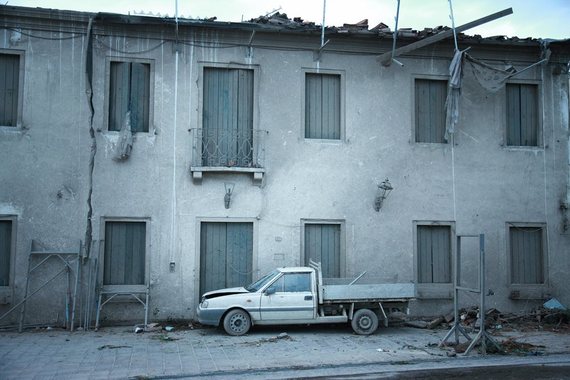 Just after 5 p.m. on July 8, 2015 the sky over Mira, Italy, turned charcoal-grey and thunder rumbled in the distance. The storm we had been told would break the insufferable humidity and high temperatures that had suffocated the Veneto Region and most of Italy for days was on its way.
I tucked the garden chairs under their table, quickly watered my precious potted lemon tree, hoping the wet soil would anchor it against possible winds. I'd experienced harsh summer storms in the past in Mira--my hometown for the last 28 years. Once, strong gusts had toppled over the same lemon tree--breaking branches and its large terracotta pot--and sent ceramic tiles flying from the roof of my home. Let's hope this one is less severe, I thought. As I scurried around my garden, brought the dog inside and then closed the Venetian-green storm shutters that protect my home against the elements a rancid smell, like rotten eggs or wet farm animals, filled the still dense air. Then the power went out.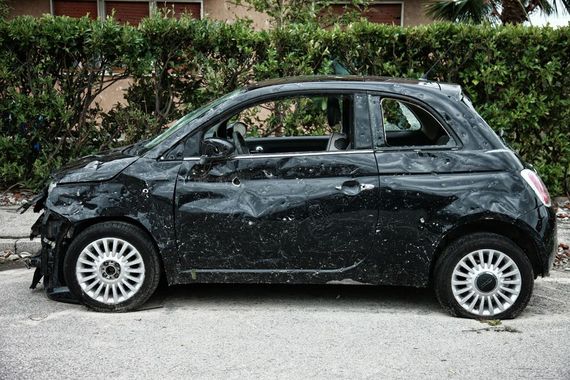 Before I lit a second candle, I could hear the wind lashing hailstones the size of golf balls against the exterior stucco walls, tile-roof, closed shutters and pinging the metal fences and gates that border our home. Safe inside, it sounded as if an army battalion had set up their battle in the backyard and my home was their enemy. I ran upstairs, where I had left a storm shutter that looks onto a covered loggia open. Through the closed window, I watched very little rain and a sheet of those frozen golf balls bounce off my neighbor's roof. Okay, this will pass, I thought. It's just a summer storm. It was over quicker than it started.
What I didn't know was in that moment when the power went out, Armageddon, in the form of a tornado, was thrashing through the town of Cazzago di Pianiga, a mere four miles away. Within another ten or perhaps fewer minutes it would spin through Dolo, another neighboring town, and then carry its accumulated debris and destruction through and to the far side of Mira. In little time it would destroy hundreds of homes, dozens of businesses, topple and toss parked cars into the wide Brenta River canal, erase the irreplaceable sixteenth-century Villa Fini, pull high voltage pylons to the ground, yank towering decades-old evergreens up from their roots while breaking open their asphalt and cement borders. Worst of all, this summer storm injured more than 70 people, and then took a life moments before dissipating in an open field.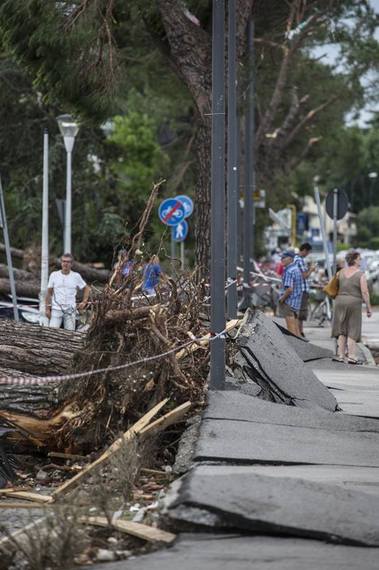 Safe in my home with the power back on, in little time I learned via photos posted on social network sites how fortunate I was. How fortunate I am. Immediately, I tried to reach friends who live in the affected areas. Soon, I learned they were safe, and that if what had seemed like a battle in my backyard, in comparison, it would seem that bombs had been dropped on theirs.
In the days since, we've seen a strong sense of local pride in our towns. Our young people, who all too often are unjustly criticized for being indifferent or spoiled, and immigrants who have recently arrived on Italy's shores and have found temporary housing here are demonstrating the best kind of solidarity, side by side. They've put on work gloves and picked up shovels and brooms. For hours and days they've pushed wheel barrels filled with debris that once made up a neighbor's or a stranger's home or place of business. They are simply, yet tirelessly, lending a hand.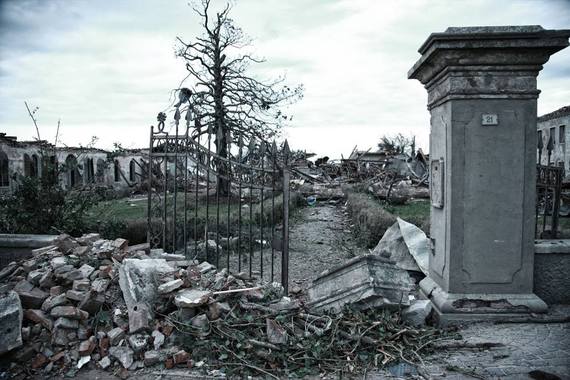 So many are helping in so many ways.
Architects are volunteering their professional time, construction companies are providing bulldozers and their expertise in using them, citizens are bringing water and food to replenish the volunteers, while others are offering furniture, clothes, organizing benefit concerts and donating money to the disaster relief accounts set up on the websites of the cities of Mira, Dolo, and Cazzago di Pianiga.
The main roads were cleared within twenty-four hours, yet the clean-up will continue for weeks if not months. Reconstruction, rebuilding lives and businesses, will be the most difficult and drawn-out part of this tragedy. Though the local administrators immediately reacted, and requested the area be recognized as a State of Emergency, bureaucracy in Italy is famous for being slow. It will take time.
Still, I am certain those directly struck by this natural disaster will not be left alone. The Veneto people are hardworking individuals, and the spirit of unity and solidarity has infected the Riviera del Brenta.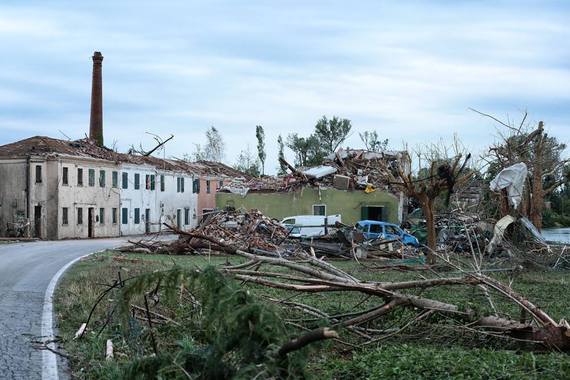 REAL LIFE. REAL NEWS. REAL VOICES.
Help us tell more of the stories that matter from voices that too often remain unheard.