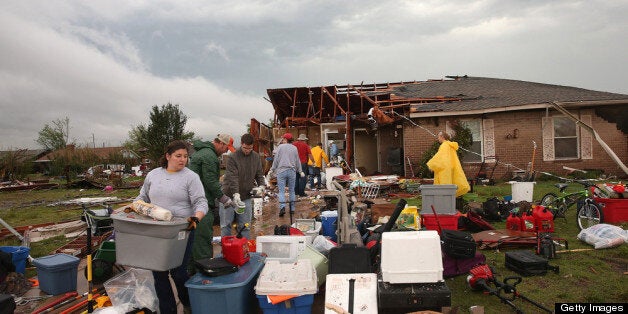 Thousands of people in Moore, Okla., who lost their homes to a powerful tornado that killed 24 people are all now haunted by the same question: How do I begin to rebuild a life from the rubble that might resemble the one I had?
"It's a long process, getting your life back together," said Don Staley, who has lived in the Moore area since 1964, attended Plaza Towers Elementary as a child and lost two houses to tornadoes in the last 15 years. "When you don't pass away in the storm, you start putting all these pieces back together like a puzzle."
The tornado, more than a mile wide, that swept through central Oklahoma earlier this week is estimated to have caused $2 billion in damages and affected as many as 13,000 homes. Those who lost their houses to tornadoes similar to the one that devastated Moore say the path back to normalcy can take months, even years.
"You come out of the house and you're distraught. You're numb for about two or three days," Staley said. "After about a week or two, you start to get your senses back to where you can start talking to people. It takes about that long for you to get an appointment with your insurance company because there are so many people that are affected."
When the 1999 storm hit, Staley sought refuge in the single bathroom of the three-bedroom house he owned. The storm tore through, blew off the roof and caused the walls to cave in. A home repairman by trade, Staley asked a client if he and his wife could rent one of the houses he had been working on. About a year later, with the insurance money he'd collected, he bought a house eight blocks from the one that was destroyed.
But in 2003, another tornado hit and things went much the same. The roof flew off. The walls caved in. Once they'd collected the insurance money after that storm, the Staleys bought a house in the country several miles south of Moore. This week's storm missed them by five miles.
Storm veterans like the Staleys, who live in a region of the United States so prone to violent weather it's known as "tornado alley" adopt techniques over time to prepare themselves for the sudden disruption thrust upon their lives. Staley said you learn to take pictures or video of your belongings for insurance companies seeking an itemized lists of losses. Storing paperwork in a safety deposit box at the bank -- car titles, birth certificates, passports -- also mitigates losses.
Of course, thinking ahead about insurance claims doesn't solve the most urgent need at hand: shelter, after losing everything.
Kelly Webb, a property manager who works in Moore, said he received phone calls nonstop from noon through midnight the day after the storm hit. Hundreds of people this week inquired about renting one of the 17 houses he had available. Some had to walk to a nearby DMV office to get their fingerprints taken as proof of their identity so they could get new identification and a credit check to rent one of the properties.
Webb's company, Rent King, has another 10 houses that are supposed to be vacated on June 1. "We've been contacting those tenants to turn their keys in earlier, giving them a rent credit and getting the properties ready so we can place some of these people," Webb said.
It is, of course, a temporary solution. Eventually, homeowners will be forced to decide whether to try and rebuild on their existing lots, or to move into another house.
"For some people, it was just easier to move into something new and start over right away," said Radcliffe.
Although one family, she recalled, bought a house after losing theirs then turned around and sold it; they wanted to rebuild on their old lot because the new one just didn't feel like home. The church, also a casualty of the storm, just held its first service Sunday at its new location, almost exactly two years after the storm.
Rita Sloan, 75, a member of the church, was 10 days away from signing papers to sell her house and purchase a smaller, more manageable one when the tornado hit Joplin. Neither property survived.
Sloan, too, recalled a kind of numbness that took over and lasted for days after the storm had passed. When the tornado hit her house, she huddled with her Jack Russell, Zoe, in a hallway between two cedar closets -- it was the place her husband who had died just three months earlier had always told her was the safest.
Sloan can't remember how long it she was there, but eventually she heard people calling her name. Her granddaughter apologized for not getting there faster, confessing that while running in flip-flops over to the house, she was so scared she had to stop and throw up.
Sloan moved in with her daughter for a week, then rented an apartment for six weeks after that. Two months after the storm, she was able to buy a new house. The hardest part, she said, was going through the trauma without her husband of 52 years.
"I had some of what they call meltdown days," she said. "You feel a big loss. And still to this day there's stuff that I miss. At times, you think, 'I have that' and then you go to look for it and you think, 'no, I don't have that anymore.'"
People who have lost everything to tornadoes, though, say that their perspective on material things changes over time.
"You learn that it's just things, most of them. You can't spend all your life thinking about what you lost," said Kathrin Elmborg, who also lost her house in the Joplin storm.
Elmborg, 84, said she would have been killed if she hadn't gone to close the back door near the kitchen right when the storm hit. The way the kitchen cabinets and the refrigerator happened to lean ended up creating a pocket of shelter from the debris. The rest of the house, she said, blew away.
Elmborg stayed with family friends in the country for several weeks before she bought a new house because there were no hotels with vacancies nearby. The insurance money came through quickly, though. Because Elmborg's granddaughter and her husband lost their house, too, the whole family moved in together and remain in that house.
Despite the loss that surrounds them, residents of Moore can look forward to seeing a better side of people than perhaps they ever have before, said Elmborg.
"We had so many boxes of clothing and towels and toilet items from people we didn't even know," she said. "It was just amazing the generosity of people."
Now that this storm has torn through another community, Elmborg said it's their turn to give.
"We're going to see what we can come up with to send down there," she said. "Because we're trying to pass it forward."
Arthur Delaney contributed reporting to this story.
Popular in the Community