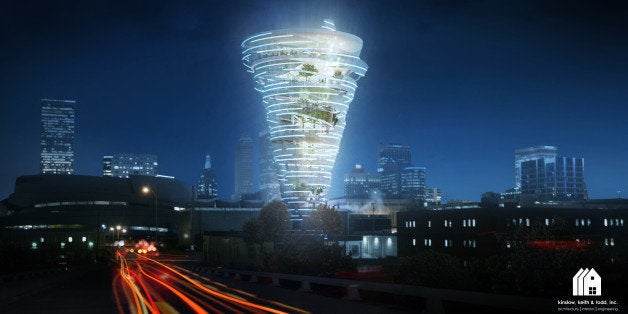 To answer a magazine's design challenge, one Oklahoman architecture firm found inspiration in the state's infamous tornadoes.
Now, their design may become a reality.
It all started with a "Reimagining Downtown" feature in local magazine Tulsa People, explains Andrew Kinslow, a partner at local architecture firm Kinslow, Keith & Todd.
The publication asked three Oklahoman firms to design revitalization projects for Tulsa's downtown and assigned each a run-down building. KKT got a decrepit two-story parking garage.
Four weeks later, the architects submitted plans for a tower shaped like a tornado, complete with a weather museum, roof deck and a revolving restaurant on top. Oklahomans got excited.
"Now the building has sort of taken on a life of its own," Kinslow told the Huffington Post. He's been contacted by a restaurateur, weather reporters who want to film live shots from the roof, and an individual interested in renting office space.
The firm is balancing all the rotating parts before moving forward and applying for construction permits, Kinslow says. The final design could be anywhere between 20 and 30 floors high and cost about $150 million.
It's early still, but Kinslow says he's somewhat confident the project will succeed.
"There's a number of people who would like to see it built," he said. "There's a lot of oil money in Tulsa, and if people decide they want it done... it'll get done."
Kerry Joels is one of those people who wants to be involved. A museum consultant who's worked at NASA and the Smithsonian, he happened to have scripted plans for an Oklahoma weather museum and research center.
"When I saw Andy's building I thought, 'Oh my gosh, this is too good.' We got together and started noodling," he told HuffPost.
The proposed museum will include interactive exhibits about how tornadoes form and educate visitors on emergency preparedness. There will be a section on the destructive power of tornadoes and a small cylinder that simulates a mild tornado.
But both Kinslow and Joels say the tower will commemorate the strength and resilience of Oklahomans.
"The shape of the building draws attention to what's happening in the building," including safety education and possibly a memorial garden, Kinslow says. "[Tornadoes are] not something that we all live in fear of. It's just part of being here. Like living in Boston with the snow."
"Oklahomans are survivors," explained Joels. "They're tough, and they look at these things as a matter of life."
He predicts the building could become a city icon, much like the Space Needle in Seattle. "I just think it will be an iconic symbol of the city and Oklahoma, which is Tornado Alley," he said.
Calling all HuffPost superfans!
Sign up for membership to become a founding member and help shape HuffPost's next chapter
BEFORE YOU GO