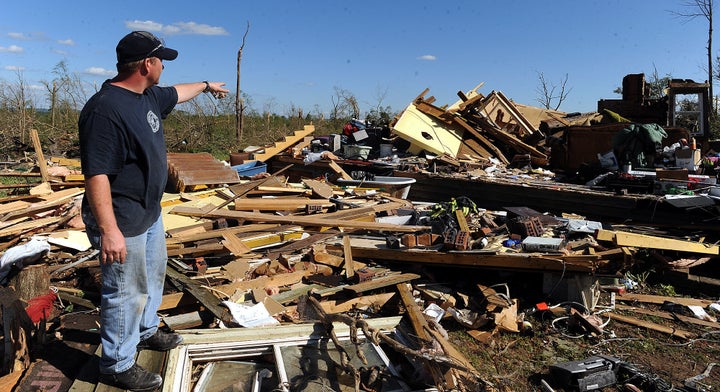 "In my career I have never seen this many tornadoes or this many fatalities," said Joshua Wurman, the lead tornado researcher and president of the Center for Severe Weather Research. He is more widely known for his role as the scientist on the Discovery Channel's "Storm Chasers" show.
April has already shattered the benchmark for the number of tornadoes in a single month by a long shot. Meteorologists estimate that close to 600 tornadoes have formed thus far in April. That's nearly four times the average of 160, and twice the amount of the previous April record, 267 twisters in 1974.
Until Wednesday, the deadliest day of tornadoes since the Great Depression was in 1974, when a series of tornadoes killed 315 people. Yet, as state officials confirm a death toll of at least 318 people, with more than 200 in Alabama alone, Wednesday is now the deadliest day of tornadoes in nearly 80 years. In March 1932, a series of tornadoes killed 332 people.
This April's historic devastation has many wondering: What's with all the tornadoes? The question is far from reactionary. Data shows a steady, overall increase in tornadoes over the last 50 years. But as for this April, the jury's still out on whether climate change or regular old bad weather is to blame.
"Climate change? No," said Howard Bluestein, professor of meteorology at University of Oklahoma. "This is something that happens every 10 or 20 years when everything comes together like this. This is just natural variability."
Most meteorologists agree with Bluestein.
"Any particular years you can't attribute to changes in global climate," said Wurman. "If we started seeing this every year, we'd say that this is a climate change. But we're not seeing that." Rather than a climactic shift, he said, "this is really just bad luck."
While the number of officially recorded tornadoes has risen dramatically, that's primarily due to better reporting, tracking and more people, homes and infrastructures in the twisters' paths, say researchers.
That means that small twisters -- ones that do little more damage than tear the branches off trees or peel the surface off roofs and may have flow below the radar screen in the past -- are now being counted. The number of serious tornadoes, on the other hand, has stayed constant, evidence that Wednesday was a rare event rather than part of a trend.
Yet some scientists say that climate change -- especially the increased greenhouse gas concentrations associated with global warming -- may be at least somewhat related to the formation of tornadoes.
A 2008 report from the U.S. Global Change and Research Program, a federal interagency research program overseen by the White House Office of Science and Technology Policy, found that more greenhouse gases in the atmosphere could lead to an increase in severe storm conditions that make tornadoes possible.
"We can't say there is a correlation between a specific tornado and global change," said program director Thomas Armstrong. "But the reports do indicate that there is a positive correlation between climate change and the frequency of conditions favorable to the formation" of tornadoes, he said, while stressing that the research is still preliminary.
Just because there are favorable conditions for twisters -- which includes wet, hot air near the earth's surface and a strong, cold jet stream above -- doesn't mean you'll get one. Meteorologists still can't definitively say there will be a tornado, even when staring down a serious, twister-producing thunderstorm called a "supercell."
"We knew that the general condition of warm soupy air below and wave of jet stream aloft provides the condition for circling," said Wurman. "But we just don't understand the details. We don't know exactly where, or exactly when."
Whether climate change may have contributed or not, what researchers do know is that Wednesday's disaster began with a far more innocuous -- and more typical -- event late last week: a gust of warm air.
Last Friday, a mass of hot, humid air started traveling north from the Gulf of Mexico. It blew ashore and crept slowly north over the weekend, blanketing the Southeast in the type of thick, 80-degree air that that keeps one's skin feeling sticky even after stepping out of a cold shower.
By Wednesday, the dew point -- a measurement of how much water is in the air -- was hovering around 70 degrees, and meteorologists knew bad weather was brewing.
"That's a very humid air mass," said David Imy, a meteorologist with the National Weather Service's Storm Prediction Center. "Several days of Gulf moisture coming up from the south set up this scenario perfect for long-track tornadoes."
This hot air near the earth's surface collided with the colder, fast-moving air in the upper-level jet stream, creating an unstable atmosphere. To try to bring the atmosphere into balance, a supercell erupted. Inside the storm, the warm air got sucked up into the upper levels of the atmosphere and the colder air moved lower. As these upward and downward drafts became more powerful, they turned into violent tornadoes.
Soon, about a hundred twisters were whipping across much of the Southeast. Some were a mile wide and tearing across the land at 55 to 65 miles per hour. That's about as big and powerful as tornadoes can get.
"Some were reported as a mile wide -- they don't get much wider than that," said the University of Oklahoma's Bluestein. When asked whether he was tracking the storms on the ground, Bluestein was shocked. "Oh no. We can't keep up with tornadoes moving 60 miles an hour."
In addition to the states where people were killed, tornadoes touched down in at least nine others: Arkansas, Missouri, both Carolinas, both Virginias, Maryland, Indiana, Ohio. Reports of nighttime twisters forming as far north as New York are thus far unconfirmed.
Most of the tornadoes occurred outside Tornado Alley -- the swath of land in the middle and south of the U.S. where twisters often strike -- but the location was not unexpected. Tornadoes hit the Southeast every year, and they are often more deadly because the Southeast and the Eastern seaboard are far more densely populated than Tornado Alley.
According to the 2010 U.S. Census, the states where Wednesday's tornado struck rank fairly high by population density. Most average between 40 and 50 people per square mile. In contrast, Tornado Alley states like the Dakotas have a mere seven or eight people living in the amount of space.
For researchers, who know they can't control the tornadoes path, the events were still hard to swallow.
"It is sobering to us to see that tornadoes in the 21st century can still cause so many deaths," said the Center for Severe Weather Research's Wurman. "We had hoped that through increased warnings, better buildings and increased public awareness, the years of these events had passed."
This report has been updated to reflect that the death toll has officially eclipsed that of the 1974 twister disaster.

Related
Popular in the Community