Three people were killed, including a gunman, and more than a dozen others were injured in a shooting Sunday night in Toronto's Danforth neighborhood, authorities said.
Toronto Police Chief Mark Saunders said an assailant opened fire with a handgun around 10 p.m. local time in the popular Greektown area, shooting 15 people before exchanging gunfire with police officers. The suspect later died.
The fatalities include an 18-year-old female and a 10-year-old girl. The ages of the victims, 13 of which have been hospitalized, are between 10 to 59 years old, Toronto police said Monday afternoon.
"Their injuries range from minor to serious in nature," Saunders said at an afternoon press conference that provided few new details about the case, including the identities of the victims and suspect. Police previously said that 14 people were injured.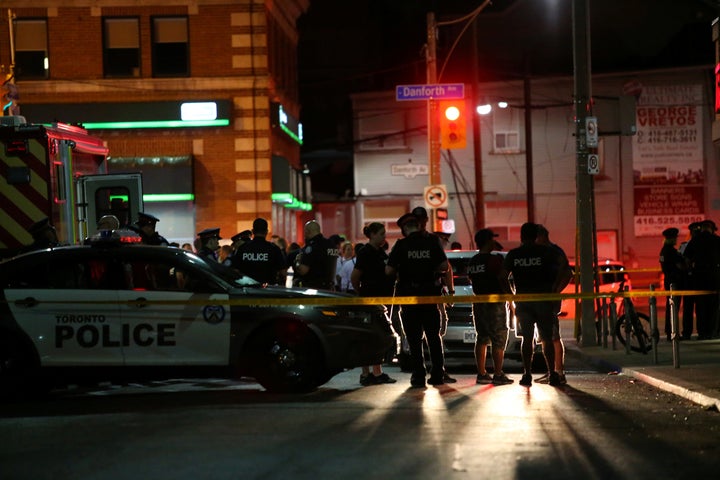 Saunders said there was no known motive for the attack, but authorities are still investigating.
"I'm looking at absolutely every single possible motive here," the police chief said during an earlier press briefing. "When you have this many people struck by gunfire, it's a grave concern."
Saunders also issued a public plea for help from those who may have witnessed the shooting or may have video of it.
"We know that there is a lot more evidence that needs to be captured and I know that there is a lot more, and I'm hoping that those people who have that information, no matter how small, contact the police in any way, shape or form," he said.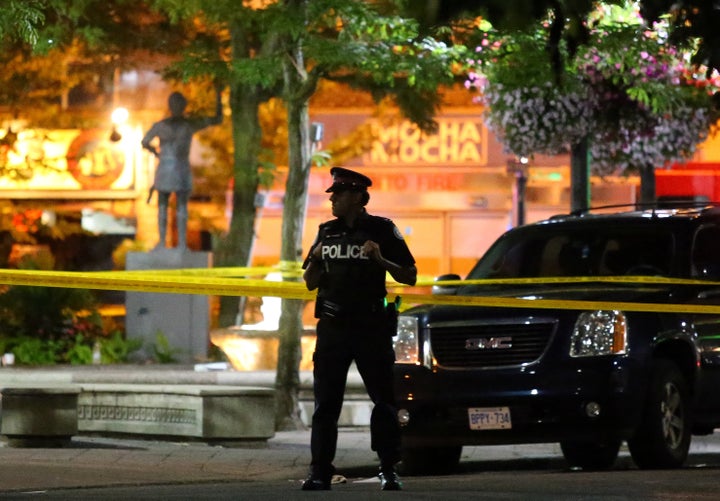 The gunman, only described as 29 years old, was found dead in a nearby alley following an exchange of gunfire with police. It wasn't clear how he was shot, the Globe and Mail reported.
Officials said many of the victims had been transported to area hospitals. Their conditions are not known. 
Witness reported hearing as many as 15 to 20 gunshots in the Danforth and Logan area, which hosts several popular bars and restaurants. Several witnesses posted videos taken near the scene to social media, including audio of shots ringing out through the neighborhood.
Toronto Mayor John Tory issued a call for help from citizens that were in the area, asking any bystanders to share information from the evening to help authorities determine what happened. He also urged the city to avoid drawing "any conclusions" and to "wait for the police to do their jobs."
"People should not reach any conclusions because the police themselves have not yet drawn any conclusions," the mayor said at a news briefing. "Every little bit of information is going to help the police to do their job."
Tory said the night reflected the city's ongoing "gun problem" and said firearms were "too readily available to too many people." 
"There are too many people carrying around guns and using them in whatever matter they are using them," he said. "We have a gun problem."
Doug Ford, the premier of Ontario, said late Sunday his "heart goes out to the victims and loved ones of the horrific act of gun violence."
"The people of Toronto are strong, resilient and brave - and we'll be there to support you through this difficult time," Trudeau wrote.
This article has been updated to include the latest casualty figures and new details about the shooting.
Calling all HuffPost superfans!
Sign up for membership to become a founding member and help shape HuffPost's next chapter