Thousand of film lovers travel to Toronto every year to witness the latest crop of Oscar®-caliber films at the Toronto International Film Festival. In between screening compelling dramas like 12 Years a Slave (2013 People's Choice Winner), thrilling sci-fi films like Gravity and foreign language epics like The Liberator (Libertador), attendees find time to eat at trendy restaurants, sightsee and reside in conveniently located hotels. You can too.
Theater District: Just across the street from the festival's five-story tall headquarters, TIFF Bell Lightbox at 350 King Street West, there are a string of restaurants and cafes. King Street West in this area has become a bustling scene at night and perfect for people watching. Lots of the restaurants on King are no more than tourist traps, but the eatery Paese stands out and has a very chic, downtown feel with good food to match. Paese's heated patio is open three quarters of the year and is a perfect place to find food and refuge from the incessant stream of night clubbers.
Exposed brick walls encircle Paese's friendly 10-seat bar and butcher-block tables that seat 90. The setting is intimate. A 500-label wine list and four sommeliers offer you your favorite Sauvignon Blanc, or whatever strikes your fancy. The Italian cuisine, with hints of Canadian culture, however is the main attraction: Appetizer -- Grilled Shrimp with Cannellini beans and gremolata. Dinner -- Steak and Poutine, smoked skirt steak with potato gnocchi, sun dried tomato BBQ sauce, smoked mozzarella and green onions and add a side of Brussels sprouts flavored with smoked bacon and asiago cheese. End the night with their Budino-- butterscotch pudding, dolce gelato, and a layer of whipped cream, pine nuts and praline with rosemary. Then head back out into the swarm of passers by.
Financial District: Filmgoers and businesspeople mingle at Financial District restaurants that have a very polished and classy feel. The best Japanese restaurant in Toronto, and arguably one of the best in North America, Ki Modern is located on Bay Street in Brookfield Place, at the base of the soaring Bay Wellington Tower. Patrons dress in elegant or business attire as they sit in or stroll around the vast wooden-wall interiors. On the outside terrace it's wall-to-wall grey pinstripe suits discussing the business of the day as they sip on Asahi 'Super Dry' beer or exotic martinis with far out names like "Lost in Translation" (Havana Club 7yr + Woodford Reserve bourbon + Drambuie + Green Chartreuse muddled with a pinch of brown sugar + Angostura bitters).
Inside diners pull up to the cozy sushi bar and sit in upholstered wingback chairs, or grab tables. For dinner start with the signature Creamy Miso Chowder with assorted seafood, wakame + drizzled with truffle oil. For the main course, the Yuzu-Marinated Rack of Lamb with ginger-mashed potatoes + balsamic teriyaki sauce is just filling enough. If you have any room left, the Almond Asian Pear Cake with coconut crème anglaise + blueberry mirin coulis caps it off. You will leave Ki thinking that their brand of modern Japanese food far outshines Nobu's.
Wellington Street: The interior at the Shore Club, which sits adjacent to the Ritz Carlton, has handsome wood walls. Walk pass the foyer, down the hall alongside a long lean window of wine bottles and you'll experience a swank, yacht-like feel, the perfect sensibility for a seafood and steakhouse restaurant. The openness of the main room with views of the kitchen gives you a sense that good food is around the corner. Artwork by celebrated Canadian artist David Bierk adorns the walls. After cocktails, nibble on the Vanilla-Battered Prawns with spicy sweet and sour sauce, graduate to the entrée Herb-Dusted Sea Bass baked, with mixed beans, ancho-chili aioli. For dessert, make life easy; try the colorful Terrine Of Sorbet. It's light and tasty.
City Hall: The municipal government of Toronto is located at Nathan Phillips Square, in two tall half-circular structures that surround a short saucer-like council chamber building. The towers are very iconic, and the square hosts outdoor fairs. Queen Street West lines the base of the square; and one block south on Richmond Street you'll find a very traditional Irish establishment, Quinn's Steakhouse & Irish Bar. You can get a nice buzz drinking any of the 200 brands of whisky or the hefty Guinness Stout. Burgundy leather couches; dark wood furniture and booths feign an old, classy Irish pub. Video monitors broadcast soccer, football or hockey games. People come here to relax and eat hearty, stick-to-the-ribs food. After you sample some beer, dig into the Duck Liver Pate Brulée cornichon, triple-crunch mustard and sourdough toasts. Make the entrée the treasured Ontario Dry Aged Hanover Farms New York Striploin with a side of Garlic Fried Broccolini Rabe. After tasting the Bread and Butter Pudding with bushmills & vanilla cream sauce, walk it all off with a stroll around the square.
Yorkville: Before the film festival returned to far downtown, it was anchored in the Yorkville section, mid-downtown, where finding hotel rooms and restaurants were a challenge during the fest. Now, the area is quiet, you can get a feel for the neighborhood, shop in the upscale stores without being pushed and get reservations in restaurants that won't be overrun with film industry people. Mistura restaurant on Davenport Road has all the elegance of a classy financial district restaurant but with more of a local feel and clientele. The bar is small; the room is cozy, almost like you're eating in a huge living room. Patrons seem to be laughing or having an intimate dinner. You might see local celebrities like Toronto native Tonya Lee Williams (TV's Young and the Restless) having a quiet supper. Certain menu items standout: Pasta, Agnolotti al Cinghiale (Wild Boar Agnolotti Pasta with port stewed dry cherries, wilted greens, brown butter and roasting jus). Main course, Capesante (seared Nova Scotia scallops, porcini mushrooms, spring onion Zuppa, green peas, potatoes and crispy sage). Dessert, Affogato in a glass tumbler (vanilla ice cream, brownie bottom and Mistura espresso.)
Get Out Of Town And Go For An Adventure
If you visit Toronto, often the inclination is to stay downtown by the tourist sights, but it would be a sin if you didn't get out of the city and see the countryside. Rent a car and take a trip to the farming town of Oshawa, where Treetop Eco-Adventure Park offers zip lining and aerial obstacle courses that will test your physical fitness, dexterity and comfortableness with heights. The ride to the park, pass farms, cornfields and barns is a testament to the centuries old rural life that surrounds Toronto. Attempting the courses and zip lining is best reserved for those who are in decent physical shape. In other places you're ushered up staircases to the landings, here you have to climb ladders, tethered safely of course, which is what sets this Eco apart from the normal zip line tours for the masses. Owner Randy Richards will take you around, talk about the vegetation, give you the history of the region and make you feel at home, just before you go soaring above treetops. There is a course for beginners, intermediates and the advanced course is best left for the kind of folks you'd see at your local health club shimming up the rock-climbing walls with ease. Commune with nature. The ride alone is worth the trip.
Making Peace with Cupcakes
Le Dolci, a bakery in the bohemian West Dundas area of Toronto, is across the street from Trinity Bellwoods Park, famed for having white squirrels. The bakery has two missions. 1. Satisfy your sweet tooth with delectable cupcakes, cookies, brownies, macaroons... If you can't get a sugar high here, you can't get one anywhere. Tempting wedding cakes, birthday cakes and assorted pies line the walls and counters. But there is no mystery to how they make their creations. Because 2. Le Dolci offers cooking courses that giveaway all their secrets. Classes like "Baking the Perfect Cake," "Introduction to Cupcake Decorating" or "Pie Making" attract pupils who learn how to whip up treats they can make at home. Culinary adventures, like the "Paris Foodie Trip," take you on the road to places where fine cuisine is a way of life.
Other Trips Worth an Adventure
Watching the making of Pilsner beer at Steam Whistle, a craft brewery located in the historic John St. Railway Roundhouse. Taking a three and half hour sailboat ride around Lake Ontario with Gone Sailing Adventures; they'll let you jump in the water. Flying around downtown Toronto, swooping around CN Tower in a helicopter with HeliTours; the skyline views are dramatic.
When there isn't a world-renown festival in downtown Toronto, finding a hotel room is not so difficult. When there is, prices go up, inventory goes down and finding a decent room is torture. The Metropolitan Hotel offers a distinct alternative. It sits just yards away from City Hall, is within walking distance to everything downtown from the theater district, to financial district or even the harbor front. It doesn't have the exorbonant prices of the Ritz or Four Seasons, but is in close physical proximity. Their Lai Wah Heen Asian restaurant offers a full menu and great dim sum. As the hotel gets renovated and becomes a Double Tree later this year, the rooms are being upgraded, the health club enlarged, and there is an indoor swimming pool, an amenity you won't find in other hotels in their price range.
Dining and daytrippin' around Toronto is an enjoyable experience whether it's during the festival when streets are packed with filmgoers, or not.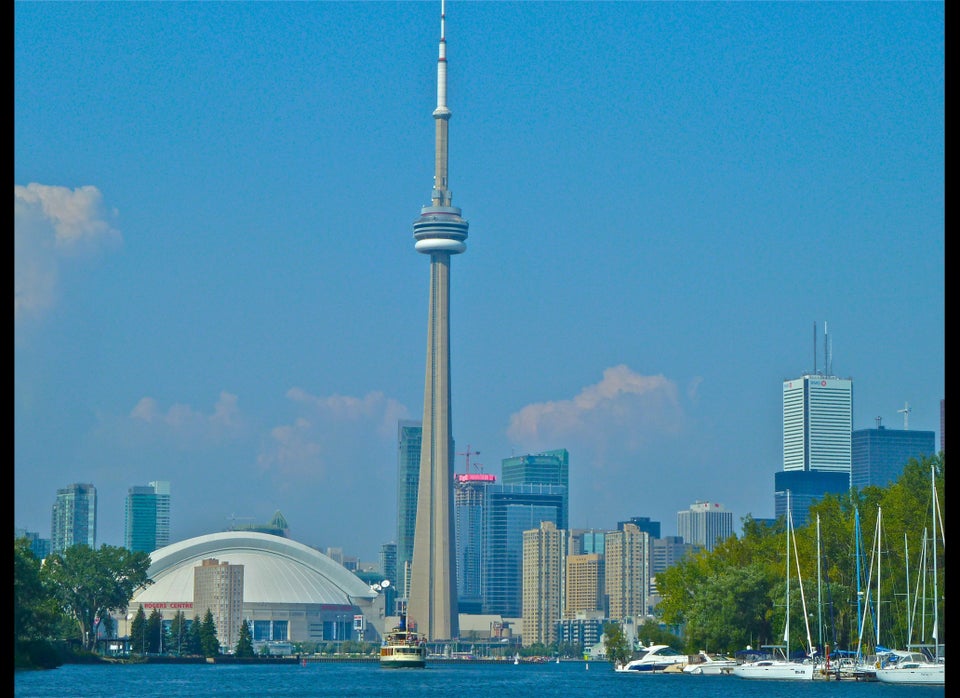 Toronto: Dining and Daytrippin%u2019 Around the 2013 International Film Festival
Related