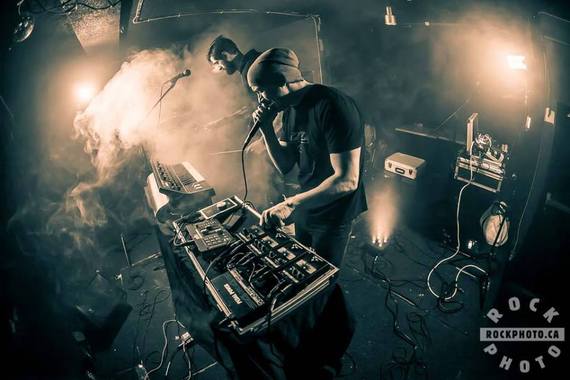 In the beginning, there were only beats. Drums are the heart and pulse of music as well as its genesis. Experimental and electronic music have refocused listeners to the importance of pulse, straying away from vocals and melodies as the focal point. While all the various elements of sound obviously play an important role in the production of electronic music, it is the steady rhythm of a beat that moves, vibrates, and connects.
Electronic shoegaze duo Brett Paulin and Dan Workman, whose musical moniker is OVER, recently released their newest single titled "Thelma's Cooked." With harmonizing synthesizers and haunting, cryptic vocals that are threaded together by layers of beats, this track is rich in reverie. OVER has cultivated a signature sound, remaining in the same vein as their debut single, "Adult Day Program." Psychedelic, evocative, and avant-garde, the duo is bending, blending, and transcending through various genres to create a sound of their very own.
Similar to their first release, the music video for "Thelma's Cooked" offers minimal and abstract imagery that allows the viewer/listener to become entranced by both the aural and ocular senses. The video has an interesting optical effect as tiny white dots dance upon a black background like animated pointillism. Just as the eyes focus on the image, it morphs into a new one, keeping the mind in a constant state of interpretation.
The song's namesake is a line from the 1983 film Silkwood starring Meryl Streep, Kurt Russell and Cher. "This gem appeared whilst traveling deep down the Kurt Russell movie rabbit-hole," explains Workman about the inspiration behind the track. The film is based on the true story of American chemical technician, Karen Silkwood, who was an activist for the health and safety of nuclear facility workers.
Silkwood eventually discovers that she has been exposed to high levels of radiation. After testifying to the Atomic Energy Commission, she died in a car crash in 1974 which raised many questions and controversy due to the unclear cause of the crash. "The song is equal parts tragedy and atomic energy," says Workman. This just goes to show that the mind of an artist can find inspiration anywhere, even in a 1980s Kurt Russell film.
Calling all HuffPost superfans!
Sign up for membership to become a founding member and help shape HuffPost's next chapter