The second half of Toronto Fashion Week was full of fun fashion and sartorial surprises! Paul Hardy's stunning show, the first of the day, showcased a plethora of sumptuous cream and ivory fabrics that put many of the proceeding shows to shame. "The Attitude: Only At Sears" show was startlingly stylish and Pink Tartan and Joe Fresh Style elicited foreseeable mayhem in the tent with a boisterous and exuberant crowd of fashion enthusiasts packed to the rafters. Day four floundered at first but came to an exquisite end with my absolute favorite show of the week, Nada. Friday arrived far too soon but featured some wonderfully creative creations and the Dare to Wear Love show wrapped up the week with a blowout show that proved fashion and philanthropy are just as beautiful, glamorous and meaningful as ever.
Keep reading for the reviews but check back tomorrow for a detailed wrap up of Toronto Fashion Week 2009 that will feature street style pictures and exclusive interviews with the inimitable Jeanne Beker of Fashion Television, the President of the Fashion Design Council of Canada (FDCC) and fairy godmother of Toronto Fashion Week Robin Kay, and last but certainly not least, one of Africa's most tireless, passionate and ardent advocates -- Stephen Lewis.
So many textures, so little time! Hardy must have used every material under the African sun for his stunning show of ivory, white and cream colored outfits replete with careful detailing, lovely draping and amazing appliques. African music played as the models wowed us with exquisite clothes but there's even more to Hardy than meets the eye. In 2008 he made a humanitarian trip to Uganda that "profoundly changed his viewpoint on life and his career in fashion" and inspired him to create a development project for female victims of sex crimes by rebel groups, called 'Reversal of Fortune'. This incredible designer has found a way to create beautiful clothes worth coveting while changing African women's lives forever.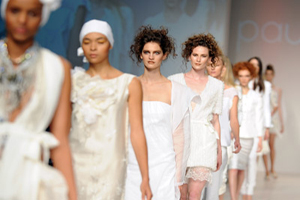 Stunningly sculpted ruffles adorning sleeves on the Reva runway made models looked like gorgeous deep sea creatures awash in silks and satins. Careful and considered craftsmanship
is obviously one of Mivasagar's guiding principals, not to mention an appreciation for refined and elegant quality - the show was 100% silk. While I didn't like the orange and brown prints from his "Totem Story," the "Inuit Own" and "Mystic Floral" stories were simply dreamy.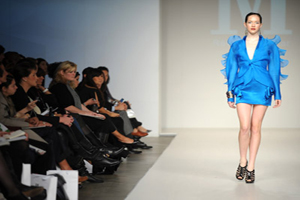 What made LOVAS 2010 interesting? The shirtless hunks standing around scooters on this greek isle-themed runway, not the clothes which were unremarkable and reminded me of H&M basics. The show's theme was fun but the clothes lackluster, thank goodness for cute male models!

[Photos courtesy of BlogTO]
As soon as the girls strutted out I thought, uh oh: models were sporting the same long, messy side-braids as those in the Alexander Wang 2010 runway show. Follicle faux-pas aside, vibrant pinks, yellows and blues lit up Tuttle's runway and she proved her knack for sculpting interesting folds and pleats. Unfortunately nothing in the show said "wow" to me and there wasn't a clear sense of direction and unity in the collection. She closed the show with two hideous applique dresses in green and pink that left me disappointed and utterly unimpressed.
A great Sears show was one of the biggest surprises of the week! While nothing was particularly original the styling was good, the models looked fantastic and the clothes had nice proportions and good tailoring. A black, white and gray palette was shot through with bursts of blue and coral while feminine draping contrasted nicely with more masculine shapes and structures. Across the runway from me sat Sears execs who couldn't help but smile and tap their shoes to the music; the suits and the fashionistas applauded in unison at the end of the show signaling quite a uniform approval from all those in the tents.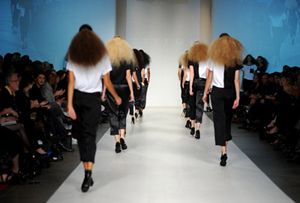 Jackets, jackets, jackets; I loved Kimberley Newport-Mimran's jackets! Created in a variety of colors and textures, I particularly loved the biker chic jackets with exaggerated shoulders. The silhouettes were strong in this show, with many of the looks featuring external shoulder pads and belted waists, while the color palette played it safe in mostly white, black, khaki and gray (I was surprised to see a couple looks featuring a sequined khaki camo print - very Balmain spring/summer 2010.) There was no shortage of Pink Tartan fans in the tent for the show and Canadian celebs came out to support Kimberley and her popular designs which have proven yet again to be well made, on trend and easy to wear.
Rock and Roll progeny Theodora Richards opened and closed the Joe Fresh Style show that ended the third day of TO Fashion Week with a rockin' and rollicking good time. With clothes priced to be sold in one of Toronto's favorite grocery stores, Loblaw's, the Joe Fresh clothes weren't high fashion but they were certainly cute and incredibly well-priced. There was lots of gingham in blue and pink, mesh knee-high socks, and classic tees in shirts. While I'm not sure Joe will be starting a clog trend with the show's choice of footwear, I did like the across-the-body mini purses which looked like they had just enough room for a blackberry, lip gloss, cards and keys. The music was fun and the energy in the room was great, definitely a refreshing show!
Copious colors and a plethora of pleating at the Vibgyor show. While these clothes certainly didn't appeal to my own aesthetic sensibilities I admired that the Mumbai-based designers took risks with their clothes and applauded a number of looks that proved a mastery over interesting folding and pleating techniques.
Oh dear. Electric neon colors and psychedelic prints on satin were glaring, not daring. Designer and former US Marine Blaine Degannes showed lots of skirts and dresses, not to mention see-through tops of ill cut, that I don't think will be catching on come spring. What was his inspiration? The only memorable moment materialized when Degannes strolled out onto the runway in a t-shirt that said "Google me baby." For his sake I hope no one Googles his spring/summer 2010 collection.
Aime designer Monica Mei showed one of the better collections this season with printed cottons, silk dresses and separates that looked both comfortable and commercial, though lacking in originality. Nicely draped silk skirts and dresses with block black belts were pretty but that look has been around for at least a few seasons now. More troubling were the loose t-shirts she sent out with contrasting pockets -- I immediately thought of the label Kain and their t-shirt wearing, celeb following. Ultimately I can't see why this collection won't sell and I was pleased to learn that Mei only used sustainable materials to create what she said was "eco-chic" for her spring/summer 2010 season.
A handful of Toronto personalities strutting down Cheri's runway couldn't save this collection from itself - matronly cuts and colors was uninspired and generally just plain ugly. With no clear sense of unity in the collection and not even one pretty piece, I don't see a successful spring/summer for Cheri.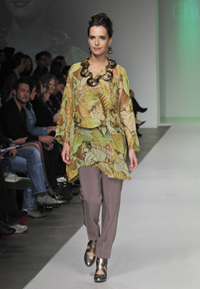 Former Project Runway Canada winner Evan Biddell created a show that was both cool and original, opening with a futuristic fantastic vibe that was the highlight of the collection. Dark satins and crystallized techno-jewelry really set this collection apart, as did excellent structuring and draping techniques, catapulting it into a realm of it's own - no other spring/summer 2010 show was quite like it. I was thrilled to see materials in dark metallic and I loved the one piece pant suits that were draped to look almost like long dresses. I was much less impressed with the sportier second half of the show but kudos to Biddell for keeping it all original. Wonderful to see a confident, risk-taking designer in Canada.
Simple but sexy leathers and suede ruled the Rudsak runway and proved that gray for spring is nowhere near drab. Built on a classic silhouette of black, white, cream and gray, Rudsak occasionally shot bright red through the collection and everything just worked. The models strutted their stuff exuding a downtown confidence and polish that is sure to translate into a great commercial success.
Replete with lace and leather, satin and chiffon, designer Nada Shepherd created a gloriously dark and sexy collection that was my absolute favorite of the entire week. Black lace stockings, paneled corsets and dresses conjured images of a sexed-up Miss Havisham while tailored jackets and dresses fell somewhere between daytime and dominatrix. Alight in a veritable sea of black came pieces in pastel blue and bright turquoise, and white, cream and beige pieces offset the darkness beautifully. This show certainly didn't feel like spring but that's just fine by me; Nada created a deliriously dark and delicious collection that is scorching hot.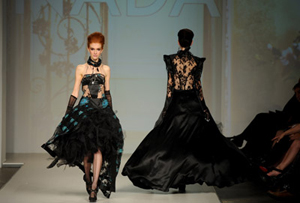 Keveza sent out gowns in silks, satins and chiffon that floated effortlessly down the runway. Beautiful structuring, draping, shearing and appliquéing were executed with precision and undeniable talent. This was inarguably one of the best shows of the week - these dresses would wow equally as well on any international runway or red carpet. My only critique? That Romona's bridal show proceeded her evening wear collection. Despite a barrage of beautiful gowns that I'm sure set many a female fashionista heart aflutter, the show kept going, and going...and going. It was the energizer bunny of bridal shows and everyone I spoke to agreed that the show too long. Too bad since all her gowns were gorgeous.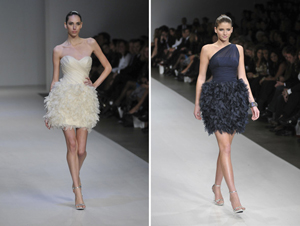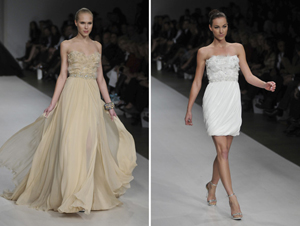 [Above images courtesy of BlogTO]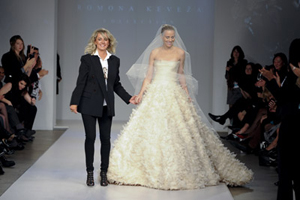 Disappointing quality and uninspired looks ruled the Frame runway. Materials for the clothes and accessories looked cheap, cheap, cheap and not a single outfit bared any semblance of originality. Many of the leggings, tanks and dresses looked like they were straight out of American Apparel. A strong, classic color palette couldn't save anything in this show.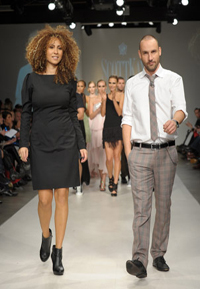 The Dwyer show was lacking in cohesion and direction as models trotted out in contrasting looks - some posed in colorful sporty dressed while others wore sequined black and white or shiny mud-colored garb. Everything was rather boring and many of the dresses had a bit of a prom-like feel. Worst part of the show? Dwyer's dead animal shoulder sling accessory. So unnecessary and totally ugly.
Biffi put on a fun show with techno music, neon lights and robotic models but her hot pink, gold lame and iridescent fabrics made me cringe. I was unimpressed with the quality of the stitching and materials but I give her points for thinking outside the box. Clearly a fan favorite, Biffi received lots of cheers from her designing friends and colleagues as she confidently strutted up and down her runway with the robo-models.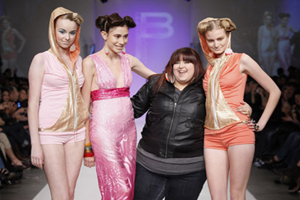 Were tents and burlap bags the inspiration for this dark collection? Nylon fabrics replete with drawstrings and zippers, shapeless chiffons and a mud-like color palette made the Zukowska show one of the worst of the week.
GOTSTYLE MENSWEAR MADE IN CANADA
Finally a show for the lads! Male models walked this handsome runway alongside Canadian personalities showcasing looks that ran the gamut from geek-chic to wilderness wonderful. Tons of designers participated in this fun and upbeat show like Bustle, Red Canoe, Lipson, Christopher Bates, 1921 Jeans and more. These designer duds for dudes were a great crowd-pleaser for everyone - after all, a show full of lads is that much more fun for the ladies!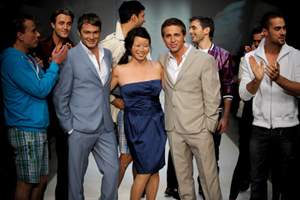 Long-time Toronto fashion followers had been telling me to get excited for a sure-to-please Matis show this week and I must say I was impressed with both his originality and creativity. Models wore Hannibal Lecter-like headgear in silver nylon straps studded with metal grommets that were daring if not a little disturbing. Eerie tunes reminiscent of early 20th century circus music played while models showed off dresses silkscreened with distorted images of clowns. A mellow palette of muted blues, pinks and grays contrasted perfectly with metallic fabrics and sequined sheaths that were layered and draped beautifully. Matis was obviously unafraid to mix different materials for this collection, creating a wonderful sense of texture on the runway that justified much of the heady hype around this much-anticipated collection.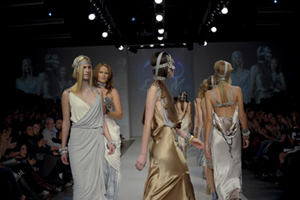 A partnership with ice cream giant Baskin-Robbins "inspired" McDonagh to send out models swathed in a freezer-aisle palette of creams, chocolates and bright pinks, blues and orange. While the show was certainly original, I doubt anyone will be scooping up these costume-y looks.
DARE TO WEAR LOVE, PRODUCED BY HOAX COUTURE
A fabulous week came to an incredible end as 25 of Canada's premiere fashion designers showcased a unique outfit cut from a swath of African fabric to benefit the Stephen Lewis Foundation and to support the fight against HIV/AIDS in Africa. Lida Baday, Brian Bailey, David Dixon, Evan Biddell, Greta Constantine, Linda Lundstrom, Pam Chorley and Wayne Clark are just a few of the great designers who participated in this glamorous, meaningful final show that featured African singing and drums, a slideshow about the devastating effects HIV/AIDS has on children and grandmothers, a passionate speech by Canadian hero Stephen Lewis and a bevy of Canadian personalities modeling on the runway. Billed as a closing night with a conscience, the Dare to Wear Love Show proved that supporting a good cause can be fun and fashionable! Gorgeous African prints were draped, pleated, wrapped and ruffled to create beautiful and wearable designs that had us ooing and awing in our seats. Fashion and philanthropy isn't a new partnership but it's a great one and we should all dare to wear love for as long as we possibly can.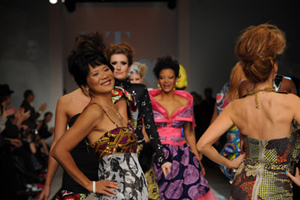 Check back tomorrow for Toronto Fashion Week 2009 street style and exclusive interviews with fashion's movers and shakers, as well as more about the beautiful partnership between the Stephen Lewis Foundations partnership with the FDCC and Haux Couture.