Effervescent young designer Jessica Biffi is fresh off Project Runway Canada and already designing three different lines for stylish women of all shapes and sizes. With an easy smile and contagious optimism, Biffi sat down with me to talk about her entry into the Canadian fashion industry, designing for real women and her big plans for a bright future.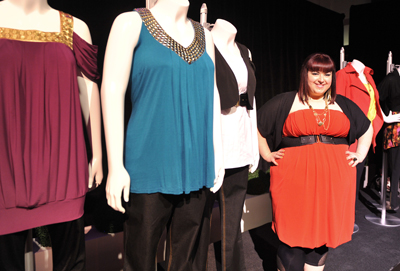 Jessica Biffi with clothes from her Additionelle collection. Photo courtesy of George Pimentel.
There's pressure for everyone in the fashion industry, not just models, to be quite slim. Is this something you grapple with?
There is pressure and I think I'm one of the few actual plus-size designers that's designing plus-size and regular lines. It's the beauty industry, it's the fashion industry, there's always been that pressure to look good and be a certain way. I like that the industry's opening up a little more and accepting that there are different body types and that everyone wants to be fashionable and be represented on the runway and be presented in the magazines because the woman that buys the magazine is not a size 2 model! The women buying the magazines want to be represented and be fashionable as well so I think it's about time that the industry has kind of opened up a little bit.
What do you think of plus-size model Crystal Renn walking in last night's Joe Fresh show? There was a lot of hype, and she definitely didn't look like a size 12.
I knew she was here and I'm sad I missed it. The plus-size models in the industry are on the smaller side of the plus-size spectrum. They're plus-size but they're so much smaller. I think it's great [that Joe used her] because it brings plus-size to the runway but as far as I know Joe Fresh doesn't carry plus sizes. But it's great that he's using Crystal because she's amazing and beautiful and so gorgeous and such an amazing presence on the runway.
What was the experience of competing on Project Runway Canada like for you?
It was good, it really opened a lot of doors for me. I wasn't practicing design on a regular, every day, 'this is my career' basis - it was something that I was striving towards. I was working in retail, doing visual merchandising, paying the bills, but eventually I was like, 'this is what I need to be doing', and the show really opened up a lot of avenues for me and got my foot in the door and allowed me to sort of come into an industry that's not that easy to get into, with a little bit more ease. Everyone in the industry has been really great, really supportive of me, which I've been really appreciative of. I tried to be myself as much as I could on the show and not let things effect me on such a grand scale because it's easy to get caught up in the world of reality TV and there's drama happening to you, there's a camera following you around, it's a different sort of experience, you can lose yourself in it. It's stressful, you're competing every day and you're with the same people all the time - it's a different kind of world to be in. I really wanted to maintain who I was and have the people see it because I knew that this is the industry I wanted to work in and I didn't want someone else to be the girl that they saw and then when I got there have them be like, 'you're nothing like that person', so the industry's been really good. I'm really fortunate they've been accepting of me, of who I am as a person. When they meet me they were like, 'oh you're actually that girl!' I'm like, 'yup that's me, I'm really that kid!' It was a blessing and it changed my whole life, and it sounds kind of cliché but it's the most important thing that's happened for me because its allowed me to do so much.
I'm surprised to hear you talk about the fashion industry like that, to be so welcoming and supportive.
I don't think its like that for everyone! I've been very fortunate and I think who I am as a person has played a big part in that, so I stay true to myself and everyone's kind of accepted that which has been really great. Everyone's been in my corner for it and it's been awesome. I mean, I didn't know very much about the industry before I showed up and was like, 'hi can I join the club?' And they were like, 'sure come on in!' I know that it's not like that for everyone so I've been really lucky to have had the experiences I've had.
This season there were a lot of presentations outside of Fashion Week. What do you think about designers that either choose not to show here or cannot show here?
Fashion Week is important in the grand scheme of things, I mean this is the biggest fashion event that happens in all of Canada! But fashion is happening everywhere and some people want to do their own thing, which I can understand because it's a big machine - the LG Fashion Week - the umbrella encompasses a lot. This season it's a little bit later than it has been, it's a little outside the buying season so the bigger names aren't here this season - which makes sense - but its great that they have the shopping experience happening, it allows new and local designers to get in there and get their stuff seen. The media exposure alone at LG Fashion Week is such an important avenue to get your name out there, that's really why last season was so important for me to do it. Coming off of the show I wanted everyone to see what I had to offer and really make a big splash, and LG was the best way for me to facilitate that.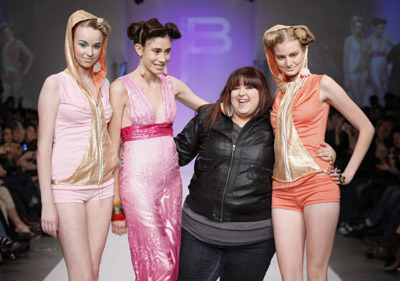 Jessica Biffi and models in her Spring 2010 collection. Photo courtesy of George Pimentel.
So you're happy working with the FDCC?
Yeah, they've been really supportive of me and they called me up when I finished the show and said, 'we'd love to talk to you about doing this and working with you'. Last season I had a great experience and this season they've been really great to me as well - allowing me to do something different and not a traditional runway show - get me talking to the media... it pays to be nice! It pays to pay attention to what people are saying to you and to be a good person. Try and know how to communicate with people and put your best foot forward. We learn that on day one!
Recently fashion bloggers and street style photographers have been given a whole new authority in the industry. What do you think about the changing fashion hierarchy?
Sometimes it's a little bit annoying because you're like, 'who are you?! You just showed up, you get to sit in the front row and I'm not even sitting there', but whatever! But it's important, that's where the industry is going, that's where the world is going, its all about technology - I'm a slave to my iPhone, it hasn't left my side the entire week and I've been tweeting - I hate saying the word 'tweet' - but I've been tweeting about where I am. Coming from the background I've come from with Project Runway, blogging is a big part of how people got to communicate with me and know me more personally as well, so I'm a very big advocate of social networking and using the blog, using the Facebook and the tweets to get the message out there because everyone's so web-savvy these days, and that's where its going and its amazing that this is live-streamed this season and I think this is just really where it's starting to go. We have people like NADA who did a 3-D experience. Technology's really becoming a huge deal and I think we need to embrace it or we'll get lost in it.
What is concerning is to think about is, where is the money going to come from? If everyone can watch it at home and no one needs to come to the shows...
Nothing is ever going to replace the experience of actually sitting front row, or sitting in the bleachers and getting to watch live models walking in front of you. It's the same thing with online stores and brick-and-mortar stores, which one is going to beat it out? Yes, you can shop from anywhere in the world online but nothing beats going out with your girlfriends and being able to try on the clothes and have a day of shopping.
Yes, but real changes are happening where tangible locations can't keep up... that doesn't worry you as a designer?
I'm just starting out so I'm lucky enough to be able to go online right away, I don't have that old school mentality where I have to change gears to this, I can start out with this and build from there. It's fortunate for me being so new to this and new to the industry and new with the company. Everyone's used to a certain way and you can't teach an old dog new tricks, people are getting a little freaked out by it. But I'm fortunate because I'm starting out when this is becoming a 'thing'. I can roll with the punches.
What do you see for your line in 5 years?
Well in 5 years I'll be in my 30s and I'd like to be a little bit more established with Jessica Biffi and branch out. I've started accessories, which is Covet by Biffi. I'd love to be doing more capsule collections and continuing partnerships that I'm fostering at this point. I want to be doing this every day, it's what I love, I'm really fortunate to be doing what I love every day right now and I hope to continue doing that, just on a bigger level. I'll be going on tour with Additionelle the first 2 weeks of April... we'll be doing a cross-country promotional tour to have in-store parties to promote the lines. I used to work in a store so it's nice to have the customer feedback and I really love when people come up to me and say, 'I love what you do!' It's refreshing to hear that and have people genuinely be excited about your art and what you're putting out into the world, so I'm excited get some one-on-ones.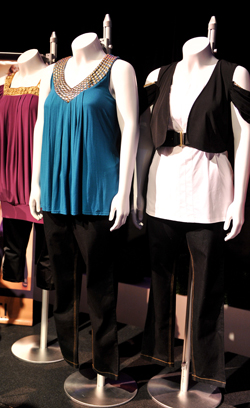 Biffi's designs for Additionelle. Photo courtesy of George Pimentel.
Related