LG Fashion Week has made its home at Heritage Court in Toronto but the spring 2011 shows didn't amount to much of a house-warming party with only a handful of designs garnering much attention, never mind acclaim. A few new, young designers made admirable efforts and stylish stalwarts received their regular reviews but the only designer that really got people talking was Denis Gagnon.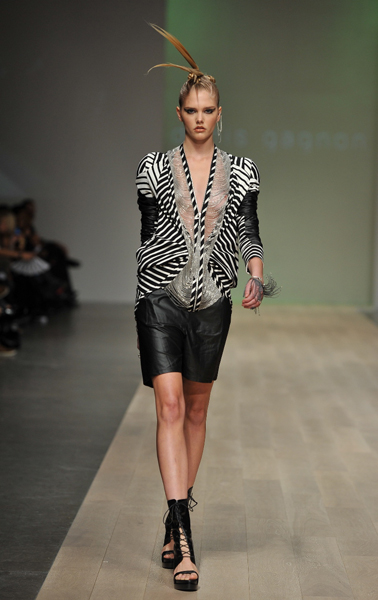 Gagnon sent warrior-chic women stomping down the runway in ombre fringed dresses and separates accented with leather, lace, metal chains and Givenchy-inspired stripes that instantly had attendees buzzing with excitement. This Montreal-based designer fashioned his models with facial rings and studs, hair that was tightly braided up the head only to severely jut out in shellacked strips up top. Although the pieces were edgy they were wearable and proved a true testament to Gagnon's skill and precision with fabrics.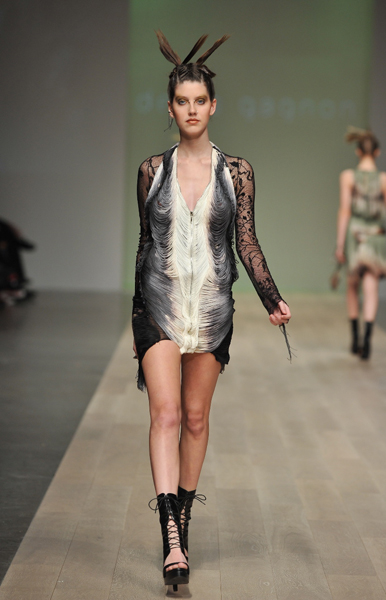 Other hotly anticipated shows that delivered were Joe Fresh and Dare to Wear Love -- they packed the rafters and infused an element of fun into what was mainly a boring week. Obviously inspired by the prim and Parisienne looks from Prada and Isabel Marant respectively, Joe Fresh offered up well-tailored collared shirts, slim cropped pants, full skirts and patent kitten heels. Mimran opened the show with a handful of Boy Scout-inspired looks, celebrating the fresh-off-the-press announcement that he's designing the new Scouts Canada uniforms.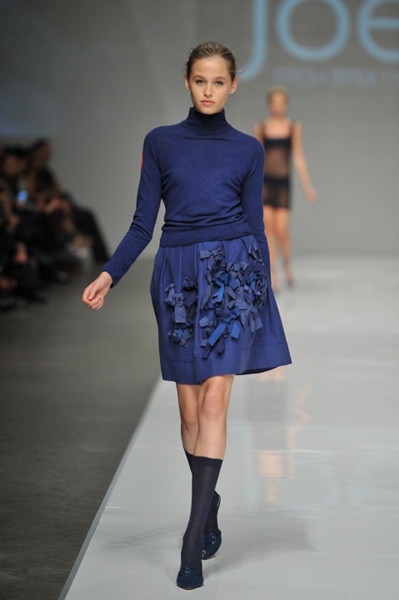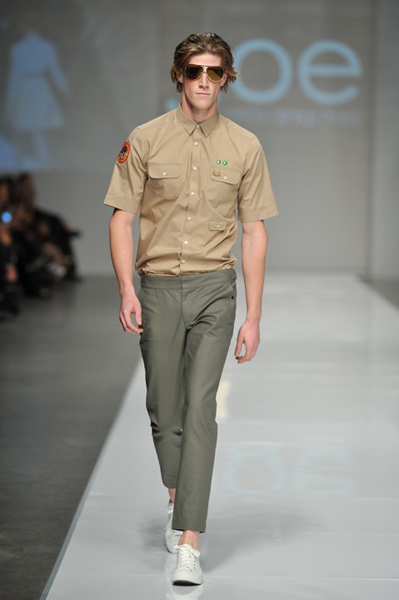 In support of the Stephen Lewis Foundation's fight against HIV/AIDS in Africa, the Dare to Wear Love show featured unique African fabrics crafted into designs generously donated by Canadian designers and modeled by a handful of notable Canadian media personalities. After an inspiring video was shown about the work of the Stephen Lewis Foundation and the role of Canada's fashion community in helping to alleviate the burden of HIV/AIDS in Africa, hoots and hollers filled the runway room as locals strutted their stuff in vibrant colors every shade of the rainbow. It wasn't high fashion but it was a feel-good way to end an uninspired week of shows and an important reminder to consider the ways in which the fashion industry can make a difference.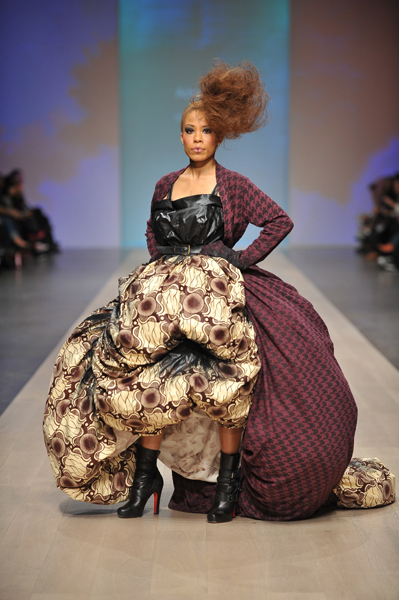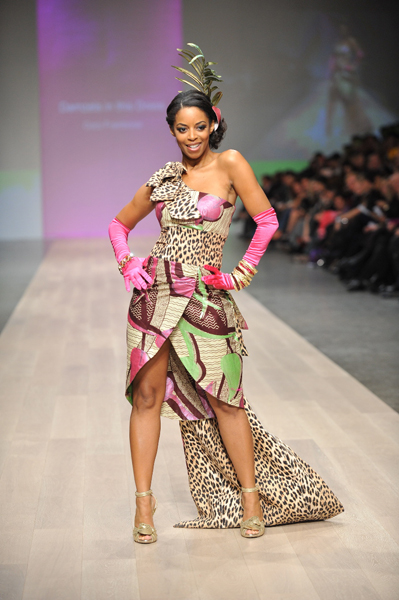 There was another, more feral reminder of the impact of fashion on Day 2 of LG Fashion Week as nearly naked PETA protestors urged attendees to be more ethical in their fashion choices. The "Girls Gone Wildlife" campaign had volunteers painted as animals to convey the message that "animals are not ours to wear." It was a painful but necessary message to share as millions of animals are tortured and killed each year for the sake of so-called style. Find out more at www.PETA.com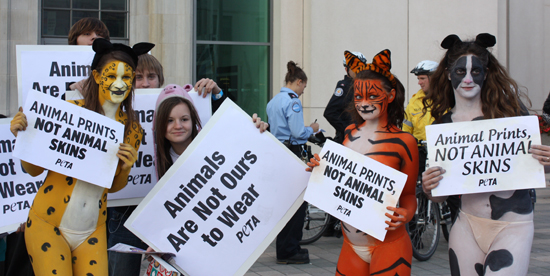 Emily Lavender, Dakota Cherry, Bailey M and Eliana Blu
There wasn't so much that was fresh at the Spring 2011 shows at LG Fashion Week but with some potentially promising new talent in the game perhaps something exciting will spring up in the future. Gagnon wowed the crowds and set the bar high for Canadian designers while Dare to Wear Love and PETA showed us fashion need not be cruel and can indeed make a positive difference in the world. Here's hoping the difference next season is a whole lot more fashion-forward.
Fashion images: George Pimentel Photography