Toronto Fashion Week Wrap Up: Jeanne Beker, Robin Kay and Stephen Lewis Talk Passions for Fashion
I was lucky enough to catch the imitable high priestess of Canadian fashion, Fashion Television host Jeanne Beker, for an exclusive one-on-one chat about Toronto Fashion Week spring/summer 2010, Canadian designers and the future of fashion. Having reigned supreme on the scene for 25 years, I consider Jeanne the first and final word on fashion in this great country; here's some of what she had to say.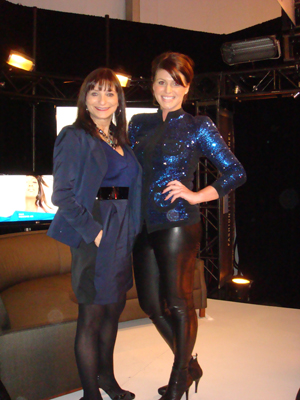 [Host of Fashion Television Jeanne Beker and myself in the FT Environment]
Now that Toronto Fashion Week is drawing to a close, what are your thoughts on what we saw over these last five days?
There are so many different aspects about this week that really mean a lot to so many of us, especially those of us who have been here covering the scene for, well in my case, 25 years. It was really interesting to see certain aspects of the scene coming of age, really nice to see the development of some of the designers and a little sad to see that some of very best designers aren't a part of this week, for whatever reason. It's been a pretty eclectic showing and great to see all the sponsors, of course we always like that, and its been great to see all the fans coming out and cheering their favorites on, that's really important. A great spirit of Canadiana in the air! I just hope that people wear the clothes!
Most of our fashion-following readers have either never heard of Toronto Fashion Week or have heard very little...
...and they certainly don't know many Canadian designers! Some are definitely making inroads, people like Jeremy Laing who shows in New York and is a hot, young designer... Michael Kale is designing for Beyonce, Lida Baday is quite established and has been selling her stuff at Bergdorf's for a long time but that's about it! There's only a small handful of Canadian designers that people would recognize and that's too bad but of course, this business is largely about promotion, about promoting image, and we don't have the population base to support the industry in the way it needs to be supported and the money isn't there. It's really sad and it's too bad because some people bust their butts in this country and are rarely able to get out but we can't compare it, it's not fair. When you think of the power of the States, the prestige of the American fashion scene, well, I'm not saying the talent isn't here in Canada but it really needs to be worked on and developed a lot more.
What would you say are the most important things for our readers to know about Canadian fashion?
There is great value for the dollar here! All fashionistas, or maybe I should say recessionistas, if you want to save money, and you still want a bit of edge with the way you dress but can't afford some of those high-end designer prices -- because you know some of those prices are getting pretty high out there -- I would say come to Canada and go shopping! Because there are some great, great things to be found here.
This jacket is my recessionista version of Balmain! It's vintage, from Montreal.
I love it! Well vintage is always a good route to go but if you want something a little more contemporary there are some really great Canadian designers and the shops on Queen St. W are filled with some great products. There are great department stores like the Bay; certainly Holt Renfrew represents some really great designers. So I think it would be great for people to familiarize themselves with some of our Canadian designers, I think they'd be very happy. Great quality for the money, great value, and the clothes are ultimately very wearable - they're trendy without being over the top and some of them have a definite edge. You know I live in Canadian fashion, so I'm a big fan.
Looking back on the week I really didn't see a lot of original things coming down the runway, even the things I thought were beautiful, I've seen before. What are your thoughts on the originality of this week?
Well like I said, some of our very best designers are not showing here. Lida Baday, Wayne Clark, Greta Constantine who showed last week...Michael Kale who is designing for Beyonce... Jeremy Laing -- really interesting, kind of artful designers. Did you see the Paul Hardy show?
I did and you know I thought the collection was so beautiful and I felt sad for him that it was early...
Yeah I know, not enough people... I know.
Yes, and his designs were some of the most beautiful of the entire week.
I agree. Do you know Joeffer Caoc? He's another great designer showing tomorrow and he's got a really great edge, and he does show. And we also have some fantastic designers based in Montreal. Danny Gagnon is a fantastic designer, you would love his stuff! Really dramatic, just fabulous. And Marie Saint-Pierre -- again, very original, there's a very theatrical layer to what she does. But ultimately, it costs a lot of money to show and even though some of these shows are subsidized, for the most part it's tens of thousands of dollars and these designers think, is it really money well spent? The media here has been very supportive of our own talent and the editors will go the showrooms and look at the collections, but they don't have to wait to see it on the runway and buyers aren't buying from here.
Toronto Fashion Week isn't a true cross-section of the design talent in this country. There are definitely some great designers showing here and there's also some stuff I think might not be runway-worthy. When I say I want to see a fashion show, I want to see a fashion show! And having just come from New York and Paris... well, it's tough. It's growing pains. We still have a long way to go but there are some designers who try to pull out all the stops and do interesting things but we also don't get the kind of hype we need. We don't hype ourselves! It's like an inferiority complex, growing up next door to the big, rich kid, but I think we're a little more empowered now. Like I said, I've been covering the scene here for 25 years now and it's getting better, there are a lot of brave, young souls out there who are really going for it, but it's hard to really make your voice heard on that international stage right now and you're just lucky if you can make a living just selling within your own borders.
What was your favorite show this week?
Well, in terms of a show that I've seen that I just really liked a lot of the stuff, thought I would wear and that was spirited and well-styled -- because that's important too -- maybe Pink Tartan. It wasn't necessarily so original but the way it came together? I thought it was a very wearable, fun collection that was well-presented and realistic. I could see the commercial viability there. I also loved Joe Fresh! I mean, that's fashion with a small "f" but you can't beat someone like Theodora Richards opening the show; very fun and spirited. But as I said, some of my own personal favorite designers aren't showing, haven't showed. Joefer is showing tomorrow -- I'm really looking forward to that, and I think Lida's stuff is really quite stellar but unfortunately she doesn't show so we just have to wait and see. Not much coming down the pipes right now.
In 10 years from now, what do you see for Toronto Fashion Week?
I don't know that there will be any fashion week! I think everyone will just show their shows online...I'll miss the live spectacle but at that stage in the game I'll be happy to sit in my little cottage by the sea and watch it online! You know McQueen's show in Paris? He did it online and I think that's definitely the shape of things to come, that we're going to be able to present these shows to the world instantaneously and everyone will be able to see them and feel part of them. It's true there's nothing like being there yourself, nothing like the live spectacle, but it's a very costly thing. I just hope Canadian designers end up making the kind of money to stage those spectacles.
Robin Kay, President of the FDCC and the fairy godmother of Toronto Fashion Week, looks back on a decade of fashion and tells it like it is. Honest, witty and determined to make this city an international fashion capital, Robin is taking a cue from Ms. Wintour by telling us all to 'lift it'! New York, London, Paris and Milan -- watch out. Toronto's moving on up and Robin's leading the way.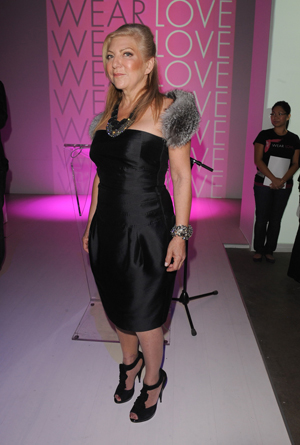 [Robin Kay, President of the FDCC; courtesy of George Pimentel]
It has been 5 days of a lot of shows, what's your impression of this season?
I built an event, an event where the fashion component was parallel with the site and the people who filled it -- designers, journalists, industry people, celebrities, buyers -- and today I can say that I believe that every section participated really fully. Toronto Fashion Week finally became an event last March, it took me a decade to do that! There wasn't even really a Fashion Week before. Branding was like the f word. I haven't been moving Fashion Week, I've been moving culture. Moving people to get hip and dig it. And the designers have really come a long way. First of all, they exist! There are designers in Canada! And now there is a real obligation on the part of the designers to step it up and represent their country wholly. That's a lot of what I need to do to.
Tell me why some great Canadian designers weren't showing this week.
A lot of the great designers that don't show, Lida Baday and Wayne Clark for instance, paid their dues at the same time I did -- in the '80s. They have their businesses, they don't need shows but they don't get it! So I stopped pursuing them in year 4. The designers that did start in year 1 are well known, David Dixon for instance, but we have to bring out unknown names onto the runway and if they're good enough, and sell clothes -- which is the purpose -- then you will know them. But it's not a matter of money, I don't have a landscape to call on.
Do you think there's a lack of nationalism, a lack of responsibility on the part of the designers to promote Canada?
Totally, totally, totally! I said to them years ago, 'No, you don't need Fashion Week but I need you! I need you!' But they did not, so I had no choice. But that's okay because the truth is that we are going to show some great designers. And it's neat because there are heroes in the industry -- maybe not the designers right now -- but the people who build and dedicate themselves to the photography, styling, show production and all the logistics of this very large event. They are very, very passionate and important. And they believe, believe, believe. We are hoping, nurturing and nursing.
Any show that really stood out for you this week?
Well I adored the saleable commercialism of Barbie and I thought the clothes in David's own collection were beautiful. You know, I was a designer for almost 25 years so it's not really so much about the show per se, for me what stands out is the essence of the designer himself. I love what Evan [Biddell] did. I have a lot of respect for designers who understand what it means and what it takes to take this into right now.
I didn't think there was too much originality on the runway this week, what did you think?
I'm fiercely protective of every inch of this thing and creating something that has sex and sizzle is a total anomaly even in this big, successful city. You know that. We are farmers. We are quiet. And I can only encourage the designers. Like I was saying to you in the beginning, for them to have done this - to have accomplished so much more even just with the production of their shows - quantum leap! That's got to keep happening until it's a level playing field and then, you know, we'll beat the crap out of everybody else! With our gentle Canadian ways. It's too young to critique in that regard. I want them to stay in business. I want them to get to have a publicist and a financial manager and a marketing group that works around them -- all of it! It's a big business, Fashion Week.
Ten years from now, what do you see for Toronto Fashion Week?
I haven't given it that much thought because I'm pretty caught up in the right now. It will be an interesting time, and just as provocative as anything that one would see elsewhere. It's unique right now but we're just not quite there yet. It took 10 years to make it an event. It will take another 10 years for the real players, both the writers and the designers, to really be enjoying the dance.
Stephen Lewis is an internationally revered and respected Canadian politician, diplomat and international envoy for humanitarian efforts who has been doggedly fighting to 'turn the tide of AIDS in Africa' for decades. His involvement in Toronto Fashion Week's closing show, Dare to Wear Love, reminded us all that there is nothing more stylish than giving back.
The first, fabulous Dare to Wear Love show just ended, what did you think?
It was a spectacular show! I mean I'm a philistine when it comes to fashion and all things associated with it -- as you can see by my appearance -- but I loved it. I thought it was remarkable. And I couldn't get over the amount of work that had gone into each of the designs. The designers had clearly thrown themselves into it with enormous elan and commitment. It was great fun as well, everyone enjoyed it immensely, and there were some very, very vivid moments on stage. Especially the designs that used some west African cloth I hadn't realized we brought back! So -- there were some west African cloths which I didn't realize we had brought back.
Do you think there's something uniquely Canadian about this particular relationship between fashion and raising awareness and funds to ease the suffering caused by HIV/AIDS in Africa? Do you think this could have happened elsewhere?
It really depends because these things rely on a creative impulse to draw together and that's what happened with Jim and Chris. You could do it in New York, you could do it in London, you could even do it in Paris though that would be most difficult, but all it requires is a couple of people to take it on. When the models were walking back, when the crowd applauded for the two men at the center of all this [Jim and Chris of Hoax Couture], you could see the outpouring of affection. It was clear that they had taken this unto themselves and were determined to make it into an extravaganza that would be vivid in itself and tremendously valuable for Africa. As soon as they fashioned that idea, people gravitated to it.
Although I could see this happening elsewhere, there is in Canada a willingness on the part of an audience -- like the one that was here tonight -- to be engaged. It's not so unusual that we had the trigger to do it, but the effect it has, the impact it has, is unusual because of all the western countries -- other than the Nordics and Poland -- Canada has a population that really responds. Really feels deeply about Africa.
This was such a successful show that everyone was really excited about -- do you think that in the coming years this event will grow in size and expand to other cities?
I hope it will grow in other cities! It will grow in size here -- and we will do our level-best to be associated with it every time because it was really lovely. And to move through the crowd and to talk to people and to hear them speak so earnestly and feelingly about how happy they are to be a part of it, and to understand the issues and to contribute to it -- I mean, it's raising awareness in a remarkable way, and that's half the battle.
Fabulous Photos From the Dare to Wear Love Runway Show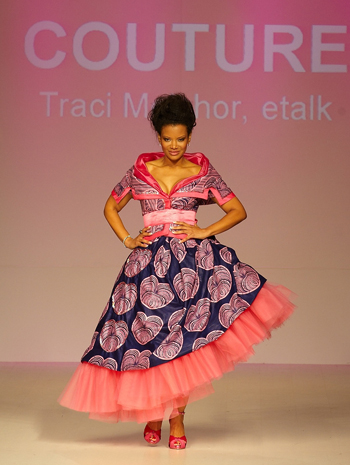 [TV personality Traci Melchor wearing Hoax Couture]

[Singer Jully Black wearing Izzy Camilleri and Olivia Chow, MP in Peach Berserk]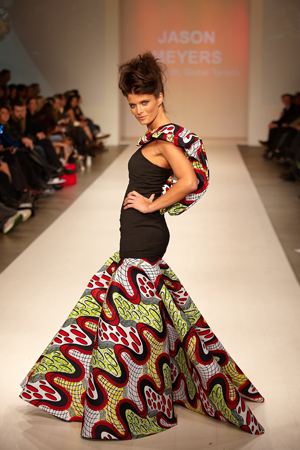 [ET Canada producer Angela Smith wearing Jason Meyers]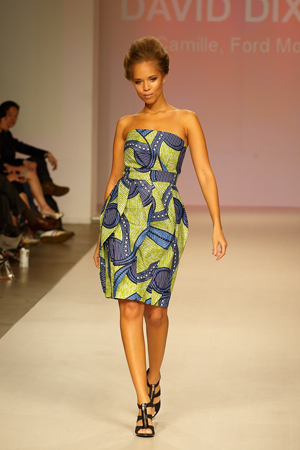 [Model in David Dixon]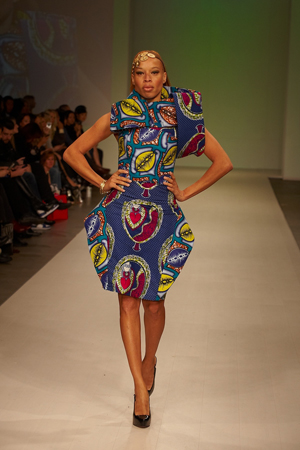 [Model Stacey McKenzie wearing Evan Biddell]

[Jessi Cruickshank of MTV Canada wearing BROSE]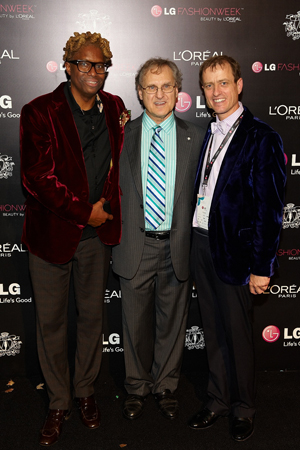 [Chris Tyrell of Hoax Couture), Stephen Lewis and Jim
Searle of Hoax Couture backstage after the show]
Dare to Wear Love photos courtesy of Brian Summers
The Stephen Lewis Foundation and Dare to Wear Love
The closing show of Toronto Fashion Week, Dare to Wear Love, featured stunning outfits made by Canada's top 25 designers who used beautiful fabrics sourced and brought back from Africa by the Stephen Lewis Foundation. This incredible partnership between the FDCC, Hoax Couture and the Stephen Lewis Foundation was inspired by the foundation's A Dare To Remember campaign, which says, "all across Africa, ordinary people are doing extraordinary things in the face of the AIDS pandemic. Dare to stand in solidarity with them." Hoax Couture and the FDCC took up the challenge and dared to wear love. The show was a smashing success and proved that fashion and philanthropy are quite the stylish pair indeed.
The Stephen Lewis Foundation Mandate:
For women with HIV/AIDS, we fund initiatives which provide counselling, and necessities such as gloves, soap, clothing, sleeping mats, nutritious food, and drugs for opportunistic infections. For the neighbours, relatives and older women who are struggling to care for the dying, we fund training for home-based care, social support initiatives, home and hospital care visits, daycare and respite care, and money for income-generating projects to help women with HIV/AIDS support their families.
We assist orphans in every possible way from the payment of school fees and supplies, to support for their guardians, most often grandmothers and older teenagers. The grassroots organizations we support nourish the orphans through school gardens and school feeding programmes. We fund projects that help these children cope with their grief and then work to build their self-sufficiency through vocational and life skills training.
Grandmothers single-handedly care for millions of children orphaned by AIDS, sometimes as many as ten to fifteen in one household. These magnificently courageous women bury their own children and then look after their orphan grandchildren, calling on astonishing reserves of love and emotional resilience. But they do so with almost no support.
Learn more about the Grandmothers to Grandmothers Campaign.
The Foundation supports projects that unite women, men and children living with HIV/AIDS. One of the most important objectives for associations of people living with HIV and AIDS (PLWHAs) is to educate themselves and share information with the broader community on prevention, treatment, care and the elimination of stigma. We also support PLWHAs to provide nutritional support, home-based care, prevention workshops and assistance in accessing treatment as well as income generating activities.
Click here to learn more about the Fashion Design Council of Canada.
Toronto Fashion Week Style
Didn't get your daily dose of style during Toronto Fashion Week? Have no fear, lots of sites documented the cavalcade of fierce fashionistas.
Fashion Magazine choose various street style images for each day of fashion week and were kind enough to include me in their day 3 recap! The lovely Beckerman sisters were out and about snapping style for Teen Vogue last week and caught me at the Andy The-Anh show. Paul Zander from Faze Magazine had someone snap our photo from the front row where my sister sat with us as did busy model of the week Stacey McKenzie.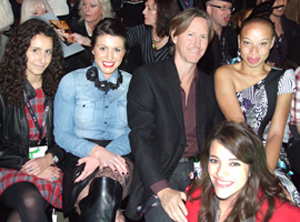 [Mallorie Bronfman-Thomas, myself, Paul Zander of Faze Magazine, model Stacey McKenzie and Degrassi star Paula Brancati front row on Thursday]
Toronto Fashion Week, Teen Vogue, the Beckermans, oh my! See what these lovely sisters snapped right here.
Have comments or questions about my Toronto Fashion Week spring/summer 2010 coverage? Think you know how Toronto can make their Fashion Week bigger and better? I'd love to hear from you! Leave your comments below, email me at marissabronfman@gmail.com or send me a tweet!