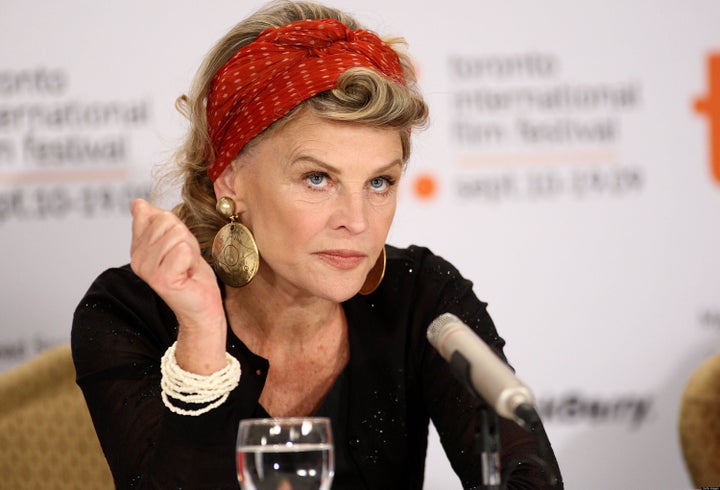 TORONTO, Canada - A protest over a Toronto International Film Festival spotlight on Tel Aviv cinema has galvanized the globe's creative community.
From Cairo to Calgary, artists can often be divided on their Middle East views but most agree on the need to draw the line between cultural expression and political advocacy.
As a glamorous parade of celebrities walk the red carpet here, increasing numbers of Hollywood stars are speaking out for or against the festival's critics, who say the Tel Aviv program boosts Israel's tarnished image eight months after its devastating bombing raids in the Gaza Strip.
"We protest that TIFF, whether intentionally or not, has become complicit in the Israeli propaganda machine," said the Toronto Declaration, signed earlier this month by 65 artists, including actresses Jane Fonda and Julie Christie, musicians David Byrne and Harry Belafonte and writers such as Alice Walker and Wallace Shawn.
Since then, 1,500 have added their names to the document, including 60 Israelis. The letter denounces the TIFF focus on Tel Aviv as being subverted by "the Israeli propaganda machine."
The letter itself does not however call for a boycott of the festival, which is on through Sept. 19, nor of the 10 films featured in the program. But Palestinians have demonstrated at the Canadian consular office in Ramallah, and Egyptian filmmakers have pulled their three films from what is arguably the most important international film forum after Cannes.
The controversy has generated a great deal of heated debate. Jane Fonda modified her position after signing the letter saying she had not considered how some "unnecessarily inflammatory" wording in the declaration could "exacerbate the situation." Dozens of American and Canadian actors, directors and producers signed a full page ad in a Toronto newspaper to "applaud" the festival and its 10-film Tel Aviv program.
"Anyone who has actually seen recent Israeli cinema, movies that are political and personal, comic and tragic, often critical, knows they are in no way a propaganda arm for any government policy," said the ad co-sponsored by the Toronto and Los Angeles Jewish communities.
That statement is signed by actors Natalie Portman, Sacha Baron Cohen, Jerry Seinfeld, Lisa Kudrow, Lenny Kravitz and dozens of entertainment industry executives.
For many who are angry about the protest, it is less about the Middle East than about the politicization of an event that has in recent decades put Toronto on the world's cultural map. "A film festival should be like the Olympics. You should put politics aside for the sake of the films," said American director Jason Reitman.
Visiting celebrities and local filmgoers appeared to do just that, as the festival carried on with as much excitement and glitz as ever, despite the ongoing scandal.
Among dozens of A-list stars in Canada this week are George Clooney, Penelope Cruz, Matt Damon, Jennifer Connelly, Drew Barrymore, Robert Duvall, Megan Fox, Julianne Moore and Michael Douglas. More than 3,100 film industry representatives are here. And tens of thousands of film lovers are lining up across the city to view even the most obscure of the 336 films featured in the festival. Directors from Spain's Pedro Almodovar to Germany's Werner Herzog, to America's Coen Brothers and Ireland's Neil Jordan are screening their newest films.
The opening film Creation, a well-received close-up of Charles Darwin's private life, is a prime example of how increasing numbers of filmmakers are choosing to debut their films in Toronto rather than Venice or Berlin.
"Toronto is the bridge between Europe and North America," said Anke Sterneborg, a critic for the Munich-based Suddeutsche Zeitung who has been attending the festival for the past 12 years. "You get the European art house films, and the Asians. And it's close enough to Hollywood for celebrities to come and give it the shine."
This year, the film that has generated the greatest buzz is "Up in the Air," the latest by Reitman, director of the hits "Juno" and "Thank You for Smoking," and son of Hollywood director Ivan Reitman ("Ghost Busters"). "Up in the Air" stars Clooney as a "termination engineer," who has no home life outside of his job, jetting around the country helping American companies fire people. Both funny and sad, the film examines a society where frequent flier points become a substitute for family attachments. Reitman used documentary footage of 25 real people who had lost their jobs in Detroit and St. Louis, which lends the film a timely edge.
At the same time, critics have singled out many smaller films from smaller countries such as Denmark's "An Education," and "Women Without Men," a German-French-Austrian co-production set in 1950's Iran. Canadian films are attracting higher profile American investment and star power, such as Atom Egoyan's "Chloe," featuring Julianne Moore and Liam Neeson. Canada is still strong in its usual categories of shorts and documentaries, with this year's main documentary entry a gem called "Genius Within: The Inner Life of Glenn Gould."
Among the many Israeli films present at this festival -- some in the special program and some not -- are "Google Baby," a documentary about artificial insemination going global and "Phobidilia," in which a man never leaves his apartment, doing everything by telephone and internet. Particularly well received were "The Time That Remains," by Palestinian-Israeli filmmaker Elia Suleiman and "Lebanon," a soul-searching drama set inside an Israeli tank during the 1982 war, which took top honors at the recent Venice Film Festival.
The TIFF 'tiff' over Tel Aviv, started on Aug. 27 when Canadian director and activist John Greyson pulled his short "Covered," from the festival program arguing that the inaugural City-to-City spotlight on Tel Aviv was inappropriate. Greyson said the Toronto festival had let itself become a tool of the 'Brand Israel' arts and culture campaign that Israel's foreign ministry devised to broaden the country's image beyond its conflict with the Palestinians. He also pointed a finger at two Canadian media companies involved with 'Brand Israel' whose owners are also contributors to the Toronto film festival.
Cameron Bailey, co-director of TIFF, countered that the decision was an independent artistic choice and was in no way influenced by the Israeli government. Festival organizers could be forgiven for believing the spotlight on Tel Aviv would not provoke controversy since Tel Aviv is inside Israel's internationally recognized boundaries, unlike contested Jerusalem and the West Bank. And yet Cameron added fuel to the flame by acknowledging that Tel Aviv is "contested ground" in his released response to the protest.
The issue picked up steam a week before the festival opened, when Canadian writer Naomi Klein ("The Shock Doctrine: The Rise of Disaster Capitalism"), publicized the Toronto Declaration which criticized the Tel Aviv spotlight while stopping short of urging a boycott of the films. Writer and academic Noam Chomsky, actor Danny Glover and many Canadian and Israeli artists and filmmakers were among the 65 who signed. Actors Julie Christie and Viggo Mortensen fell into a category of those who signed the petition and still attended the festival.
The declaration spearheaded by Klein said that celebrating Tel Aviv was like celebrating Johannesburg during the height of apartheid and that Tel Aviv was "built on destroyed Arab villages." Dueling opinion pieces continued for days in local newspapers and Facebook discussions went practically viral.
Canadian producer Robert Lantos called Greyson "hypocritical" since his short film deals with the cancellation of a gay pride event in Sarajevo, whereas Tel Aviv boasts one of the most vibrant gay communities in the world. Actor Jon Voight, who starred with Fonda years ago in "Coming Home," and has ties to the Orthodox Jewish Chabad network, issued a statement condemning Fonda.
Prominent American Rabbi Marvin Hier, who founded the Los Angeles Simon Wiesenthal Center, compared the protesters to Iran's president Mahmoud Ahmadinejad and those who seek to destroy Israel, since claiming that Tel Aviv is on Palestinian land implies a non-recognition of Israel.
Such criticism stung many creative artists -- among them many Jews -- who believe activism and an economic boycott is the way to influence Israeli policies, as was done against South Africa during apartheid.
Toronto's mainstream Jewish community, meanwhile, rallied for Israel, buying up tickets to the Israeli films and demonstrating on streets in front of theaters.
"Based on various misdeeds of past and present, shouldn't TIFF stop screening movies from China, Germany, Italy, Spain, Russia and the United Kingdom?" wrote Toronto Star columnist Martin Knelman, satirically. "The greatest outrage of all is that during the six years since George W. Bush sent troops to Iraq, TIFF has meekly continued to promote movies from Hollywood, which we all know is a pathetic pawn of Washington's propaganda machine."
Ironically, many of the festival films set in Tel Aviv are highly critical and could hardly be accused of putting a positive gloss on the city. The demographically complex Jaffa area is examined in three films and the underbelly of Israeli society is laid bare in several which probe racism against Arabs, spousal abuse, trafficking in women for sex. "Lebanon" exposes wartime excesses against civilians.
In Toronto theater line-ups, some ticket-holders hadn't even heard about the controversy. "No. I know nothing about it at all," said Hilary Neal, 23, excited about seeing "She, A Chinese." Others had heard about the Tel Aviv issue on the news but it failed to dim their enthusiasm for the festival.
"To me it's a side issue," said Milena Nikolic, who came in from her hometown an hour outside Toronto to see three films. "Movies do provide a lot of political debate. TIFF shouldn't be used for it. It's just too bad, what's going on."
Around the city's downtown a festive atmosphere prevailed with free daily outdoor concerts and films, and a complementary event called TUFF, the Toronto Urban Film Festival, which screened one-minute silent films on subway platforms across the city. The folk icon Joan Baez was scheduled to perform. And people were on the streets around the clock with Midnight Madness screenings and dozens of late night parties.
Nomi Morris is a journalist based in California, former Middle East correspondent for Knight Ridder newspapers and a former Berlin correspondent for Time magazine.
For more stories from GlobalPost, click here.
Calling all HuffPost superfans!
Sign up for membership to become a founding member and help shape HuffPost's next chapter