Toronto, the provincial capital of Ontario, with its population of 2.5 million people from 200 distinct ethnic backgrounds, is the ultimate melting pot. It's a cultural, culinary, shopping and wellness hub, especially when you visit the city center, which comprises districts with names like Cabbagetown, Entertainment, Harbourfront and Distillery.
Put on your walking shoes and the fun begins. The 1,815 feet-high communications and observation CN Tower defines Toronto's skyline; it's a beacon for the Financial District. This section of town bustles with banks, corporate headquarters, accounting firms, insurance companies and stockbrokers. For $175 you can get tethered to the tower and walk around the edge of the roof of the CN Tower's restaurant (alumnae of the walk are called EdgeWalkers) and gaze down with wonderment at the thousands of workers pounding the pavement. They look like ants.
Toronto's vibrant Theater District is reminiscent of New York's Time Square, without the overly dense, manic crowds. Checkout top plays and musicals at modern or historic venues: Death of a Salesman (Until Oct. 6) at Young Centre for the Performing Arts, 50 Tank House Ln; La Cage Aux Folles (Oct. 10 to Nov. 18) at the Royal Alexandra Theatre, 260 King St W; Sister Act (Oct. 2 to Nov. 4) at Ed Mirvish Theatre, 244 Victoria St; Bloodless (Oct. 16 to Nov. 4) at the Panasonic Theatre, 651 Yonge St; Miss Caledonia (Oct. 16 to Nov. 25) at the Tarragan Theatre - Extra Space, 30 Bridgman Ave; and WarHorse (now until Nov. 4) at the Princess Of Wales Theatre, 300 King St W.
For a cultural tour trek to Chinatown near Spadina Ave. to try out the Bright Pearl Seafood Restaurant (Jumbo Shrimp, Peking Duck and Dim Sum); party like there's no tomorrow on Chinese New Year and wear read for good luck. On Tuesday's until Oct. 28, head to the Riverdale Farmer's Market (201 Winchester St.) in the Cabbagetown neighborhood for fresh beaked bread, crafts, organically raised meat and fresh vegetables and to mingle with locals. Walk around Kensington Market (67 Kensington Ave.) on Pedestrian Sundays and shop for vintage clothes and furniture. The Distillery District mirrors New York's SoHo or Chelsea neighborhoods with its brick-lined streets, restored Victorian Industrial buildings (the oldest in North America), galleries, boutiques, and restaurants all centered around the Gooderham and Worts Distillery, which first produced whiskey back in 1837.
The annual, star-studded Toronto International Film Festival®, headquartered at the TIFF Bell Lighbox building (350 King St W), is the city's crown jewel. It attracts the industry's top directors (Brian De Palma, Mira Nair, Paul Thomas Anderson), international actors (Halle Berry, Gael Garcia Bernal, Ziyi Zhang, Robert DeNiro), chic parties (e.g. Producer's Ball, thrown by HGTV's Property Brothers, Canadian identical twin brothers Jonathan and Drew Scott) and audience loving films: In 2012, the winner of the TIFF Blackberry People's Choice Award, the festival's highest honor and voted on by festivalgoers, was David O. Russell's endearing, eccentric comedy Silver Linings Playbook. The award often starts its winners on a road to a Best Picture Oscar (e.g. The King's Speech). TIFF, under the guidance of Artistic Director Cameron Bailey, is just one of many exciting Toronto fests:
Flying High and Day-Tripping on a City Island
Billy Bishop Toronto City Airport sits just off a dock at the beginning of Bathhurst St., in the Harbourfront District. (A direct flight to Billy Bishop cuts out a 35-minute commute from the Toronto Pearson International Airport to city center.) Free ferry service takes you on a five-minute ride to the airport where Toronto HeliTours offers 10-minute sky-high rides that give you an eagle's panorama of the city. The helicopter lifts off like a feather before it hovers around the downtown area and swirls around CN Tower and the Rogers Centre stadium (home of the Toronto Blue Jays baseball team). Bring a camera and you can catch a shot of the EdgeWalkers on CN Tower. (And no, you can't hear their screams for help above the sound of the copter's rotors.) The ride is a real treat, a perfect present for the kids or to surprise a loved one.
As the chopper returns, you'll get gorgeous views of the Toronto Islands, the largest urban car-free community in North America and perhaps Toronto's best geographical treasure. This 570-acre string of small isles sits about two miles off shore, in Lake Ontario. Canadian geese, deer and mink roam wild on the national park land. Take a sightseeing boat ride to these fun islands where residents and tourists alike dine at outdoor cafes, sunbathe, ride rented bikes ($7 per hour), or take it all off at the nude beach.
You can debate the entire night whether the seafood or the steak is better at The Shore Club (155 Wellington St. West), perhaps Toronto's ritziest dining experience, but you'll have to do some sampling to enter the fray: The Dungeness Crab Cakes, Scallop & Prawn Ceviche with cilantro citrus marinade and Lobster Bisque (Atlantic lobster, finished with sherry) will sway you one way; the Double-Cut Lamb Chops, Bone-In Rib Steak and Braised Short Ribs will point you in another direction.
At Ki Modern Japanese + Bar (181 Bay St.), you can take your pick of 50 high-quality sakés (culled from fermented rice). The astute Saké Sommelier, Michael Tremblay, can help you make the right choice; perhaps it's the Izumi 'Nama-Nama' Junmai Nama (made in Toronto, Canada); it's unpasteurized, fresh, bold and fruity with a hint of nuttiness. Sip before you bite into Ki's famed sushi dish: Tempura Butterfish (Alaskan king crab, salmon, butterfish, avocado, cucumber and flying fish roe deep fried in tempura). For the main course zero in on the Half Rack of Smoked Baby Back Pork Ribs which are marinated in Kasu (rice sediment from the saké-making process) and dabbed with Ki barbeque sauce. Cap the night off with Pear Cake.
For French cuisine Marcel's and Le Saint Tropez (315 King St. West) serves Escargots (in garlic cream and white wine) for a tasty appetizer and Coquilles Saint Jacques (seared sea scallops in a saffron velouté) for dinner. The Italian food at Il Fornello (214 King St. West) is famed around the city for its Antipasto Plate and Steak & Gnocchi (8 oz. New York strip loin served with gnocchi del giorno).


Shopping and Self-indulgence for the Chic Set
Bloor Avenue runs 16 miles through the city and is the divider between downtown and midtown. The stretch between Avenue Road and Yonge Street is known as "Mink Mile," and the nearby vicinity has been dubbed "Yorkville." It's in the same vein as L.A.'s Rodeo Drive, New York's Fifth/Madison Avenues and Miami's Bal Harbour. Try Tiffany's (85 Bloor St West) for gold, silver and precious stones; Herman-Sellers-Gough Furs (87 Avenue Rd.) for shearlings and mink coats; and Vera Wang (38 Avenue Rd) for the perfect wedding dress. Add in Hugo Boss, Porsche Design, Prada, Louis Vuitton and it's enough to give your credit cards heartburn.
To replenish your body and soul, stop in at Novo Spa (66 Avenue Rd.) and enjoy its unique Steam Bed Body Therapies: Start with a soft scrub massage, then have your body covered with warmed mud while steam released from the treatment bed enhances healing properties. Then enjoy a scalp, foot and aromatherapy massage. After you've nourished the body, refresh the face. Gee Beauty (2 Roxborough St. West) offers makeup and skincare beauty treatments for women and facials specifically created for men in an ultra-classy venue. No matter how you enter, you will leave looking like a million!
The iconic 1,377-room Sheraton Center Toronto (123 Queen St. West), a CAA/AAA Four Diamond hotel, is in the heart of the Theater and Financial Districts. The city's tallest hotel, with jaw-dropping vistas, is conveniently connected to PATH, a 16-mile underground network of shops and services. On the third floor you'll find the Sheraton Fitness Programmed By Core Performance, a fully equipped gym. Soak in a Jacuzzi, lay in the sun and then take a relaxing swim in Toronto's largest, year-round, indoor/outdoor-heated pool. At the newly renovated lobby restaurant BnB (Burgers and Bistro), cuddle up to a Pickle Brinetini Martini (Gin or Vodka with pickle brine, squeeze of lime, sprinkle of salt) and snack on Crusty Pulled Pork Rolls with Roasted tomato salsa or Flame Grilled Beef Sliders. The Club Lounge on the 43rd floor offers breakfast and amazing views of City Hall and the downtown skyline.
There's so much to do. People and sites to see. Festivals, cuisine, culture, shopping, adventure... Everything's waiting for you, in Toronto's downtown.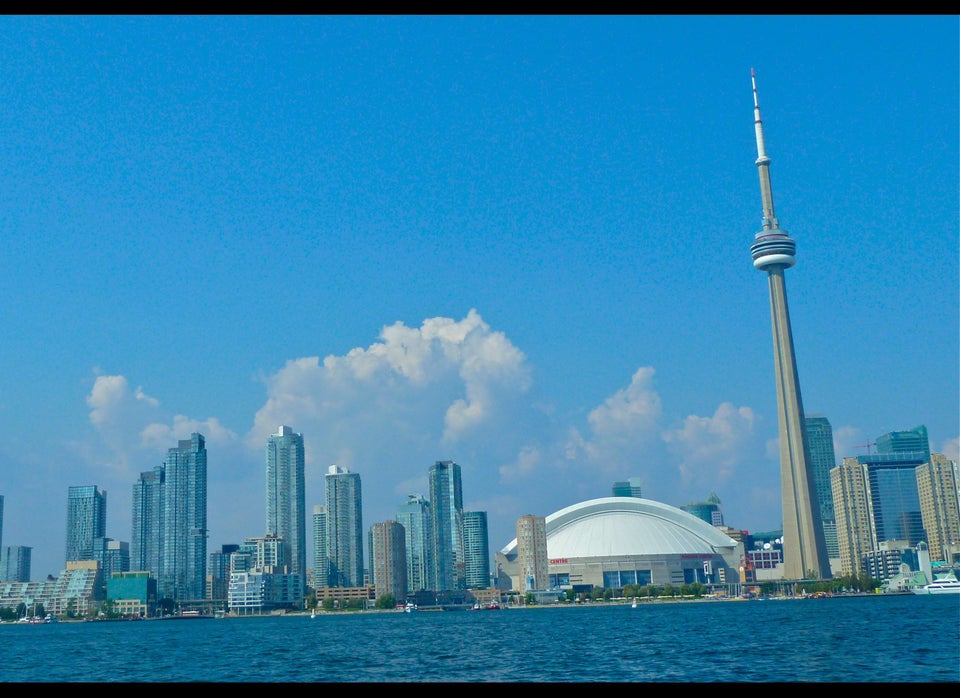 Toronto: The City Lights Are Bright Downtown
Related