There is no use pretending: Our afternoon at Niagara Falls (including a soaking wet ride on the Maid of the Mist) was the highlight of a recent trip to Toronto. But the museum-going, strolling and dining were delightful too. The Picasso exhibition at the Art Gallery of Ontario (AGO) will have closed by the time this is posted, so I'll say only that I'm glad we caught it. I'm glad too that we spent some time exploring the gallery's collection of Canadian art and discovering the fine painter David Milne. If you can find a museum member to take you to the members' café housed in the original gallery building, known as The Grange, have a glass of Niagara Peninsula wine or local beer and something like a good, fresh, plain egg salad sandwich served with homemade potato chips (or a salad if you prefer). Very clubby and relaxing -- and they cut the crusts off their sandwiches!
Whatever you may think of the architect Daniel Libeskind's aluminum and glass addition to the Royal Ontario Museum (and, setting aesthetic matters aside, I found some of the spaces disorienting), you will want to pay a visit to this major natural history and world culture collection. When we were there, in mid-August, a new installation in the textile and costume gallery was underway; even incomplete, this was fascinating and wide-ranging. There was a case full of paper dresses, including op-art mini-dresses and Scott Paper one-dollar promotions as well as ambitious ball gowns: fun.
My favorite items were children's outfits from the 18th and early 19th centuries, beautifully presented with discursive labels and explanatory photographs of the internal construction. And who wouldn't want to see a video of a Central Asian yurt being assembled and clad in thick felt? Back in the main museum building, the Egyptian collection is particularly rich and diverse, but there are no flies on the Asian (especially Chinese), Roman and other sections. We were museumed-out by the time we started looking at the natural history collections, but they were well presented and educational in a pleasantly old-fashioned way (lots of mounted specimens). The museum was full of children being shepherded around a blockbuster dinosaur installation (additional charge).
Across the street is the Gardiner Museum of ceramic art, currently (through mid-September) featuring "Rule Britannia: Four Centuries of British Style, Power & Taste," an excellent survey of British ceramics through the years, including a nice sequence of royal commemorative chinaware right up to the most recent princely wedding. For us, highlights of this show included studio and commercial work by Lucie Rie and Hans Coper. Free guided visits to the exhibition leave from the museum lobby. The permanent collection is rich, including spectacular Mesoamerican work and a great deal of French and German porcelain: inevitable but not to be dismissed. There's a nice café here (the remains of a more ambitious restaurant that is evidently on hiatus), where we had a cold beer and a plate of thyme-strewn french fries.
If the weather favors you, take a ferry to Centre Island, a public park with a man-made sandy beach on Lake Ontario, miles of strolling and biking paths (all manner of pedaled vehicles are available for rent) and a charming disused lighthouse. Here you will see Toronto's vaunted ethnic diversity on striking display. The ferry ride itself gives unparalleled views of the city.
We didn't subsist only on sandwiches and french fries in museum cafés. In fact, we ate very well in Toronto. On our first night in town, friends took Jackie and me to Pizzeria Libretto, where the truly Neapolitan-style pizza was as good as any we've had and better than most. The crust was beautifully charred-blistered and perfectly flavored: It had the mild sourness of a well-matured dough and -- not to be taken for granted -- was adequately salted. The rim was substantial enough that we could enjoy it as an isolated element but was not hypertrophied and disproportionate to the thin-stretched center. Many topping options were available, none of them goofy or excessive; we had a plain Margherita ($13) with good, fresh Ontario mozzarella and bright-tasting tomato sauce and a mildly garlicked variation ($17) with a sparing application of 'nduja (a spicy, spreadable Calabrian-type sausage red with chilies). We drank good beer brewed in Ontario under the restaurant's name and were treated to friendly, knowledgeable and efficient service.
And on our final night, we walked down lively College Street to Grace, a comfortable, informally elegant restaurant with an imaginative menu (plus a $20 two-course prix-fixe). Flavors were vivid here and ingredients of high quality. I fault the semolina-crusted pan-fried gnocchi ($10 small; $17 large) for their denseness, but I ate them with pleasure because the flavors -- peas, walnuts and mushrooms -- were so perfect. Likewise, a special of scallops with orzo pasta and a rich cured-pork-based sauce ($24) was so delicious that it was easy enough to ignore the fact that the scallops were entirely superfluous. On the other hand, a jarful of duck rillettes ($14) left no room for carping: seasoning was perfect; the chutney and the pickled vegetables (a clever replacement for the traditional cornichons) and the crunchy baguette croutons were all wonderful. So was the peach panna cotta ($10). I'd have liked more Ontario wine on the short list, but perhaps that isn't a priority for people who can drink it any time they want. Service? Again, friendly, knowledgeable and efficient.
In between those two bookend dinners, we had a tasty Ethiopian meal at Addis Ababa ($14 a head for an ample vegetarian sampler, plus drinks) and a happy almost-Cuban one (around $35 a head, plus drinks) at Julie's Cuban Café, a converted snack bar (itself a converted grocery store). At the risk of sounding repetitious, I note that the service in both places was friendly, knowledgeable and efficient.
Near the University of Toronto (and hence the ROM and the Gardiner Museum), we had caffè macchiato that was almost unbelievably good: viscous espresso topped with just the right minimal amount of steamed milk. We could have been in Italy, and not just anywhere either (yes, there is bad coffee there). We drank these meticulously prepared coffees at L'Espresso Bar Mercurio, where we also ate a killingly (but properly) sweet butter tart -- like a pecan pie without the nuts -- and a crunchy coconut shortbread. Some of the pastries are bought in; others are made on site; still others -- I loved this -- are made by the owner's mother.
At Nadège, near Trinity Bellwoods Park southwest of the University, everything is made just on the other side of the glass partition separating the shop from the kitchen. We had decent espresso (by this time we'd been spoiled by Mercurio) and flavorful variations on the croissant, including one with apples and toasted hazelnuts which was particularly delicious. All were buttery and properly salted. They were not of the ethereal type: You knew you were eating members of the bread family. That's not a bad thing unless it is carried to extremes and the croissant becomes downright tough. These were just right. The stylish décor is stark white with amusing splashes of pink.
The service at both cafés was -- one last time -- friendly, knowledgeable and efficient.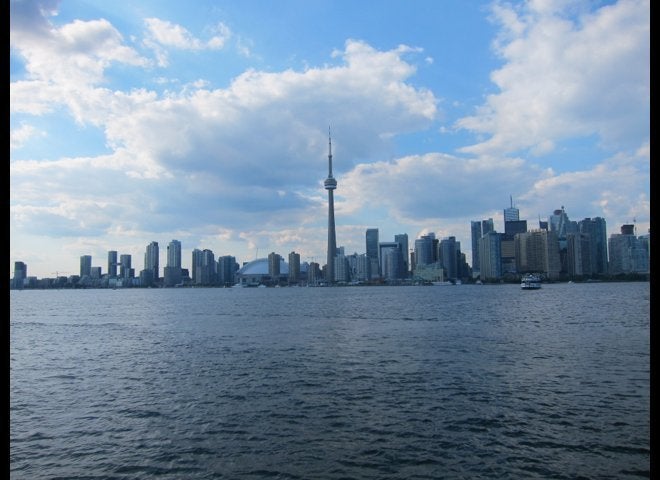 Toronto: Pizza and Croissants; Museums and Ferry Rides
Related