History was made at Canada's largest LGBT Pride parade July 3, with a sitting prime minister joining the festivities for the very first time.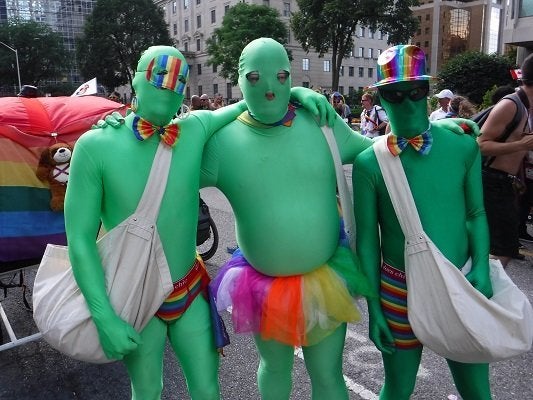 Dressed in head-to-toe, alien-like green bodysuits with rainbow accessories, a pack of six marchers calling themselves the "Gay Zombies Cannabis Consumers Association" made quite the splash at Sunday's parade, Vice reports. As it turns out, however, the group was actually comprised of conservative Christians who distributed "zombie safe sex" information packets to marchers and spectators.
At first glance, many assumed the packets included condoms and information about safe sex practices. Instead, they were pamphlets that showed graphic images of patients who had purportedly contracted genital warts or were suffering from HIV/AIDS-related illnesses, the conservative news outlet Lifesite reports.
"Disease, death and confusion are the sad and sordid realities of the homosexual lifestyle," the pamplet read. "The 'Gay Zombies' are concerned about the spiritual, psychological and physical welfare of all potential homosexual pride attendees, so we want to give you this accurate information and encourage you to abstain from the homosexuality."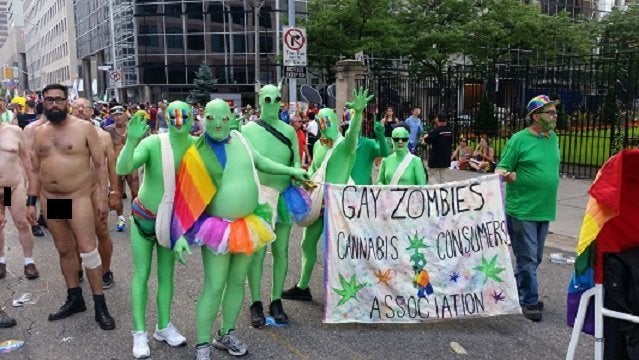 Local activist Bill Whatcott, who is no stranger to anti-LGBT rhetoric, wrote a lengthy blog on his website Monday outlining why he opted to organize a "zombie" gathering at what he described as Toronto's "Homosexual Shame" parade. Whatcott also shared the above images, and claimed he and his supporters opted for the colorful disguises because "the parade was too intolerant" to accept them as "out-of-the-closet" Christians who "speak the truth about homosexuality."
It isn't Whatcott's first homophobic Pride-related stunt. In 2015, he wore skimpy shorts and a hot pink coiffe to pose as a member of the fictitious Calgary Church of the Flying Spaghetti Monster in Vancouver's LGBT Pride parade. Once again, he and a handful of his supporters distributed anti-gay pamplets disguised as condoms, Daily Xtra reported.
"I made this Pride parade way more diverse. It's not all leather men and naked dudes," Whatcott said at the time. "Now it includes Christian people with diverse messages on homosexuality. True diversity."
For someone with such a vile cause, Whatcott certainly goes to creative lengths to make his hateful message known.
Before You Go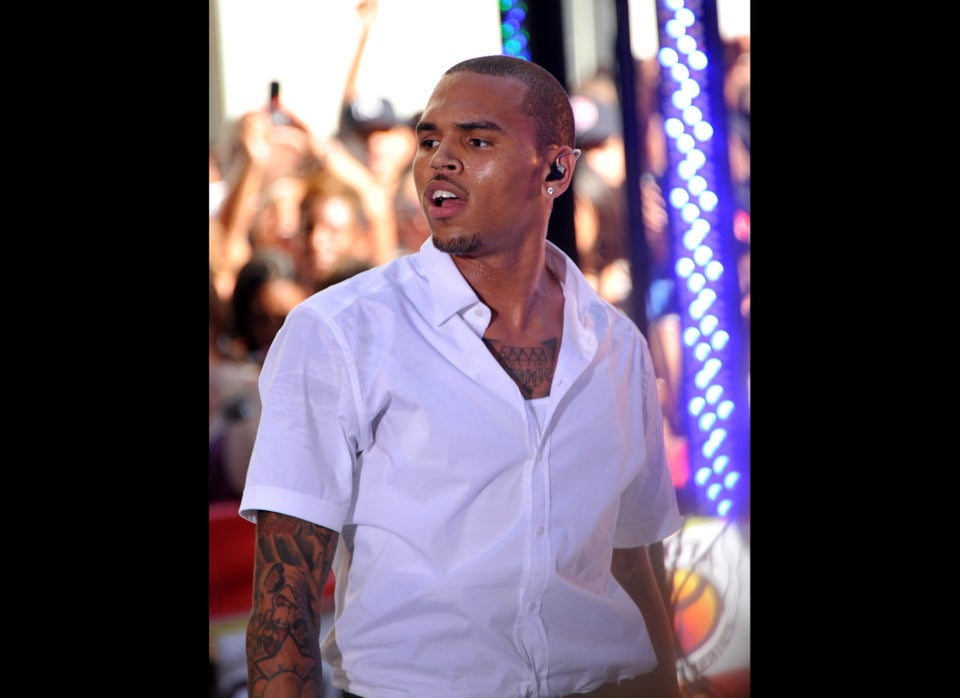 Homophobic Tweets By Celebs
Popular in the Community