After a smattering of popular homegrown Canadian designers presented their spring wares independently last week, LG Fashion Week officially launched last night with Canada's luxury shopping mecca, Holt Renfrew, sending designs from nine different Canadian labels down the runway. The invitation said "With True Patriot Love..." -- a reference to the country's national anthem -- but there wasn't much on offer to inspire any 'glowing hearts'.
After more than a decade wandering across the city from season-to-season, LG Fashion Week said au revoir to their nomadic existence and has settled at Heritage Court on Toronto's exhibition grounds. Robin Kay, President of the Fashion Design Council of Canada and the city's fashion week fairy godmother, was right to insist that LGFW needed its own home but whether Heritage Court is it remains to be seen. While the venue is certainly spacious, it suffers from feeling like a trade show and there's nothing convenient about the location either -- hard to get to and nary a Starbucks in sight doesn't bode well for a feisty fashion crowd.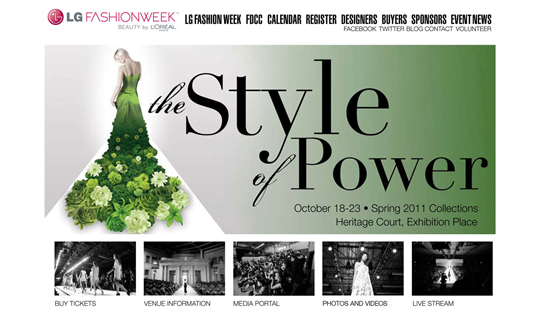 Find out more about LG Fashion Week at www.lgfashionweek.ca
The Holt Renfrew show started off on a high note. They screened a sassy Diana Vreeland-inspired video short and had Canadian supermodel and so-called "National treasure" Coco Rocha introduce the designer lineup. But things quickly became boring.
Three strong looks in shades of concrete from Jeremy Laing were first on the runway (though he already showed in New York) followed by some unremarkable suit separates and dresses in soft pink, dove gray and black from Lida Biday. Line Knitwear showed four fairly good looks in earthy tones with a standout pair of salmon colored leather cropped wide leg pants. LG Fashion Week favorite Pink Tartan took a moderate departure from their usual fare with striped jersey dresses and an odd 70s glam meets 20s seaside styling; odder still was the obvious Gucci-knockoff horse bit hardware on two of the dresses.
Wings + Horns had fairly average spring basics for men, which were followed by jacket junkie label Smythe who stayed true to form with tailored linen jackets in soft shades, cropped in the back and patched with perforated leather on the elbows. Respected Canadian designer Denis Gagnon demonstrated finely skilled techniques with cut and proportion, while Wayne Clark sent down some very pretty fire engine-red dresses made of what looked to be flattering jersey with satin detailing.
Mikhael Kale closed the show with questionable dresses fashioned from a handful of fabrics, clear plastic paneling and crystal embellishments -- it looked somewhat futuristic, but mostly just confused and certainly not flattering for the average female. All the models trotted out for the finale, flooding the runway with a haphazard array of looks, none of which seemed to cause much delight in the crowds.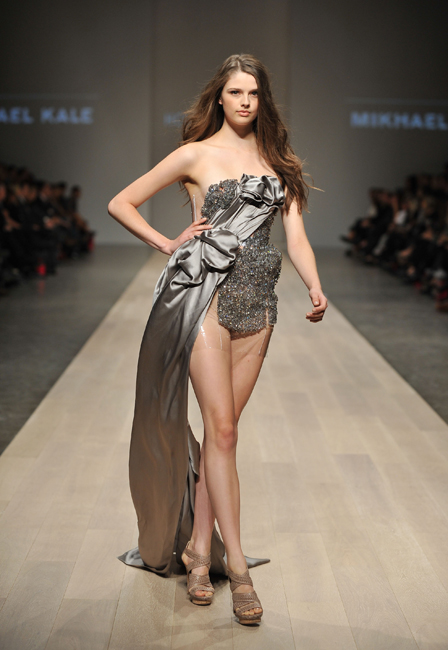 A questionable confection from Mikhael kale. Photo: George Pimentel.
Usually a late-in-the-week player and perennial crowd pleaser, this season Bustle chose to close LG Fashion Week's opening night with their signature rowdy antics, strategically deployed to detract from the fact that the clothes are quite frankly, a bore. Toronto band Die Mannequin performed live for the show as male models with pompadours and funky glasses strutted down the runway in Bustle's poorly tailored suit separates. A pixelated paint splattered pattern was the only interesting injection into a tired collection of pastels, checks and floral prints that was styled with a Nowhere Boy-meets-Cali prep male in mind. Perhaps painfully aware that there was nothing exciting about the actual clothes, Bustle chose a self-described "sleaze rock band" to entertain and sent a female model down the runway in a man's shirt, only to flash her panties for photographers. And that's why they usually give out alcohol at their shows.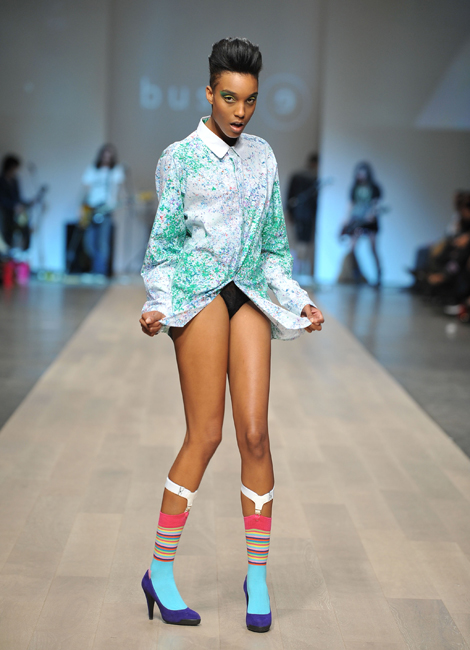 A model flashes her panties at Bustle. Photo: George Pimentel.
It was a lackluster opening night for LG Fashion Week but there are four more days for the industry to collectively redeem itself of something no one may remember anyway. So what's the point? The point is that there is some strong design talent in Canada, some real fashion enthusiasts and if we don't foster that now, no one else will. It's a shame that some of the best and brightest choose to show off-site but it wouldn't be very patriotic of us if we didn't give everyone a chance. After all, we are Canadian.
Get the latest on what's hot and what's not at LG Fashion Week by following me on Twitter.
Popular in the Community