"I can be like Iron Man, and not be in this wheelchair all the time." - Yasin, Age 12
In North America, there are over 500,000 children living with walking disabilities. To many of these children, physiotherapy is an important practice to manage their physical symptoms and thereby maintain their health. Despite this, many families have a difficult time accessing regular physical therapy for their child because it can be expensive, time consuming, and in some cases, difficult to make an appointment.
A Toronto based startup, Trexo Robotics, is the only company in North America building a wearable robotic device specifically for children with disabilities in an effort to make the benefits of physical therapy more accessible. By focusing on children, Trexo has been able to create an affordable solution for an underserved market with currently no existing solutions.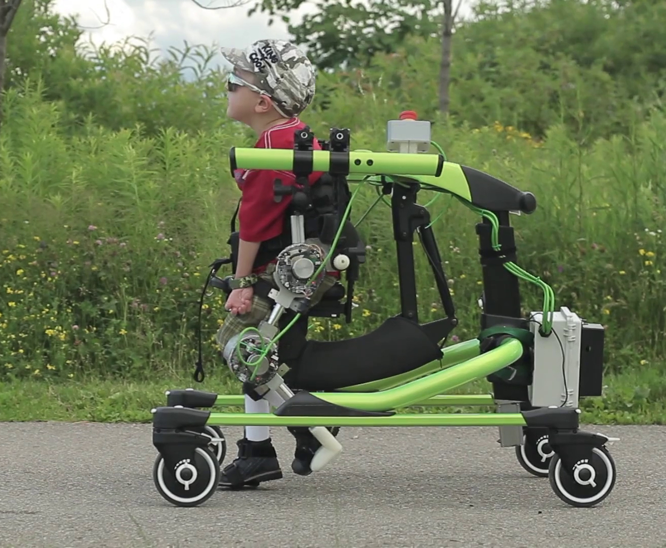 Trexo's unique approach to entering the complex medical devices market has a special origin story. Trexo Robotics was founded after Manmeet Maggu (CEO) learned of his nephew's diagnosis with cerebral palsy. Manmeet later discovered that many children with cerebral palsy and other conditions that lead to walking disabilities spend majority of their time in a wheelchair. This results in many long term negative health effects, thereby leading to a lower quality of life for the child and family as a whole. Determined to find a solution to help his nephew walk, Manmeet and co-founder Rahul Udasi (CTO), built the future they envisioned.
Taking a children-centered approach has allowed Trexo to design a device that is unlike any other wearable robotic device on the market. The Trexo device works by converting a passive walker into a fully powered robotic device that can be used anywhere at a fraction of the cost of currently available solutions. This design ensures that the device doesn't require a lot of space and battery power, making it easier to store and use. Today, the device is being prototyped in preparation for a pilot study with the Cincinnati Children's Hospital, one of the largest pediatric rehabilitation hospitals in the United States. Using clinical settings as a starting point, Trexo hopes to make the device accessible to children and families at home, enabling children to experience walking more regularly.
While they have been making steady progress since being founded in 2016, Trexo CEO Manmeet Maggu states, "this is only the beginning." Trexo is working towards the ambitious goal of creating accessibility solutions for people of all ages and abilities, with the purpose of helping individuals live empowered lives. It is this ambition that led Trexo to become a finalist at the upcoming Canadian Innovation Awards in the New Startup category. Trexo is confident this will help them gain exposure to facilitate implementation of the device, and get it into the hands of both children with disabilities and pediatric rehabilitation providers.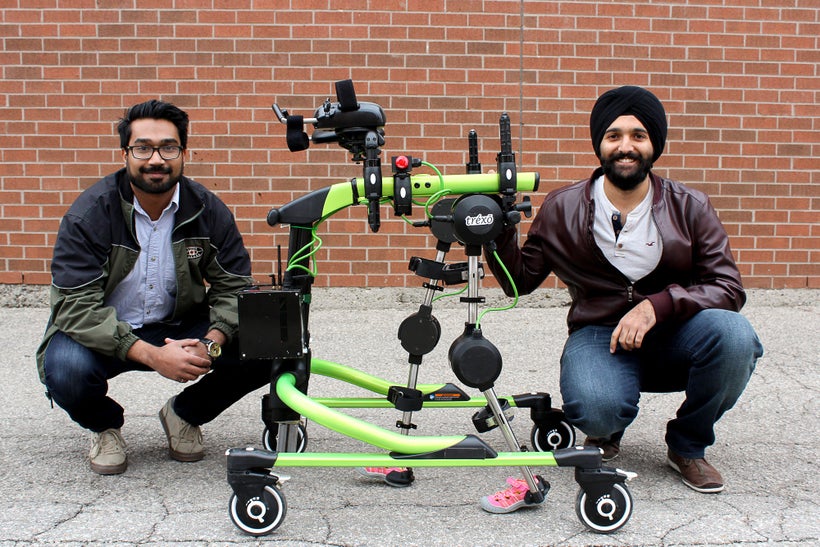 Trexo is looking to get in touch with families of children with walking disabilities to learn more about their experiences and share feedback on the device. If you or someone you know has a child with a walking disability, contact Trexo at www.trexorobotics.com/contact/ and share your experiences today. Learn more about Trexo here: http://trexorobotics.com
Calling all HuffPost superfans!
Sign up for membership to become a founding member and help shape HuffPost's next chapter
This post was published on the now-closed HuffPost Contributor platform. Contributors control their own work and posted freely to our site. If you need to flag this entry as abusive,
send us an email
.