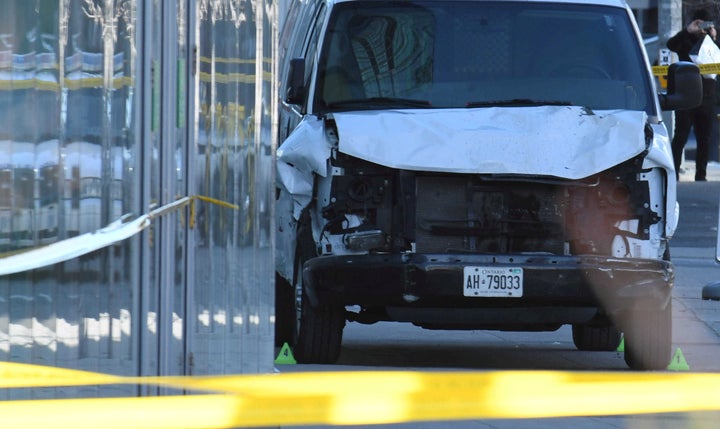 A post on Toronto van attack suspect Alek Minassian's Facebook account praised mass murderer Elliot Rodger and vowed an "Incel Rebellion," although it is unclear whether Minassian wrote the message himself.
The term "incel" is internet slang for someone who is involuntarily celibate, and in recent years the term became prominent on Reddit and other online communities.
A Facebook spokesperson confirmed to HuffPost that the post was from Minassian's authentic account but would not say when it was posted or if Minassian was the author. Toronto police are investigating the message.
"The Incel Rebellion has already begun! We will overthrow all the Chads and Stacys! All hail the Supreme Gentleman Elliot Rodger!" the Facebook post said. "Chads and Stacys" is a reference to sexually active, conventionally attractive people.
Rodger killed six college students in 2014 near the University of California, Santa Barbara, after posting a misogynistic manifesto online that blamed women for his "suffering." In a lengthy video he made before the attack, the 22-year-old complained he was still a virgin and vowed to kill women for sexually rejecting him. He also referred to himself as a "supreme gentleman."
Minassian, 25, is accused of killing 10 people and injuring 13 by driving a rental van into pedestrians on Yonge Street in Toronto. Police said Tuesday that the victims are predominantly female.

Minassian's message also mentioned 4chan, an online message board that often attempts to spread hoaxes to the media.
Reddit removed the main incel community from its platform last year. The subreddit, which had about 40,000 members, frequently advocated for sexual violence and promoted hatred toward women.
Authorities offered little information about Minassian's motive. Canadian officials have not characterized the killings as an act of terrorism, and Public Safety Minister Ralph Goodale said there appears to be no national security connection.
Minassian recently graduated from a computer studies program at Toronto's Seneca College. Classmates at Seneca described him to Canadian media as socially inept and awkward. Minassian's high school classmates told Reuters that he was in special needs programs.
Minassian briefly joined the Canadian Forces last August but dropped out after 16 days in a recruit training course, according to CBC News.
When Minassian was arrested Tuesday, he yelled "kill me" at a Toronto police officer pointing a gun at him. The officer did not shoot despite Minassian's erratic behavior and claims of having a gun in his pocket.
Minassian appeared Tuesday in a Toronto courtroom, where he was charged with 10 counts of first-degree murder and 13 counts of attempted murder. The attack is the worst mass killing in Canada since a 25-year-old anti-feminist extremist murdered 14 women at École Polytechnique engineering school in Montreal in 1989.
Popular in the Community