Mirror mirror on the wall.
Who's the fairest one of all?
Everyone wants to look great! North America is obsessed with fashion, beauty and health. Majority of which falls on the physical; beautiful skin, symmetrical facial features, perfect bone structure, abs... simply put, almost unattainable characteristics.
While the attainable is hard to come by, on this week's episode, two; dare we say perfect specimens find each other on the streets of GTA and talk hair, business and education on Toronto's favorite business reality show The Uber Experiment.
Get ready for another entertaining, informative and hilarious episode with Marcin Migdal, serial entrepreneur & branding expert extraordinaire and his fourth rider of that day, the beautiful charismatic hairstylist and womenpreneur Keishe Hunte.
Driving down the streets of Toronto it's clear to see fashion and beauty play a huge part in our pop culture. Unless you're sleeping under a rock, you probably spend thirty minutes or more prepping your attire and trimming or priming your face and hair. We all wish there was a better, faster way.
Keisha Hunte has your answer, well at least for women she does. With her line of exclusively customized wigs made from real 'temple' hair imported from india and weaves she's out to help women look great and feel even better.
When Marcin pulls up to pick up his next rider "Keke" near Etobicoke's IKEA, the first thing he said once she entered his car was "Wow, you look beautiful". The hair, the outfit, the swagger, this rider was put together and she knew it. As Marcin shortly finds out, this rider is in beauty education and stylist industry.
Keisha Hunte is an entrepreneur and runs a specialist beauty salon called KEKE Hair (www.kekehair.com). The salon caters to Toronto's elite, celebrities and those who want the best hair with a fraction of the time.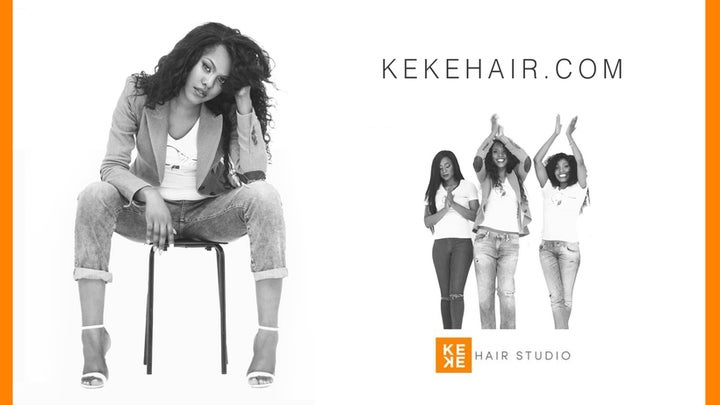 During the ride we learn of Keisha's early beginnings, from her obsession with primping dolls as a child, to studying cosmetology at International Academy of Hair Design and working long days to grow her business.
Marcin's inquisitiveness gets to the hairy core of Keisha's industry as he inquiries on Keisha's education and experience. We learn how she started and what the costs of running a salon or renting a chair are. According to Keisha she grew her business through word of mouth referral, however her best marketing advice is to combine both social media and offline marketing efforts and ensure your customers keep coming back and referring.
Check out KEKE Hair on Instagram and see before and after videos of her customers' looks.

Keisha struggled just like any entrepreneur, even more so being a woman in the shark infested waters of business. To this day Keisha continues putting in 18 - 20 hour days to grow her salon but even she admits she needs to slow down as it's effecting her social life.
Keisha however has her eyes set on much more than a traditional brick and mortar business. Seminar workshops and online training is where her next triumphs lie. Marcin's expertise in video production and online training came very handy as the duo threw out ideas into making her training business a big part of her offerings.
Finally the apex of the conversation occurred when Keisha dug into her bag of treasures and pulled out a long lock of hair... "it's temple hair" she told Marcin. Marcin couldn't resist grabbing the lock from her hand and placed it on his head. Touching and smelling it he stated "It smells pretty good" as they both laughed at the ridiculousness of Marcin's appearance.
Whilst Marcin doesn't quite fit her clientele, Keisha does incredible styles for women that want a new look and a hassle free way of changing their looks either through weaves or wigs and has plenty of real hair choices to pick from.

"First Impression determines everything" ~ Keisha Hunte
As far as the business future for KEKE Hair and Keisha Hunte, this fashionista-entrepreneur is finalizing her plans to host seminars on aesthetics and hair styling around the world. In addition, Keisha and KEKE Hair have been doing amazing things in the community.
Keisha wishes to work more with charitable organizations and cancer patients to give them the confidence that was taken away from them. She does this by creating a relationship with charitable organizations such as Sick Kids Foundation in Toronto and donating locks of real hair for cancer patients.

"When climbing the ladder of success, don't climb with your hands in your pocket." ~ Marcin Migdal
We have yet to see the extent of Keisha's abillities and wish her the very best in all her endeavours. Sit back, relax and enjoy the full Extended episode located on the link below.
We hope you enjoyed another thrilling ride on The Uber Experiment with your favorite Toronto driver Marcin Migdal who investigates the streets for exciting opportunities and business professionals who enjoy life as much as he does. UberExperiment business reality show talks with CEOs, JOEs and entrepreneurs and shares their advice on making it big and reaching your goals.
―――――――――――――――――――――――――――――
―――――――――――――――――――――――――――――
So #comeforaride on #theuberexperiment #realityshow and share your story, get free promotion of your services, business and get on the Huff!
Thank you for stopping by the channel! If you enjoyed, join the family by clicking here http://bit.ly/265zerc
More Episodes, Behind the Scenes, Contests & Giveaways at http://theuberexperiment.com
About KEKE Hair
Personal style is first imagined, then actualized when you discover the right mix that accentuates your natural features. It's finding the cherry on top that best says, " this is who I am" . In the hair business, the time afforded us as stylist and designers to grow with clients, is a luxury that can't be taken for granted .
In creating that quintessential look we're driven to keep innovating. We strive to offer our clients the best options, ranging from classic beauty or keeping them ahead of the style curve. What's old is new, we embrace the best of the past while looking forward to the future in hair and beauty products and services.

Social
Address
958 The Queensway
Etobicoke, Ontario, M8Z 1P5
info@kekehair.com
Tel: 647-748-KEKE (5353)
info@kekehair.com
Hours
Tuesday 11am-7pm
Wednesday 11am-7pm
Thursday 11am-7pm
Friday 11am-7pm
Saturday 11am-6pm
Sunday By special appointments only, 2 or more clients
About The Uber Experiment Reality Show
The UBER Experiment is a business reality show on wheels with a dash of comedy. Imagine Shark Tank in a Cash Cab ! A Serial Entrepreneur and Investor poses as Toronto UBER driver who en route engages in smart, fun, light hearted conversations about business, ideas, career advice & passion. Riders promote their skills and companies and even receive prizes.
Related
Popular in the Community