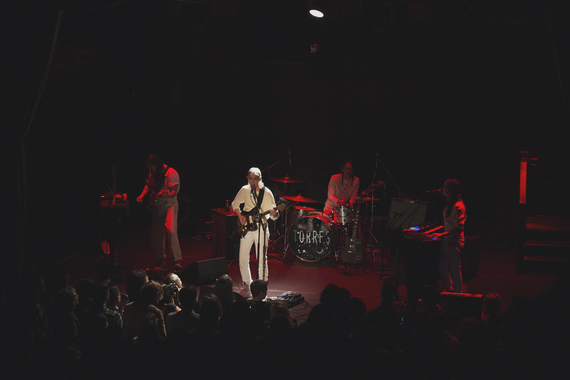 I made my way downtown to a packed Bowery Ballroom this past Thursday after getting off of work to see an artist that I had only recently become aware of, and honestly hadn't heard much about. Weaving a dreamy world of sound that dripped with indie goodness was the headlining act of the night, Mackenzie Scott as TORRES. Scott intertwined swells of distorted guitar, synthesizers, and thundering bass drum that echoed throughout the hip SoHo venue. The entire band donned white outfits that absorbed the colors beaming down from overhead and entranced the sea of onlookers. Although there were moments where my claustrophobia neared an overwhelming level, the builds and crashes of TORRES' electro-indie tracks made the tiny venue seem just a little bit bigger. 
Touring to promote her most recent, and sophomore release Sprinter, TORRES' dark and stormy aesthetic was only punctuated further by her onstage demeanor of restrained aggression, the kind that only burst through in her occasional shrieks and modestly animated guitar playing. Each song seemed to boast its own persona, with an air of honesty and introspection that toes the line of grandness through humility. Scott stood front and center amidst her band with a spotlight illuminating her from behind, her bleach blond hair returning the light to the space around her head to emit an other-worldly halo.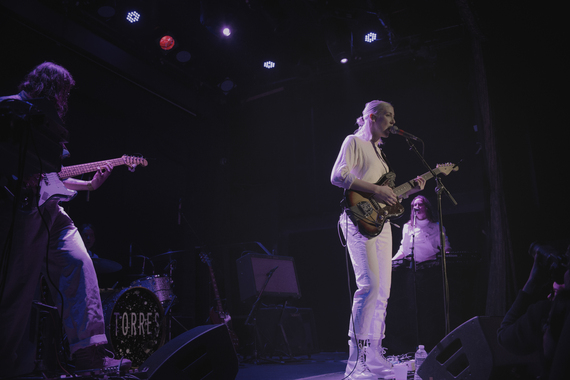 The set (which was rather short and sweet at a minimal 9 songs) matched the character on stage; enough to satisfy, yet limiting to a point that promoted curiosity and intrigue after the last strum. It was "The Harshest Light," the second to last song of the night (there was a one song encore of "November Baby") that completed my captivation, I came into the venue that night with absolutely no experience with TORRES, but left feeling as though we'd sat down and had a nice long heart-to-heart.
What truly struck me most about the performance was Scott's seamless transition between her soft-spoken and reserved nature between songs with the confident and operatic voice with which she sang. The mousey and almost whisper of communication that she used to thank the crowd for coming to what she described as her "favorite show she's ever played," was almost a complete one-hundred-and-eighty degree turn from the confident and grandiose manner that her lyrics were belted with each song.
Sprinter was released last year to much critical acclaim, Metacritic lists it at 81% and the New York Times commented: "confronts relationships past and present, in songs that sound bravely open, even if it's not immediately clear what's on her mind." That sentiment is one I absolutely share; I began the night unsure of what to expect, was enveloped in intrigue, and then came out on the other side feeling as though we had shared a moment of unfiltered openness.
---------------------------------
All Photographs by Shawn Russell Johnson
REAL LIFE. REAL NEWS. REAL VOICES.
Help us tell more of the stories that matter from voices that too often remain unheard.