This is a new era for fashion, and it's inclusive A.F.
This season, multiple brands featured plus size women in their runway shows on the official New York Fashion Week schedule. There were so many shows that included plus size bodies this season, it's hard to keep track! (Chromat, Addition Elle, Prabal Gurung, Christian Siriano, Rebecca Minkoff, Tracy Reese, and Torrid are a few).
"I think in the past two years [the plus size fashion industry] has grown tremendously. Who would've thought we would be seeing plus size women walk the runway? This is something that the fashion world has not seen and I'm glad that we are making our place in this fashion world," says designer Ashley Nell Tipton.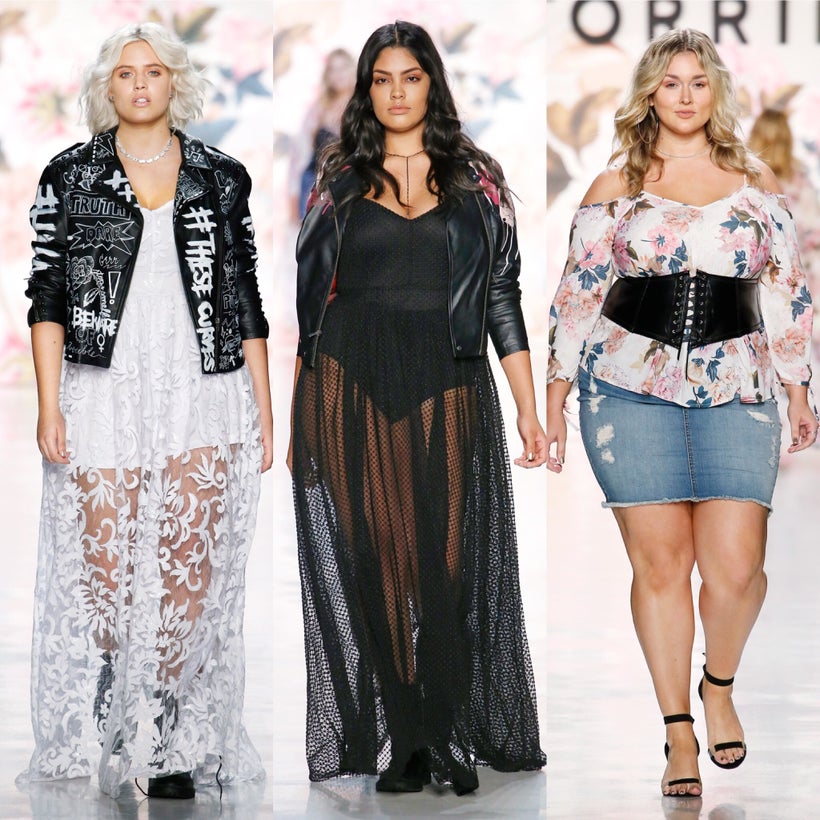 "Over 60 percent of the women in America are plus size (or) considered plus size," said Elizabeth Munoz, head of product and design for Torrid. "The fashion industry can keep passing and keep saying I'm not going to acknowledge that but there's going to be a point where we can't ignore the fact that most of the available population to sell to is a size that they don't make."
Despite this fact, for years, the runways of NYFW were only for women up to size 10 (maybe a 12 or 14, if the sizing was generous). And even major fashion designers, like Rebecca Minkoff and Anna Sui, have been publicly questioning whether the old model for fashion week is still relevant in this day and age.
But the future is here. This is a new era for fashion, and it's inclusive A.F.
"I've been to many fashion weeks in the past and this was the first time I've ever seen so much diversity compared to past seasons. Do we still have a long ways to go? Yes, but this fashion week was definitely step in the right direction and I am so proud of all the curvy models who walked in the shows!!" says Rachel Richardson, plus size fashion blogger behind "Lovely in L.A."
"Many times the clothing at NYFW is seldom available in my size. It's nice to see, but you leave feeling underwhelmed and never included," says Plus Model Magazine (PMM) Editor-in-Chief Madeline Jones.
This sentiment of having previously felt like the runways are "not for us" was echoed by women across the plus size fashion community.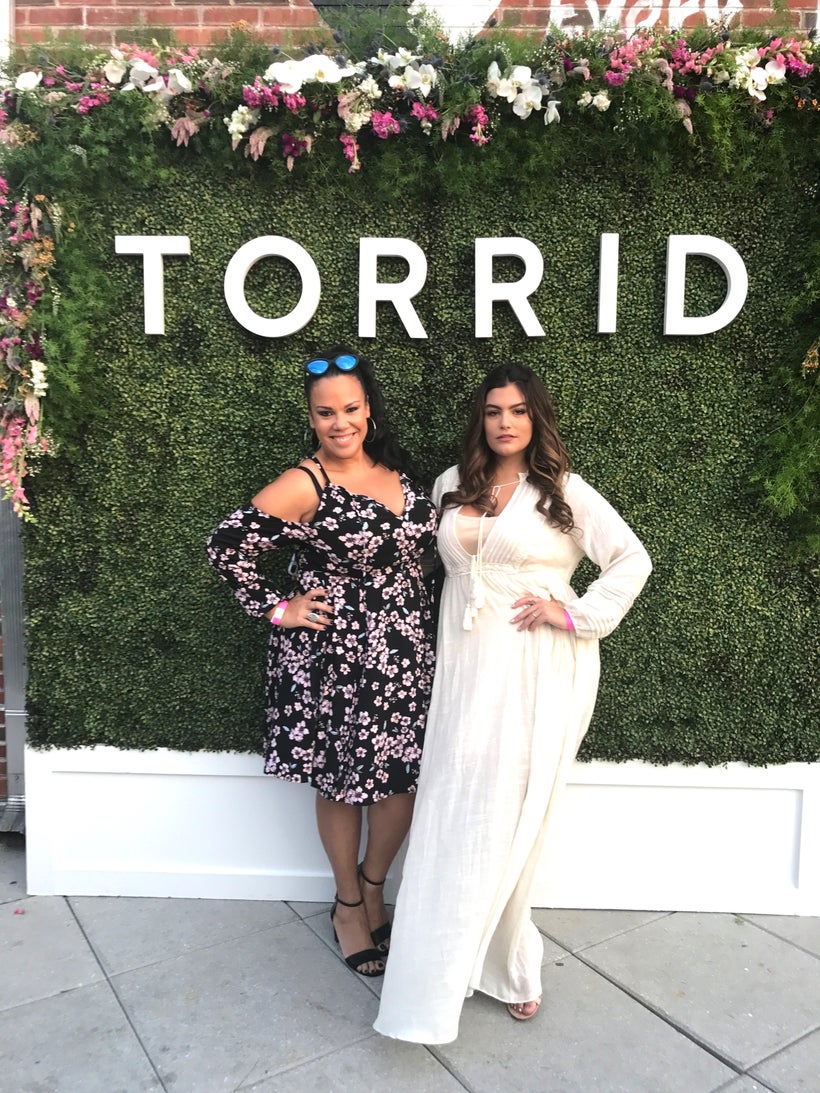 "I've been covering NYFW for eight seasons now, and the vast majority of shows have only one body size and shape. That is not an accurate representation of women, and style is not limited by size," says body positive plus style blogger and fashion week savant Sarah Chiwaya, also known as "Curvily" to her followers. 
But overall, the mood in Gallery III of Skylight Clarkson Square yesterday didn't register any of the disappointment or exclusion of seasons past. The vibe was overwhelmingly positive, inclusive, and upbeat! Thanks in large part to Alexa Phelece, Torrid's fit model and long-time member of the Torrid family, who was greeting attendees as we entered the gallery.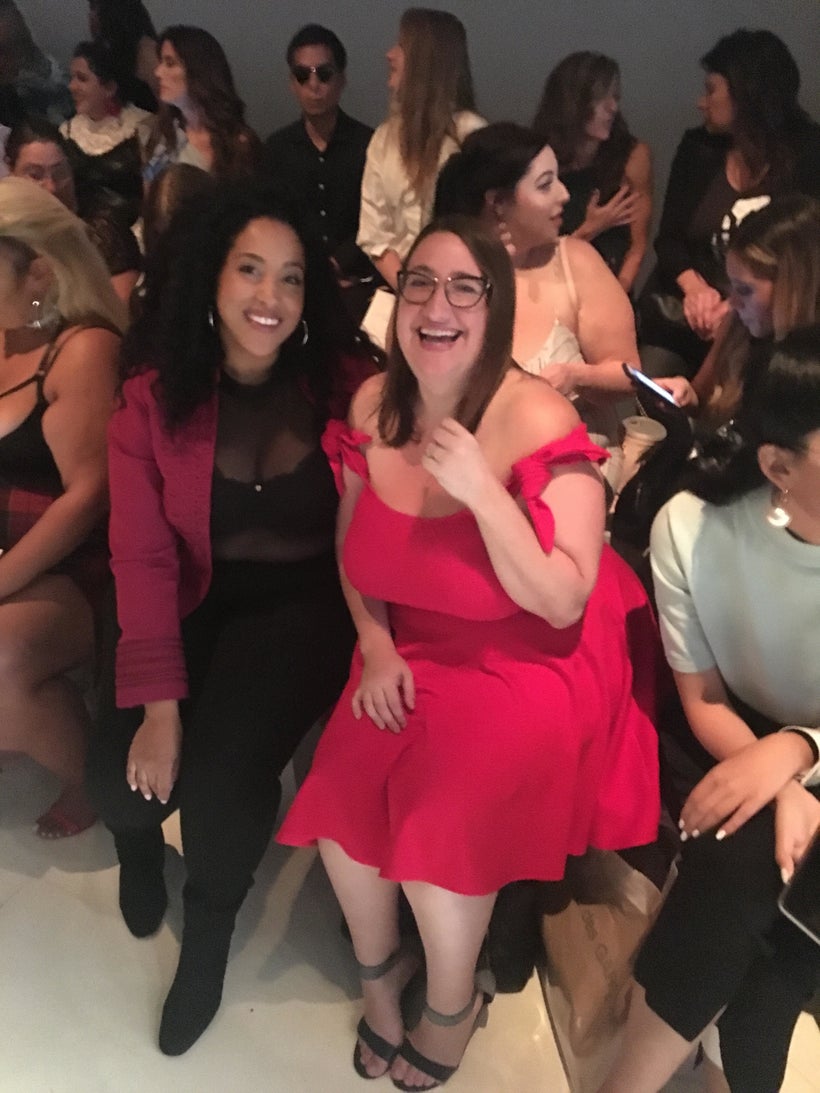 "Torrid was actually my first job when I was 16 years old. I have been through a journey with Torrid as an employee folding tee shirts, working as a manager, and years later I'm now their fit model! The progress Torrid has made in this industry is incredible and they are breaking so many barriers in the fashion industry," gushes Alexa of this historic debut for Torrid.
Torrid has given new life to New York Fashion Week.
It was hard not to get emotional watching the beautiful Torrid runway squad do their thing on the catwalk. For the first time, I felt myself looking at the clothes and thinking, "I would love to wear that!" and, "That would look great on my body!" rather than, "This stuff doesn't come in my size." And I am definitely not alone in that!
"I definitely got the chills a few times even a little teary-eyed. It's just so apparent how beautiful they looked, undeniable that plus size is BEAUTIFUL and FIERCE! Seeing the models looking fresh and fashion forwarded truly helps when shopping for pieces, like "DAMN! I can look like that!!" says celebrity makeup artist Priscilla Ono.
"Yesterday was a dream for me. Being in a space with fellow influencers all celebrating positivity and slaying fashion gave me life," says plus size blogger Dana Martinez.
"Watching wearable, on trend clothing made in my size left me emotional after the show was over. The Torrid show announced to main stream fashion that PLUS SIZE FASHION is REAL FASHION!" says Madeline.
Torrid, along with the other brands showcasing fashion for women above a size 10, have given new life to NYFW and made it feel relevant again.
"Torrid is making history and breaking so many barriers in the plus size industry. Plus size women are now able to love and be represented in fashion like we deserve to be. There is so much more work to do in our society and in this Industry with accepting diversity and fashion in all sizes, but this is the exact direction that we need to be headed in," says Alexa.
Torrid's NYFW debut runway show marks an important step forward for plus size women everywhere. This Spring, women from sizes 10 - 30 will be able to wear looks that were showcased on the runways of fashion week. And hopefully, the season's hottest trend, inclusivity for women of all sizes, is here to stay!
Calling all HuffPost superfans!
Sign up for membership to become a founding member and help shape HuffPost's next chapter
This post was published on the now-closed HuffPost Contributor platform. Contributors control their own work and posted freely to our site. If you need to flag this entry as abusive,
send us an email
.